The movie aimed at theatres across India, stars super-heroes from both the North (Akshay Kumar) and the South (Rajinikanth). The star is the director Shankar still.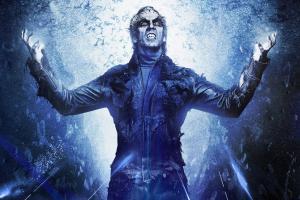 Akshay Kumar in a still from 2.0
2.0
U/A: Action, Sci-Fi, Thriller
Director: S. Shankar
Cast: Rajinikanth, Akshay Kumar, Amy Jackson
Rating: 
Sure, nothing exceeds like excess. And this film, before anything else, is a prime example of that. What if I told you, and guess you already know this by now, that the cellphone is the serial killer in this pic--not metaphorically, but quite literally so. Flying off people's hands, it even mutates itself into thousands and thousands of screens, few of them going deep inside human bodies to screw them over from within.
Why are cellphones revolting, really? Well, they're being made to, firstly to target selfish politicians, industrialists, willing to destroy urban fauna for the sake of providing greater cellphone network through radiation-emitting towers.
How original is this thought/idea? As much as Superstar Rajini himself--a unique cinematic tornado, who as robotics inventor reunites with his lookalike invention, Chitti, that had gone rogue in Shankar's super-fun Robot (2010) that 2.0 is a sequel of. Does this measure up to the original, or even surpasses it, perhaps? Yes and, no.
For one it sorely lacks a sense of humour. Dialogues border on banal. The movie is overlong by a mile or two, in terms of pure duration. The motives in the story appear a bit too complicated on occasion. In order to add academic heft to the excessively detailed backstories in this sci-fi script, the references range from the four forces of nature--gravity, electro-magnetic, weak-nuclear, strong-nuclear--to Asimov's laws of robotics, ornithology, and auras exuded by humans and birds alike. At times one wonders if Shankar might even be treading on Terrence Malik territory!
Check out the trailer here:
Whether all of this confuses you more than it enlightens is not important. What is, is the sheer, frickin' ginormous scale of the bedazzling spectacle on the big, 3D screen. Objects literally dart into your eyes, as they fly all over the place. The painstaking CGI (computer-generated image) work on Akshay Kumar, as the antagonist, swoons you over the most. The level of visual wizardry, where you just can't tell CGI from humans anymore, remains hitherto unseen in the history of Indian films.
Each moment is designed to jolt you off your senses, with the audience going, "Woah", in their heads, if not more audibly so in the aisles. About time, we seriously hopped and skipped in that direction. You root for this movie primarily for that good reason alone. At no moment does it disappoint you on that front. This is an area of filmmaking where Hollywood has held a monopoly over generations, and bit by bit dominated the Indian mass-market with film after film, lately, making desi, run-of-the-mill star-driven projects almost irrelevant in certain seasons/parts, as a result.
This one, aimed at theatres across India, stars super-heroes from both the North (Akshay) and the South (Rajini). The star is the director Shankar still. As a story-teller, you can tell, he could do with simplicity, and a better sense of proportion. As a filmmaker, he's sheer genius. Need better proof? Yes, you could catch 2.0.
Also Read: 2.0: Unveiling Rajinikanth And Akshay Kumar
Catch up on all the latest entertainment news and gossip here. Also download the new mid-day Android and iOS apps to get latest updates