The entire cast is besotted with the cute one and spend as much time as they can with him during breaks and free time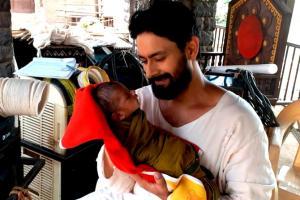 Mere Sai
It's often said that every child is a representation of the divine power. Children with their innocent smiles and cheerful laughter spread happiness amongst all. Sony Entertainment Television's show 'Mere Sai' has regaled audiences with the heart-touching stories of Sai Baba. Recently, a bundle of joy has made an appearance on the show. The character of Rukmini will be seen cuddling a baby on the show. In a very short span of time, the baby has enamored everyone on the sets. The entire cast is besotted with the cute one and spend as much time as they can with him during breaks and free time. Abeer Soofi who essays the lead role of Sai Baba is very fond of the baby and takes special care of the little one.
When contacted, Abeer confirmed, "I love spending time with children and playing with them. Children make us look at life with a different perspective altogether. Sai Baba too loved kids and would always make them smile. One of the most memorable incidents from his life story, is when he lit multiple lamps using water in Dwarkamai on the eve of Diwali to make his devotee, Jhipri smile. I was very happy when I held the baby in my hands. He has a wonderful smile and we have seldom seen him cry. All of us take turns to care for the baby and feed him at regular intervals. It feels wonderful when you have a baby in your lap and he grasps your finger with his tiny palm. It's truly a divine feeling!"
In the upcoming track on Mere Sai, Rukmini, the wife of Kulkarni (Vaibhav Mangle) has been alienated from her family after her marriage. Incidentally, her brother's wife gives birth to a still born son and Sai is called upon to assist them in their time of need. How will Sai save the child?
Catch up on all the latest entertainment news and gossip here. Also download the new mid-day Android and iOS apps to get latest updates