Kareena Gianani drops by at Food-E, a new culinary studio in Malad, and meets its food evangelists who curate menus, organise workshops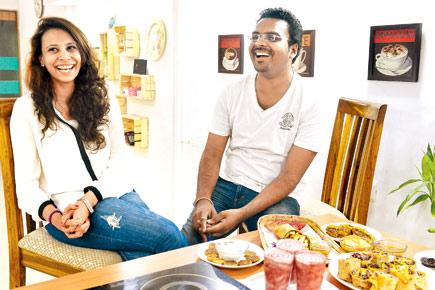 Aditi Goel, Varun Inamdar, Food-E, Cottage Cheese, Mushroom, Bhindi Aloo, Food-E, Malad, culinary studio, Mumbai
It is strawberry. And something else. It is strawberry with something else, and they go so well that I quaff two glasses of it when no one is looking.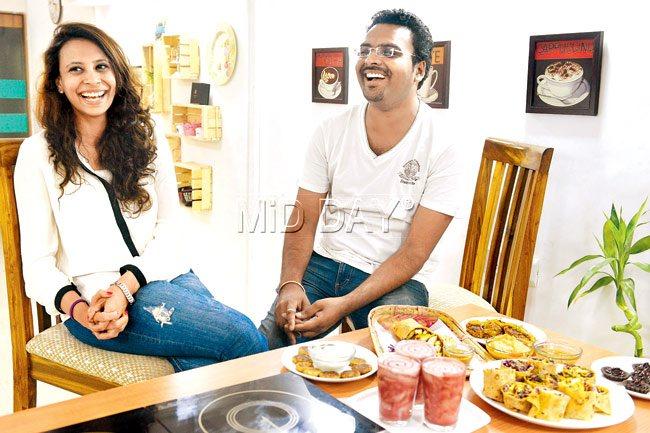 Aditi Goel and Varun Inamdar, founders of the culinary studio, Food-E. Pics/Khushnum Bhandari 
Aditi Goel, co-founder of Food-E, a two-month-old culinary studio at Malad swears the smoothie has green tea with strawberry. That I cannot vouch for, but the drink is light, unsweetened and manna for health freaks. Goel tells me she and her partner, Varun Inamdar, are health food and dessert experts respectively, and set up Food-E to answer the most basic question a regular Mumbai diner could have — 'What should I eat today?'
The studio curates menus for existing and upcoming cafés, conducts workshops and food experiments, and organises food tastings and events. Inamdar, who was the Executive Chef with the Oberoi group of hotels for nine years, says the duo is keenest on exploring the intricacies of a cuisine — Indian or international — the roots of the dishes, before presenting them to their patrons. Their upcoming workshop, for instance, will feature home baker Shikha Murarka teach participants classic fondant making.
"It is a classic French concept and we will teach people how to make flour and how to handle sugar for starters before getting into the thick of things," he explains. For their upcoming Italian dessert workshop, he adds, they will focus on panna cotta but not in a quick-fix, generic manner. "We will explore the panna cotta thoroughly, teach how it can be converted into cake or even a bite-sized circulating dessert," explains Goel.
When the studio decided they wanted to help foodies explore South Indian food, they wanted to be specific, and called in someone for a Syrian Christian meal, elaborates Goel. "Kerala's cuisine is as vast as any other state's, so we plan to have workshops on the Kerala Muslim meal, the Sadya, and so on. To get people interested in a Coorgi meal, for instance, we plan to organise a Pandi mutton session, another very specific area within Kodagu meat delicacies," says Goel.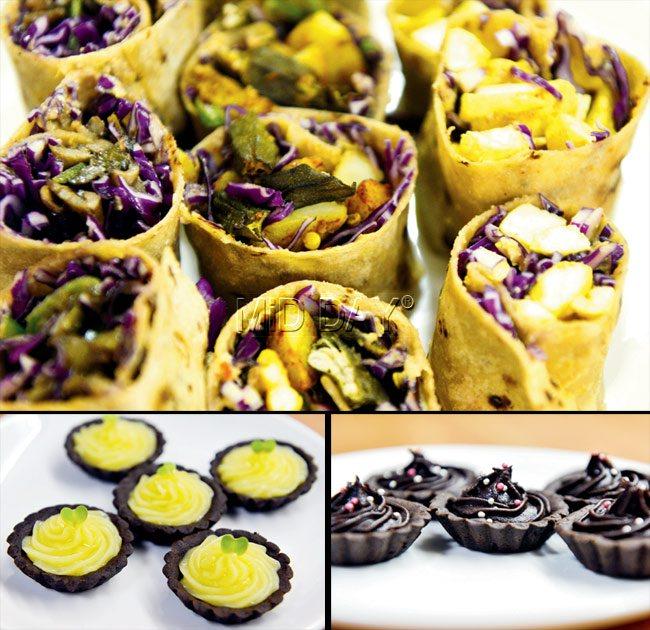 An assortment of organic Cottage Cheese, Mushroom and Bhindi Aloo wraps. These are served with a hot peri-peri dip and some comforting paprika hummus; the Lemon Tarts leave a lingering taste of dark chocolate from the crust; the Chocolate Tarts use chocolate from Ecuador 
A food studio's greatest competitors today, says the duo, are establishments churning out food without a long-term goal and with generic ideas. "Many restaurants, home bakers and pop-up events present dishes without research or the will to make diners aware of the intricacies of the cuisines.
To beat competition, we delve even deeper into our research, educate the target audience, dig out lesser-known cuisines and curate memorable experiences," says Inamdar. For instance, he adds, Food-E plans to introduce a Maharashtra special to diners at their studio but be as specific as having different workshops for Malvani masala dishes and Bhetki masala recipes. "We also plan to curate five-star like experiences around restaurants in the city at the price of a regular meal," says Goel, who is tight-lipped about the details of the project.
A taste-drive
But claims are best tested, not heard. I drop by at Food-E to find out how appealing their organic, vegetarian fare is. I am served wraps with cottage cheese, mushrooms and bhindi aloo — all organic and healthy where ingredients are not fried but baked to cut out the calories. To Food-E's credit, each wrap, served with peri-peri and paprika hummus, is light and fresh unlike the food served in most cafés. The star of the afternoon, however, is a jackfruit and lentils cutlet — an unlikely combination from an underused fruit.
The light-handed treatment to this dish ensures that the flavour of the jackfruit is just enough not to overpower the lentils or the peri-peri dip it is served with. Goel and Inamdar save the best for last — their lemon and chocolate tarts are flaky and light. The lemon tart is not sickly sweet, and each bites leaves a lingering flavour of dark chocolate from the crust of the tart.
Food-E, if it continues with its experimentation and attention to detail, has a sure winner at their hands.
Where: Food-E, 111 Linkway Estate, Malad
Call: 9867286277