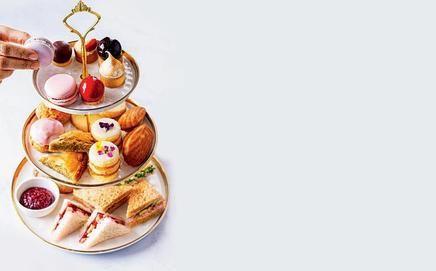 Dip with a view The high tea spread at Taj Mahal Palace. Pic Courtesy/Instagram Taj Mahal Palace's Sea Lounge will offer you a great view while you dine on a selection of eight savoury and sweet dishes. In addition to the view, this is one experience that never grows old because the high tea menu changes every day. If you enjoyed tea parties when you were younger, this might be everything you imagined and more. Time 3.30 pm to 6.30 pm At Apollo Bunder, Colaba. Log on to @tajmahalmumbaiCall 66653366Cost Rs 2,500 Go all the way The Afternoon Tea Experience at Monèr Bistro guarantees a variety of savoury and sweet treats like capers on toast, Pico de Gallo and Arabic sandwiches. Their assortment of teas has us intrigued, especially the awaken your zen tea, first flush tea with lavender flowers and lemongrass and firdaus tea. Book your appointment two days in advance. Time 1 pm onwards At Hill Road, Bandra West. Log on to @moner_mumbaiCall 7770014123Cost Rs 1,900 (two-tier tray); Rs 2,250 (three-tier tray) Doorstep artisanal High tea tray from Provenance. Pic Courtesy/provenancegifts.com Emulate the seventh Duchess of Bedford, Anna — who is said to have invented the afternoon tea — and have tea served to you and your friends at home. Graiz offers customisable high tea boxes, and Provenance's high tea tray comes with Royce's potato chip chocolate, fig ginger whisky spread, and vanilla honey. As grazing tables turn into a hybrid avatar — a ready-to-serve gift box, these are our top picks for travel-friendly and premium packaged artisanal goods. Log on to @graizindia and provenancegifts.comCall 9920601234 (Graiz)Cost Rs 7,439 (Provenance) DIY tea party Pic courtesy/ suchalisartisanbakehouse.com If you're hosting high tea, skip the cucumber sandwiches, as traditional as they are, and instead order decadent baked goods from Mag St Bread Co in Colaba, Khar and Byculla, Suchali's Artisan Bakehouse and The Bread Bar in Chembur. Curate your afternoon tea with crackers, croissants, Pullman loaves and viennoiseries. Log on to @magstbreadco.in; suchalisartisanbakehouse.com; thebreadbar.in A fine china affair Pic Courtesy/ tdtworld.com If you want to play the perfect host, you're going to need more than just great food. We're talking high tea cutlery. Known primarily for their teas, platforms like Sancha Tea Boutique at Bandra West and Kala Ghoda, Tasse de Thé and Tea Trunk offer a range of cutlery comprising all styles — minimal, cute and elegant. Log on to @sanchateaboutique;@thetdtworld and @teatrunk A desi mix Aralia tea set. Pic Courtesy/ sanchatea.com Brooke Bond Taj Mahal Tea House's menu extends way beyond their high tea platters to offer a range of snacks that truly represent the city. These desi-inspired afternoon tea dishes include bhurji pita, the masala bun with lamb, Bombay sandwiches, Parsi bun maska and the Kejriwal muffin. Time 9 am to 9 pmAt St John Baptist Road, Bandra West. Log on to @tajmahalmumbai call 8001022221 Cost Rs 1,095 onwards (high tea platter)
08 August,2022 10:55 AM IST

| Mumbai

| Tanishka D'Lyma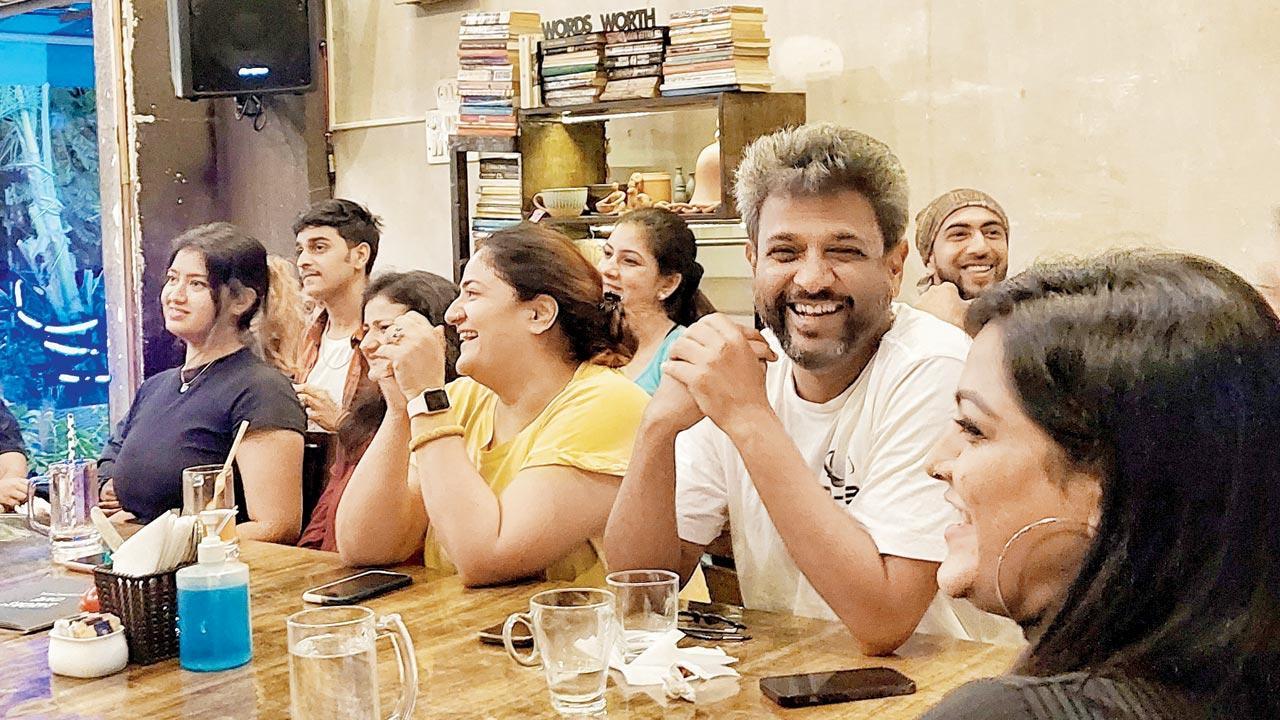 If you are a budding artiste who is keen to express your art, you should head to Sailors' Café in Belapur today. To dust off your Monday blues, the venue offers the space for free to artistes across fields, irrespective of their form of expression. There are no restrictions on age, gender, topic, or art form. Brothers and co-founders Richard and Jackson Jacob started hosting open mic evenings in 2018 but switched to these unique Mondays in December 2021 by dropping the fee. "We believe that open mic is a platform for artistes to showcase their art, so why should they pay for it? The idea was to create a space that is open to all artistes," shared the duo. Jackson Jacob The venue opens its doors for poetry, music, acting, stand-up, and spoken word performances as they don't believe in narrowing it down to just one art form. "If there is a restriction on what has to be performed, it won't be an open mic anymore. Because it is not a set show, every Monday is different as there is always fresh content that artistes bring to the stage," they explained. The brothers feel that the arts play a huge role in shaping society. "What makes a city great is its art, and the response that people have towards it. So, our open mic evenings are a small contribution from our end to Navi Mumbai and Mumbai," the siblings signed off. On Every Monday; 8 pmAT Sailors' Cafe, Shop no 9 CHS Belle Vista, Sector 15, CBD Belapur, Navi Mumbai.Log on to eventbrite.com or @sailorscafebelapur on Instagramcall 9137686834Free
08 August,2022 10:43 AM IST

| Mumbai

| Vedika Mane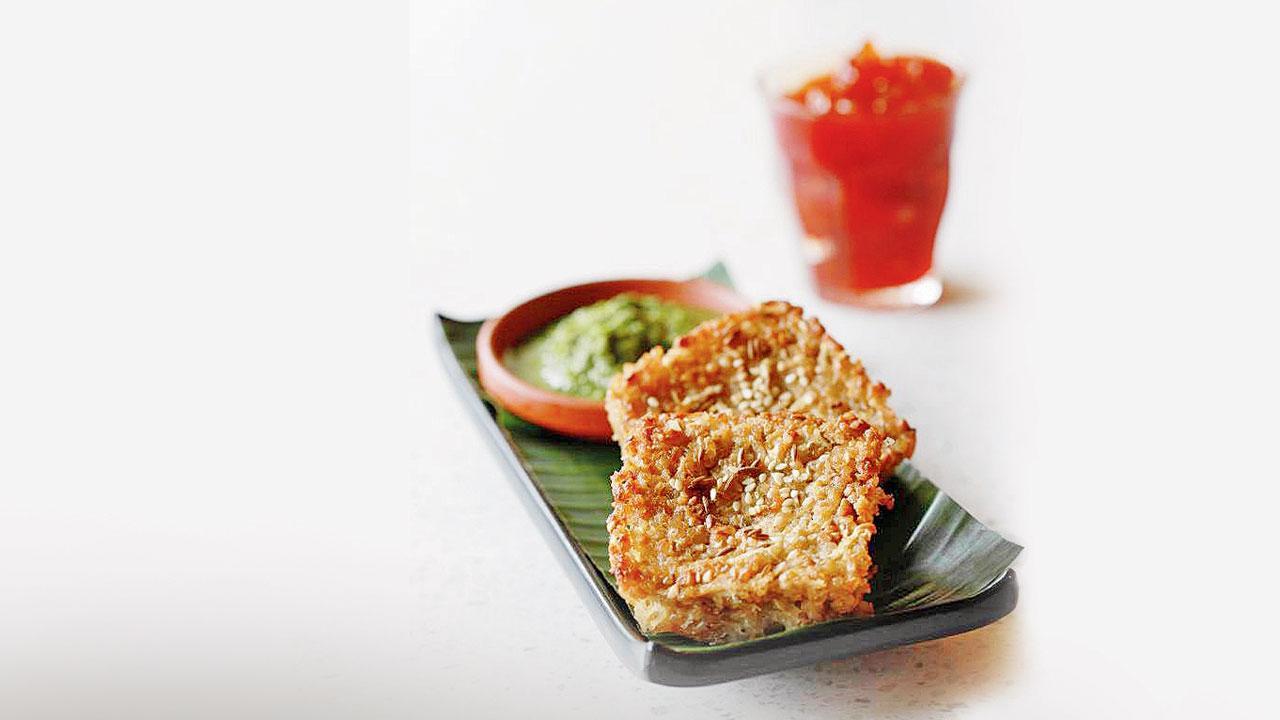 Faraal handvo Ingredients>> 2 cups buckwheat (kuttu) >> 2 cups grated raw bottle gourd (water separated) >> 2 tbsp ginger and green chilli paste >> 1/2 cup yoghurt >> Salt to taste >> 1 tbsp sugar >> 1/4 cup oil>> 1 sachet unflavoured fruit salt For the tempering: >> 1 tbsp oil >> 1 tsp cumin seeds >> 3 tsp sesame seeds MethodWash and soak the buckwheat in water for at least two hours. Drain the extra water and place in a large bowl. Add grated bottle gourd, curd, ginger-chilli paste, salt, sugar and oil; mix well. Pour some of the strained bottle gourd water to adjust the consistency; it should resemble cake batter. Let it sit for 30 minutes. Grease a baking pan and preheat the oven to 180°C. Mix the fruit salt into the batter till it froths and expands. Pour into the tin and bake for 40 to 50 minutes or till a skewer inserted comes out clean. Heat oil and add cumin and sesame seeds. Pour this over the baked handvo and serve by cutting into small squares. Serve with coriander chutney or a murabba. It can also be made into pancakes or baked as small muffins.Pinky Chandan Dixit, owner, Soam Faraali pattice Ingredients>> 6 boiled potatoes (smashed)>> 1/4 cup peanuts (roasted and powdered)>> 3/4 tbsp grated fresh or desiccated coconut >> 1 tbsp sugar >> 2 tbsp each cashews and raisins >> 1/4 cup coriander leaves (chopped) >> Half lemon (juiced)>> Salt as per taste MethodTake five potatoes, and boil, peel and smash them. For the stuffing, make small balls out of a mixture of peanut powder, coconut, some ginger-chilli paste, sugar, lemon juice, dry fruits, one boiled potato, coriander leaves and salt. Now, take the boiled and smashed potatoes; add four to five tbsp of arrowroot powder and salt. Mix it well and make lemon-sized balls out of the mixture. Flatten these potato balls, place the stuffing balls inside and close on all sides properly. Roll the balls in arrowroot powder and place them on a plate greased with oil. Heat oil in a pan, and fry the pattice one by one until golden brown. Serve with coriander chutney, khatta-meetha chutney or cucumber raita.Home chef Taruna Mav, owner, Mom and Co Sanjivrya IngredientsFor the dough:>> 2 cups maida>> 1 tbsp ghee>> Pinch of salt>> Water as required For the filling:>> 2 cups rava>> 1.5 cups sugar/jaggery>> 2 cups water>> Pinch of cardamom powder>> Pinch of saffron (optional) >> 1 tbsp ghee MethodKnead the ingredients into a roti-like dough. Boil two cups of water; add ghee and sugar. Keep stirring till the sugar melts. Tip in cardamom powder and saffron. Once the sugar melts, add rava. Keep stirring the mixture while it simmers for two to three minutes. Make 12 balls out of the maida dough. Make 12 balls out of the rava mix. Take the maida ball, flatten and roll it out; place the rava ball inside and wrap the maida roti around it. Roll it around in your hand to avoid open edges. Dust in maida and roll the dough out to make a poli. Cook on a heated tawa by applying ghee on both sides of the poli. Home chef Kalpana Talpade, Kalpana's Kitchen
04 August,2022 05:34 PM IST

| Mumbai

| Sukanya Datta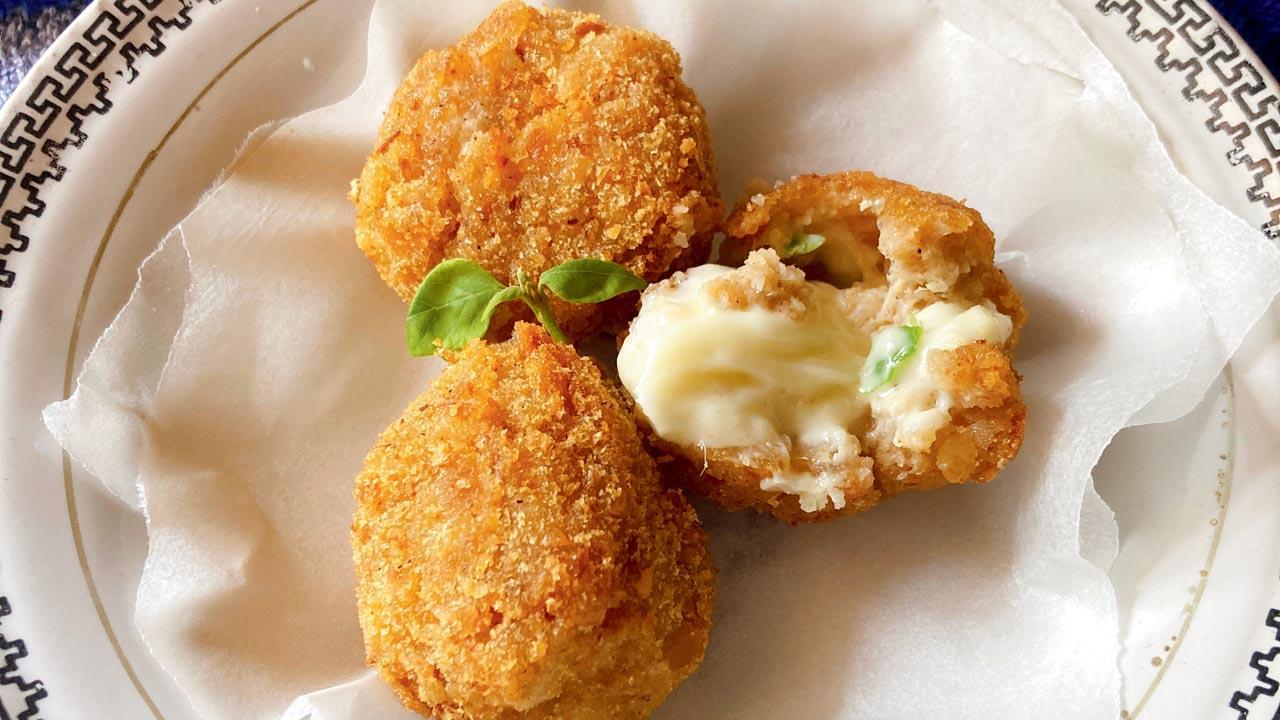 The fillip to one's calling might be cloaked in an everyday phrase like 'come, let's eat!' Thankfully for us, Vasai-based Natasha Almeida didn't let that commonness pass her by when she was mulling her career choices. Jevayla ye, in East Indian, is a mealtime call. It spurred her to start a social media page — by the same name — where her mother Veera Almeida could further East Indian food beyond fugias. And so they did! The flaunters of the catchphrase, "My recipes trend like hot fugias", wish to make home cooking accessible. Not a fan of fresh bombil, Natasha wanted to find a unique recipe for it. "I only like sukha bombil. It was a challenge to think up a recipe that would help me enjoy the fish in its wet form." Then, bombil bombs happened. The recipe that uses mashed khengat or small Bombay ducks found aplenty in the monsoons were chosen due to the lack of fine hair — a typicality in bigger bombils: "Once de-veined, you are only left with the flesh," the 24-year-old adds. The Reel that Natasha put out last Friday has garnered some 12,000 shares on social media. The mother-daughter duo are now happily answering queries about their East Indian sukhala mix, a key ingredient in the recipe. Log on to @jevayla_ye on Instagram Bombil bombs Ingredients. 25 to 30 bombils (khengat or small Bombay ducks ). 1 tbsp ginger-garlic paste. 1/2 tsp salt. 1/2 tsp pepper. 1 tbsp East Indian sukhala mix. 2 cubes cheese. 1 tbsp maida. 1 tbsp corn flour. 2 cups bread crumbs . 3 to 4 green chillies. Oil for frying Natasha and Veera Almeida MethodOnce you are done washing and cleaning the bombil fish, lay them flat on a kitchen towel and press them downward using some weight. This will help release excess water. Now, take a mixer-grinder and add the fish, ginger-garlic paste, green chillies, sukhala mix, pepper and salt to it. Grind the ingredients to a fine paste. Use a cling wrap to shape the mixture into balls; each ball should have at least 1 tbsp of the mix. Add a cheese cube in the centre of these balls. Make a tight potli with the cling wrap and refrigerate for an hour. After an hour, dip your frozen bombil bombs in a slurry made up of maida and corn flour and then, coat the balls with bread crumbs. Refrigerate the coated bombil bombs for another 30 minutes before frying them on a high flame. Serve hot and enjoy. Malvani bombil fry IngredientsFor 4 to 5 medium-sized fish, make a marinade of — . 1 tsp red chilli powder. 1 tsp coriander powder. A pinch of turmeric. 1 tsp kokum juice. 1 tsp salt. 1 tbsp maida. 1 tbsp corn flour. 2 cups bread crumbs . 3 to 4 green chillies. Oil for fryingFor the rawa mix:. 2 tbsp fine rawa. 2 tbsp rice flour. 1 tbsp besan. 1 tbsp Malvani masala. 1/2 tsp salt MethodMarinate the bombils using the dry masalas. Next, generously coat every fish in the rawa mix. Heat oil in a pan and fry the fish until crispy and golden. Home chef Ruchi Soni who runs @baraamaabyruchi on Instagram advises against reddish bombils. She suggests that the pan shouldn't be covered while frying bombil as it can lead to a soggy texture.
02 August,2022 10:36 AM IST

| Mumbai

| Sammohinee Ghosh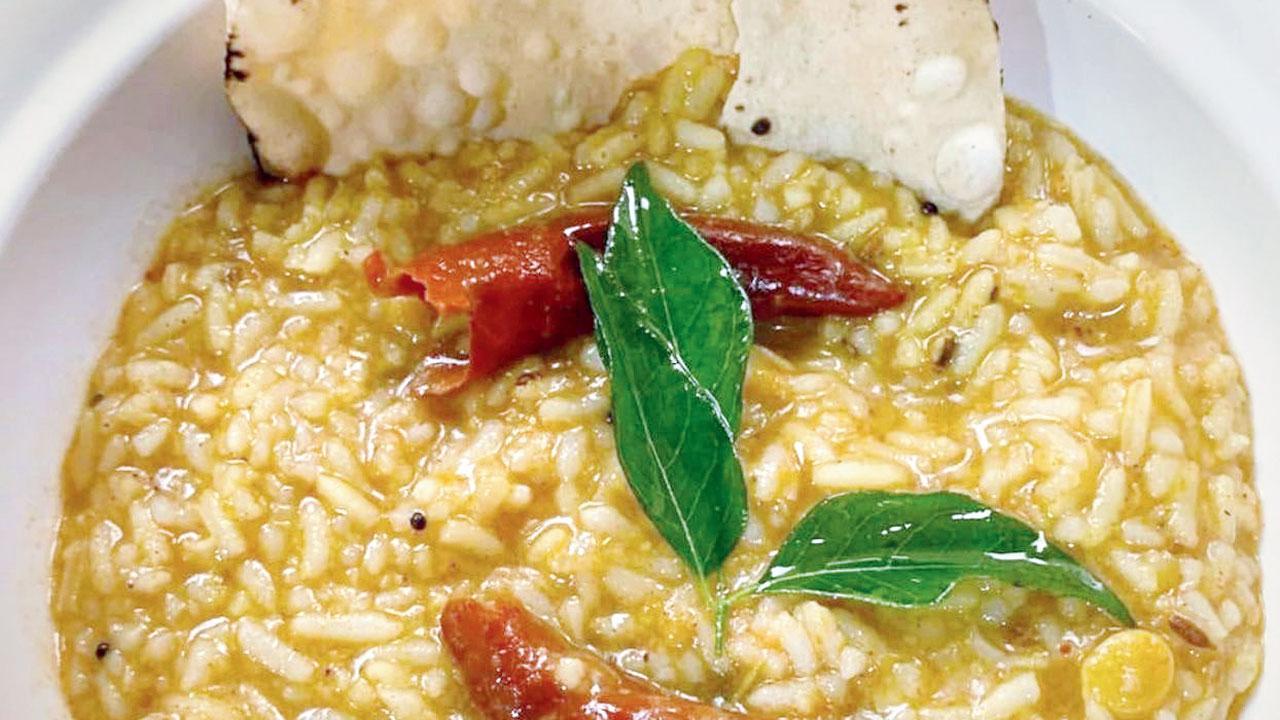 On a drippy monsoon morning, Saee Koranne-Khandekar was craving for a hot serving of rasam. The author and culinary consultant posted a rasam recipe reel on her Instagram. The recipe used broth made from chicken bones as the base of the rasam. Little did she expect that she'd receive comments dissing the use of meat in her rasam. "I got messages such as "I can't even look at this" and "You have ruined rasam" because people have a stereotypical notion that a rasam is vegetarian/Brahminical food. The use of chicken bones in it somehow offended this perception. The interesting thing is that meat-based rasams are absolutely commonplace," Khandekar says. Her thread included many followers sharing versions of crab, prawn, and mutton rasams that are considered delicacies. "All traditional meat eating communities are mindful about the manner in which they consume the animal, making sure to use all parts of it in respect. Using bones, therefore, is common. It also has healing properties," she adds, pointing to the problem that commercial eateries have typically only presented vegetarian versions of rasam. "And as consumers, we have not bothered to open our minds and study the traditional foods of the country, and so it is easy to stereotype and get offended when something outside of that stereotype is presented. Vegetarianism is being glorified, most often for the wrong reasons, and so, meat eating communities and foods are facing this kind of baseless debate for fare that has, for centuries, been traditionally eaten," she says. While the word "rasam" is typical to Tamil Nadu and Kerala, thin, spiced broths exist across India under different names such as saar/saaru. "In Maharashtra, the alni is an example of a similar meat soup in which bone broth forms the base, along with herbs and mild spices. Another name for rasam in Andhra/Telangana is chaaru," Khandekar explains. Juhu-based chef and founder of Oottupura by @thatthalasserygirl, Marina Balakrishnan, loves her peppercorn version with rice and poppadam. "Rasam comprises of a souring agent (tomato or tamarind), rasam powder and crushed peppercorns. It is mainly consumed during the monsoon to keep you warm. It's a perfect remedy for common cold and cough too," says Balakrishnan, who normally make a pepper rasam at home. "Depending on the season, I prefer making a lighter one with milder spices in the rasam powder. During the monsoon, I up the spices, to make the rasam more intense," says Balakrishnan. Chicken rasam INGREDIENTS For the powder>> 1 tsp cumin seed>> 2 tgsp coriander seeds>> 1 tsp pepper corn>> 1 tsp chana dal>> 2 red chillies >> curry leaves >> 1 inch cinnamon bark/cassia For the Rasam>> 250 gm chicken >> 1 tomato, chopped>> 1 onion, chopped>> ½ tsp turmeric >> 3-4 garlic cloves, crushed >> 1 tsp jeera>> ½ tsp hing >> Few curry leaves >> Ghee>> Salt to taste METHOD FOR THE POWDERDry roast ingredients for rasam powder until the curry leaves are crisp, store FOR THE RASAMIn a separate pot, add ghee and make a tadka of ginger, garlic, tomato until soft. Add chicken, salt and turmeric. Cook on high heat for about a minute. Add 2-3 spoons prepared rasam powder . Top with a litre of water. Bring to boil and simmer for 15 minutes, strain into another pot. Adjust the seasoning and add chopped coriander stems and leaves. Make a tadka of garlic, jeera, hing, curry leaves and add to the rasam pot. Serve piping hot. Recipe by Saee Khandekar Rasam guide Chef's signature rasam Chef Vinayak prepares a pepper rasam that is close to the one made in Madurai. At: The Bigg Small Cafe + Bar, Saki NakaTime: 12 pm to 1:30 amCall: 9324550288Cost: Rs 250 Tomato garlic rasamThis recipe is followed throughout central Kerala. They use freshly hand-pounded garlic and pepper with tomatoes and other condiments. At: NairOnFire, Bandra and Mahim. time 11 am to 11 pmCall: 9324059522Cost: Rs 295 Smoked tomato and rasam soupThe rasam is made with charcoal roasted tomatoes, and marinated with crushed coriander. It's served like tea with dehydrated curry leaves and fresh rasam masala.At: The Moon Village, 36B, Khar WestTime: 10 am to 10 pmCall: 8828433688Cost: Rs 245 Classic poursOriginals from Matunga's South Indian eateries. Shree SundersAt: Opposite Kabutarkhana, MatungaTime: 7 am to 10 pmCall: 8879565958 Aarya Bhavan At: Shop No. 9 & 10, Lakhamsi Napoo Road, Matunga.Time: 7 am to 10 pm Call: 9292921919 Cafe Mysore At: Durlabh Niwas, 1/461, MatungaTime: 8 am to 10 pmCall: 02224021230
01 August,2022 10:16 AM IST

| Mumbai

| Phorum Pandya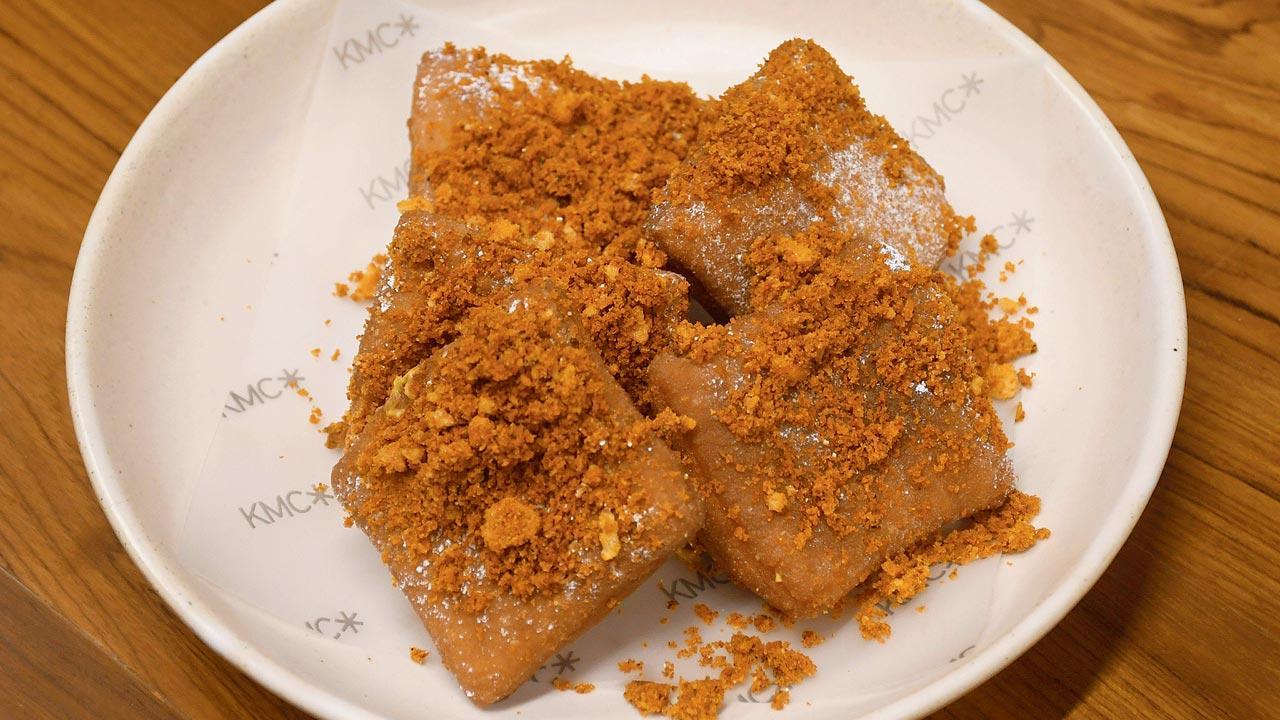 C is for community, with a generous dollop of comfort, at KMC*, the newest addition to Fort's foodscape where this writer found herself on a drizzly evening. It's where classic French windows double up as cosy nooks; we could curl up here with a Christmas-in-a-bowl cocktail, quietly watching the city go by. Where, a tall library corner — packed with works by JK Rowling, Enid Blyton, WB Yeats and RK Narayan — offers the promise of book exchanges and readings, punctuated by steaming cups of Americano. And where you might step in to power through a work lunch, but end up turning back time with a typewriter; maybe even type that long-overdue letter to your best friend. Quiche x cheesecake The all-day eatery, which opens its doors tomorrow, is led by chef Niyati Rao and Sagar Neve who wowed gourmands with their fine-dine Ekaa in December 2021. Like the neon asterisk signs that lead you up the winding wooden staircase of Kitab Mahal (KM) which houses KMC*, the duo shuns definitions, reiterating that it's not a café. "The C is dynamic; it can stand for club or culture for you, a café for someone else," points out Rao. But community is at the heart of the space, shares Neve. "Back in the day, we had community spaces like baugs, libraries or even Irani cafés, where people would not just eat, but meet, talk, and even start movements. Today, there's a scarcity of such spaces," he laments. With a library corner booked with titles sourced from Horniman Circle, a projector-printer setup for working professionals, a merchandise section of locally made journals, macramé keychains, quirky postcards and posters, and of course, a bar and kitchen that caters to all kinds of tastes, they hope to draw Mumbaikars to a community-first eatery. Chocolate chip cookie with vanilla-basil ice-cream; (right) Poached pear The food, like at the next-door Ekaa, is interpretive and packed with surprises, but comes at friendlier price points. Comfort, and sometimes nostalgia, spills into almost every dish created by Rao and chef patron Dhriti Mankame. Take for instance brioche and podi (Rs 300), a gourmet take on the classic bun maska with the cotton-soft buns dunked in chive butter and topped generously with a nutty podi masala. Rao's craving for fresh seafood that she grew up eating at Madh Island, inspires the must-try shrimp beignets and floss (Rs 450) that combine the worlds of seafood and deep-fried pastry. The umami shrimp stuffing cooked with their secret spices melts into the sweet-ish dough that is topped with a finger-licking-good prawn floss. The veggie bowl of coffee-glazed and baked beetroots, carrots, Bhavnagri chillies and purple yams (Rs 400) also impresses with a chatpata dressing and a light labneh. Sagar Neve, Niyati Rao and Dhriti Mankame We make space for some dairy indulgence next, as we taste the quiche x cheesecake (Rs 500). Creamy, but light, the savoury take on cheesecake is addictive; dig in all the way to get a load of that quiche crust and the hot-and-sweet red bell pepper jam. The kurkure fried chicken (Rs 500) pales in comparison for us, but is elevated by a faintly sweet honey soy dressing and a spicy dip that's almost entirely butter. We wash these down with a soothing Earl Grey and clarified guava-infused cocktail, not so tanny (Rs 935), that comes with a side of wiggly guava gel. The 70-seater space also boasts of a mezzanine floor. Pics/Ashish Raje The streak of savoury experiments with sweet dishes also flavours banana bread with a tahini caramel drizzle and a salty miso ice-cream (Rs 360). Likewise, a herby, aromatic vanilla-basil ice-cream lifts a skillet-hot, gooey chocolate chip cookie (Rs 360). But if you're that person who indulges in sappy Christmas movies all year round, like yours truly, pause eating to slurp the genius combination of wine-poached pear (Rs 975) and eggnog, a cocktail that is served in a bowl. Priced steeply, but deeply satiating, it's the perfect pick-me-up without having to unpack one's Christmas home décor. Maybe we'll come back for it and call dibs on the window seat. The library stocks poetry volumes, travel and food reads, and titles like Enid Blyton novels and the Harry Potter series, among other books KMC*At Kitab Mahal, 1st floor, shop no 2, Azad Maidan, Fort.From Tomorrow, 9 am to 12 am Call 9987653397
30 July,2022 10:59 AM IST

| Mumbai

| Sukanya Datta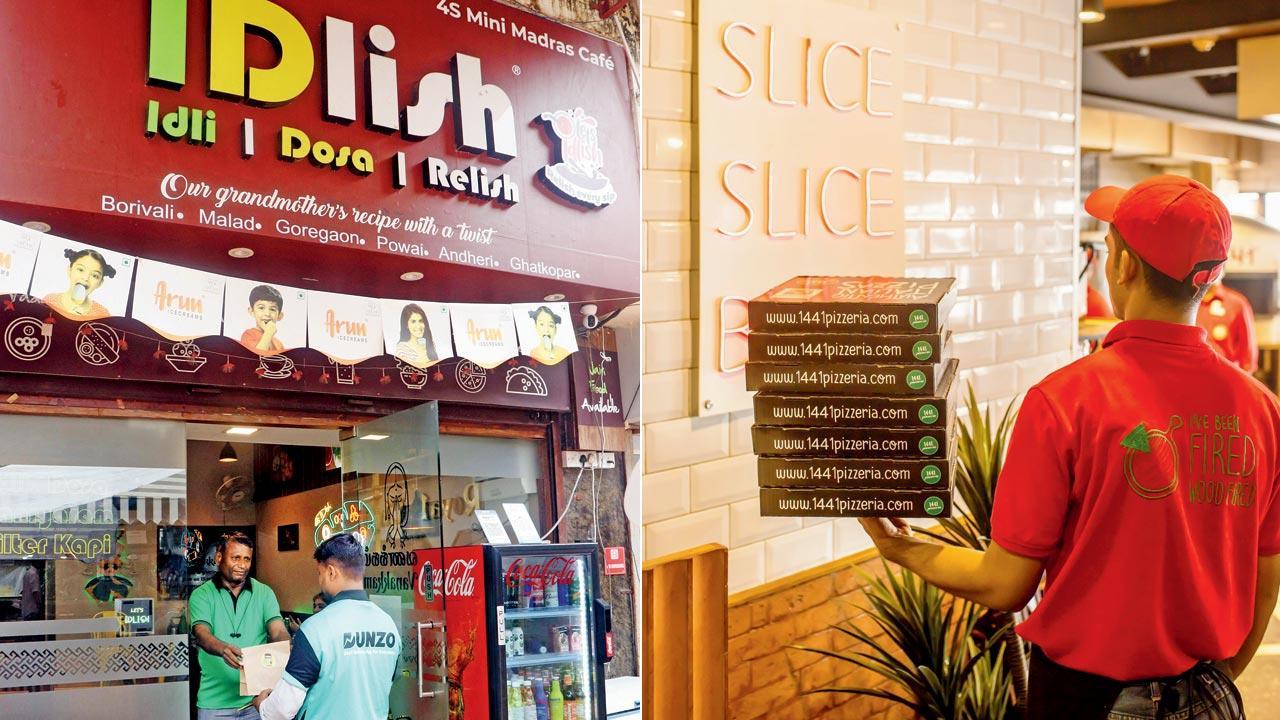 Before the world as we knew it changed in March 2020, areas like Thane, Vashi or Colaba were almost out of bounds for deliveries for Bandra-based Thai-Japanese restaurant Seefah. Recalling those early days of the lockdown, chef-restaurateur Seefah Ketchaiyo shares that once food deliveries were permitted, requests for orders started pouring in from far-off corners. Up until then, Ketchaiyo's famous katsu burger, tenderloin salad and honey toast had only been ferried by food aggregator apps like Zomato or Swiggy inside a fixed delivery radius. "With delivery apps such as WeFast, ShadowFax or Dunzo coming into the picture, we realised we could send our food to far-flung locations and literally everywhere. It became a big market for a small business," she says, adding it nudged her to explore direct order and delivery as a viable alternative. As dining-in kept hitting pause and play amid waves of pandemic-induced restrictions, delivery became the norm. But facing the heat of losses, increased competition and a slew of steep charges levied by food aggregator apps, F&B players have been answering the call of #orderdirect, including The Table, Woodside Inn, The Bombay Canteen, Social, along with neighbourhood joints such as Cafe IDlish, Jimmy Boy and The Bagel Shop, cloud kitchens like Nair on Fire, and bakeries like Knead by Moshe Shek and Ode to Gaia. Last year, the National Restaurant Association of India even organised a boot camp to help restaurants set up their own order and delivery systems to break the duopoly of Swiggy and Zomato. Dotpe and Thrive are among the personalised direct ordering systems that restaurants have been using Pocket pinch To respond to the crisis, the past two years have witnessed the birth and evolution of personalised ordering systems such as Thrive or Dotpe, which charge lower commissions, and offer ownership of customer data and delivery integration. Some eateries have found an alternative in them, while others like Seefah have dialled back to a time when food could be ordered home with just a call. Several others, meanwhile, have seized the opportunity to direct traffic to their own ordering platforms, such as 1441 Pizzeria, which has an app. Co-founder Vandini Gupta explains, "Zomato and Swiggy didn't make for a profitable proposition in the pandemic. We got leeway from even our landlords on rentals but there was no change in commission and other costs on the part of the aggregators." Like Gupta, Sankar Kasirajan, who runs Cafe IDlish, admits feeling the pinch of a bundle of charges — including commission, listing and discovery fees, forced discounts and more — levied by Swiggy and Zomato. "When these aggregator apps entered the field, they would enrol you at zero cost and take three to five per cent commission. Today that is anywhere between 30 to 46 per cent, including commission, discovery fee, and accounting for the discounts that you're compelled to give although they are capped," elaborates Kasirajan, whose Udupi eatery is listed on Thrive and Dotpe. The eatery now gets 20 to 30 per cent of its orders via these direct ordering platforms and uses aggregator apps to direct loyal customers to Thrive or Dotpe. "Including delivery charges and the commission of two to three per cent that we pay Thrive or Dotpe, it's a win-win for customers and us. We offer a 30 per cent discount on these platforms too. We end up saving at least 10 per cent and the customer saves a net 15 to 20 per cent extra as opposed to aggregator apps as on them, discounts are capped." Seefah Ketchaiyo, chef and co-owner, Seefah Data to delivery Customers' data, which is key information for restaurateurs, is not shared by Swiggy and Zomato while Thrive or Dotpe enable the same. With direct orders, businesses can use the customer information to offer loyalty points and build a rapport, like dessert brand The Tiny Tub does. "We provide a loyalty programme, they get a cashback and little benefits," shares co-founder Karan Alimchandani. Ketchaiyo, meanwhile, likes to throw in an extra salad or a small dessert as a token of gratitude when it comes to direct orders. Delivery apps such as Dunzo or WeFast also offer restaurateurs greater control over last-mile delivery, points out Gupta. It allows them to manage delivery fees, too; Cafe IDLish, for instance, subsidises the delivery cost for customers while Ketchaiyo takes care of delivery costs for orders that are in the Bandra-Santacruz-Khar belt. Sankar Kasirajan, Vandini Gupta and Karan Alimchandani Strike a balance Restaurateurs, however, admit that Swiggy and Zomato are here to stay. "When people are hungry or craving something, they seldom think of a brand. They go straight to Swiggy or Zomato to order," points out Alimchandani. Today, businesses which are toying with direct ordering systems continue to use aggregator apps. Meanwhile, they are engaged in active conversations with their patrons to explain the benefits of direct ordering. "The damage is more for new players who can only market themselves via Zomato or Swiggy. How will you engage diners to place direct orders unless you're established? That loyalty takes time. So, many new players perish. Restaurants need to survive. Direct ordering helps to strike a balance in the ecosystem," Kasirajan signs off.
29 July,2022 10:50 AM IST

| Mumbai

| Sukanya Datta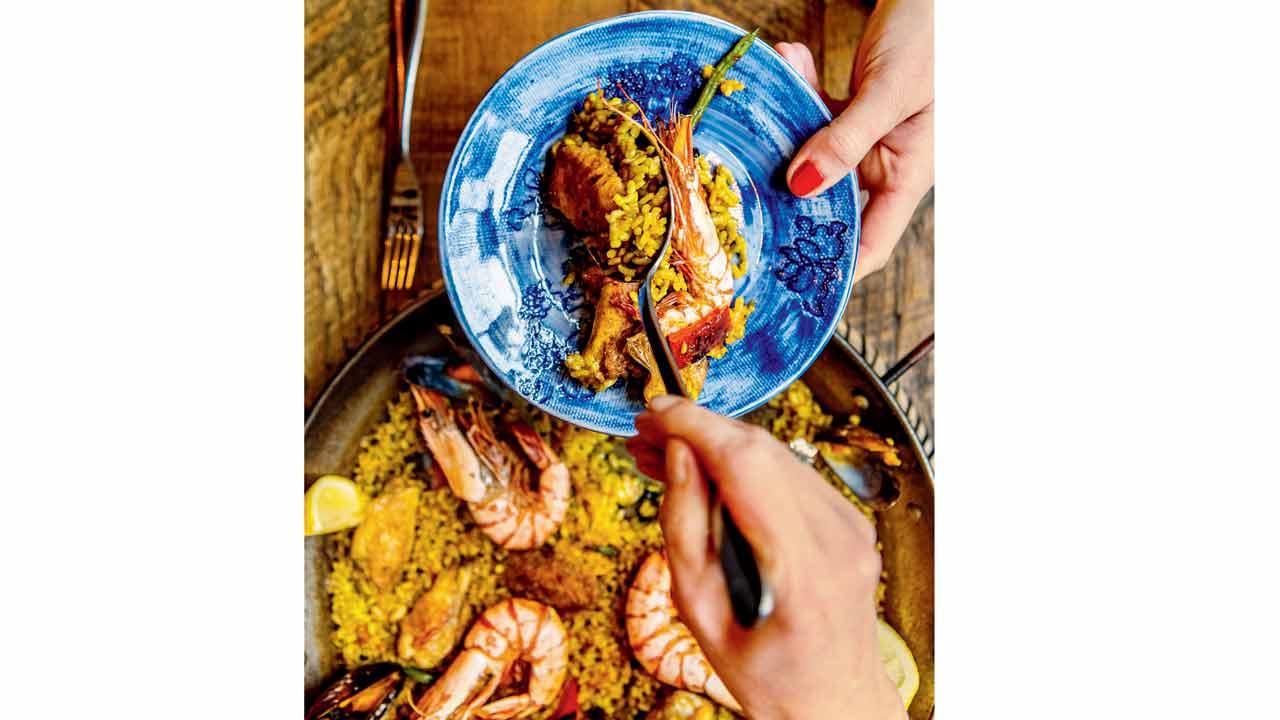 Here's a pro tip if you find yourself dining out in Spain. Don't just sit at opposite ends of the table with your companion, quietly enjoying your own orders. Head to the bar, which celebrity chef Omar Allibhoy likes to call the "epicentre of a restaurant" — not just for drinks, but food as well. It's where small plates of Spanish appetisers, or tapas, are shared over bottomless chatter. "It's a more sociable experience with shared dishes, which enhances conversations," reveals the chef behind the popular chain Tapas Revolution in England. Torrija, bread and butter pudding This evening, the chef and cookbook writer is set to tap-as into that same sense of community with a multi-course dinner at Sette Mara, in a Lower Parel five-star. The evening is conceived by Nikhil Agarwal, CEO, All Things Nice, who will curate a selection of wines to pair with Allibhoy's treats. We caught up with the chef ahead of the dinner. How did your culinary journey take off? Did your Indian-Spanish heritage play a role in it?The one thing that was not present in my life was Indian cuisine, although my father hails from Mumbai. It was limited to what my grandfather or abuelo cooked on special occasions. But yes, I discovered spiciness through him, as it was then quite unheard of in Spain to use so much chillies in food. My culinary heritage has really been Spanish. I've been drawn to the kitchen since I was a little boy. One of my earliest memories is of my mother cooking. After school, I would play football and then help my mother with dinner. By the age of eight, as she says, I became the head chef of the kitchen. It was always a humble spread at home — plenty of vegetables and fish. On Sundays, the whole family would gather and whip up special dishes. When I turned 14, I started studying culinary arts in college, and then went straight to work. Feeding people has been in my DNA, which is why I became not just a chef, but also a restaurateur. Chef Omar AllibhoyWalk us through the different dishes that you'll be serving up in Mumbai. Tapas or small plates, for us, is not a trend; it's a tradition. Spanish cuisine developed into tapas to satisfy our need for socialising. The dishes on the menu (tonight) will all be small plates. Spanish cuisine is a rich and diverse one because of, firstly, our cultural heritage — which comprises influences of Iberians, Romans, Greeks, Venetians, and the fact that it was an Islamic region for many years. Then, there's the vastly varied geography. Plenty of these influences will be reflected in the menu. We're cooking some lamb covered in Arabian spices; and a creamier version of paella with plenty of shellfish. Then, we have torrija, a bread and butter pudding, which is called the poor man's dessert. There's also courgette and vegetable pisto cannelloni, wild sea bass fillet, and mushroom croquette, among several other dishes. What's on your to-do list in Mumbai?My dad is accompanying me on the trip. He was born in the city and lived here till he was six, before his family migrated to Europe. He has not visited in the last 41 years, so we're on a journey of discovery. We've already started strong by heading to Bademiya. We plan to free-flow and explore. On: Today, 8 pmAt: Sette Mara, The St Regis Mumbai, Lower ParelCall: 9820698883 (limited seats)Cost: Rs 7,500 all-inclusive Get tapas-ready at your home >> Prepare a few things in advance so you can join the table; don't just slave away in the kitchen. Keep some clams with garlic, ham, white wine, capers, and a little paprika. Serve it with padrón peppers and Spanish chorizo. >> Add a couple of salads — a tomato, watermelon, goat cheese salad, for instance — and cold items like cheeses, cold cuts and anchovies to the mix. >> Add something you can keep cooked in the oven, like a paella. >> Prepare garlic prawns with extra-virgin olive oil that can be brought sizzling to the table; or like a curry-esque chicken with Arabian influences that is heavily spiced, includes saffron and a sauce of egg yolk and fried bread. - Chef Omar Allibhoy
28 July,2022 10:19 AM IST

| Mumbai

| Sukanya Datta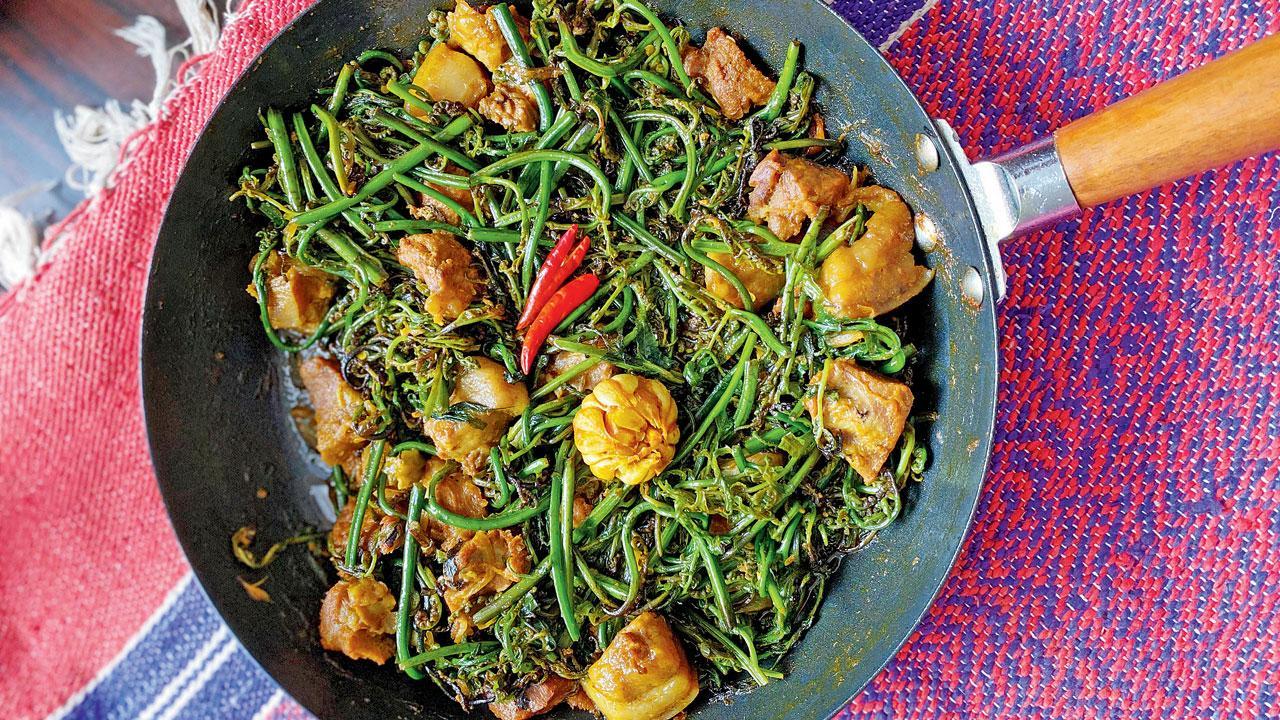 A band of little darlings are following their mother's lead across an endless sea of paddy. Their muddy calves and beaming faces are set on crossing a one-pole bamboo bridge. They're marching on to break bread with their tribe. Mention Hawri and Gitika Saikia, a city-based food curator from Assam, pulls out corresponding childhood visuals with wide-eyed wonder. She can't tell if she is the outdoorsy kind, but she has always liked sharing a meal of sticky rice balls and meat curries with her farming community. "In my growing-up years, we used to live in staff quarters. Right before our people could start planting paddy saplings, we returned to our village. My mother kept reminding us that we could enjoy the feast at home, too, but eating in the open on banana leaves already had us beguiled," she recounts. Gahori tengamora bhut jolokia In Assamese, planting paddy saplings is called kothiaa-ruwa. Hawri is the feast organised by a host for every assisting farmer on the completion of the first day of paddy transplantation. The host might invite members to their house or serve the meal in the fields. With a view to preserve her culture miles away from her homeland and relive traditions that vary even within the larger community of tribals, Saikia's two-day menu will feature season specials. "The idea is to cook with fresh, seasonal produce. I carried these greens on my way back from the Northeast over the last weekend. It is a limited-edition fare as if not, the greens might perish. Gitika Saikia There will be dhekia gaaj chana/chicken (black chickpeas or chicken prepared with fiddlehead ferns and bamboo shoot) and kosuthuri pork (pork in taro leaves) among other variations — dishes that will be served with rice and Indian olive pickle. "The food has to be considered in the light of the hard work that farmers have just finished in the fields. It was always high in protein and packed with nutrients," the home chef reasons. Saikia explains the interesting disparities among tribal groups, "My paternal roots lie in Upper Assam; there, Hawri is served with rice beer but that's not the practice amid Bodos. I married in the Bodo tribe; among them, rice parcels and black chana chutney is a breakfast staple. Chickpeas lend energy and are crucial for physical toil." She explains that many Bodo families prepare the sweet and ripe pumpkin of the monsoons for supper. Saikia reckons that widening our knowledge systems about an under-reported area is often about picking up popular names. That's how Bihu, a spring festival, dovetails our common parlance. "I wanted to uphold the smaller festivals as they brilliantly paint a nuanced people." The curator says Hawri signifies service: "In my state, farmers join others to help them till their land without any payment. It is natural for us to come together in groups." Her food shines in similar generosity, we think. On: July 26 and July 28At: Delivery via online order placementCall: 9820445990Log on to: @gitikaspakghor
27 July,2022 09:54 AM IST

| Mumbai

| Sammohinee Ghosh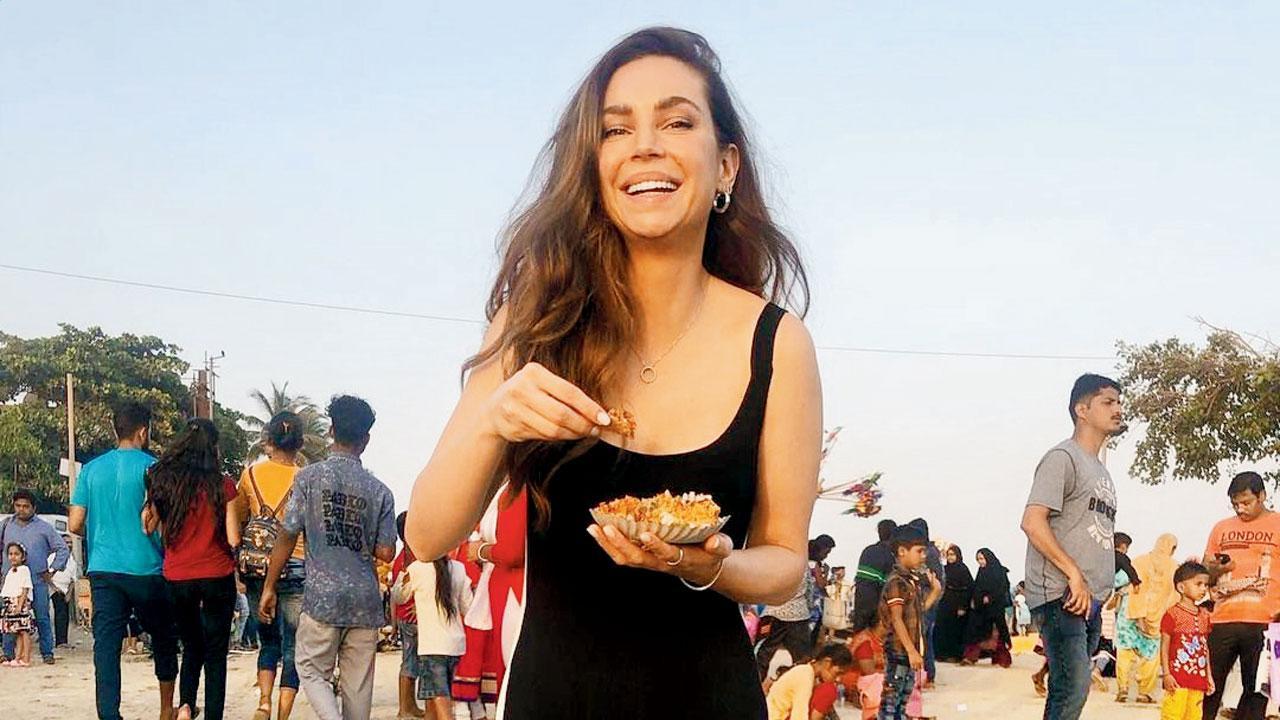 Ever since she first debuted on MasterChef Australia in 2014, Australian chef Sarah Todd has made no secret of her love for Indian flavours. She has since travelled across the country, connected with chefs and home cooks, deep-dived into the nuances of regional flavours and started Antares Restaurant & Beach Club in Goa. When she rejoined the MasterChef kitchen, with Fans and Favourites, the chef blended her training in French techniques with her decade-long experiences with Indian cuisine. The judges and viewers were treated to familiar flavours, including Maharashtrian prawn curry, laal maas, Bombay sandwich and bhelpuri. Speaking to us while on vacation in Greece, after ending up as runner-up for Season 14, Todd talks about the journey so far and the road ahead. Edited excerpts from the interview: How did it feel to return to the MasterChef kitchen?It was very different. I was familiar with North Indian cuisine because of my son's Punjabi family. But in the last eight years, when I travelled across India, I realised how diverse the culinary scene is. So, I felt excited to share that knowledge. I had a progression throughout the series, where I started off by cooking dishes that I'd been taught by some beautiful families in India. Instead of just cooking dishes that I'd learnt, after a point, I started preparing 'Sarah dishes'. Cooking is like art; you're putting yourself out there and it can be nerve-wracking to be judged. To be able to showcase dishes that were mine and be loved was a turning point. Sarah Todd whips up Bombay sandwich (right) on MasterChef Australia: Fans and Favourites. Pics Courtesy/Instagram You've been a chef, model, TV show host and restaurateur. How did your journey with food begin?From my modelling days, I understood food and how to nourish the body. But it wasn't until my son was born that I realised it's important to find my passion. I tried different things when I was younger, from photography to make-up. It was only when I started cooking that I realised that this is what I want to do. Being exposed to my son's beautiful heritage was eye-opening because, growing up, we had simple dishes at home — boiled vegetables and grilled meat. For me, the amount of flavour that Indian food packs is exciting. I decided to enroll at Le Cordon Bleu and started exploring classical French dishes. At the same time, I would come home to my Punjabi family to learn incredible loaded-with-flavour dishes. It has taken me a decade to find my style, but it's a culmination of these experiences. While presenting Indian flavours on a global stage, what are the principles that guide you?The biggest part is to ensure you make it clear that you're inspired by the dishes you learnt. Ultimately, we all have our own cooking style. So it is never going to be exactly the same. This applies not only to techniques, but also the produce. Maharashtrian prawn curry You launched a masala brand and a hot sauce venture. What else is on the cards this year?I love hot sauce. People think chillies are there only to blow off your socks, so I wanted to showcase the nuances in flavours that chillies offer.The range [by Todd and her brother] showcases chillies from all over the world, from Kashmiri chilli to ghost chilli. When I started cooking Indian food in Australia, a lot of people felt intimidated because of the many spices used in a dish, so I wanted to give them access to masala blends, like South Indian mix, vindaloo masala, or tandoor masala. We're all busy, be it in India or Australia; we don't have the time to take several steps for a weeknight meal. I'm shooting for a new TV show in Assam, so I'm excited though I can't reveal much. I also plan to open a restaurant in my style — Indian flavours with French techniques. Any plans to visit Mumbai? And what will be on your bucket list?Yes, I'll be there in a few weeks. My first stop is always Mahesh Lunch Home. I love eating bhelpuri on the beach though I can never pronounce it correctly! I also enjoy the Bombay sandwich behind St Xavier's College, and yes, lots of dosa. Sarah's picks>> Favourite eateries in Melbourne: Aru, a south Asian restaurant with a modern touch; I also love Indian places like Babu Ji. >> Favourite chefs in India: Vicky Ratnani, Manish Mehrotra, and upcoming chocolatier like Sanjana Patel and Vinesh Johny.
26 July,2022 10:46 AM IST

| Mumbai

| Sukanya Datta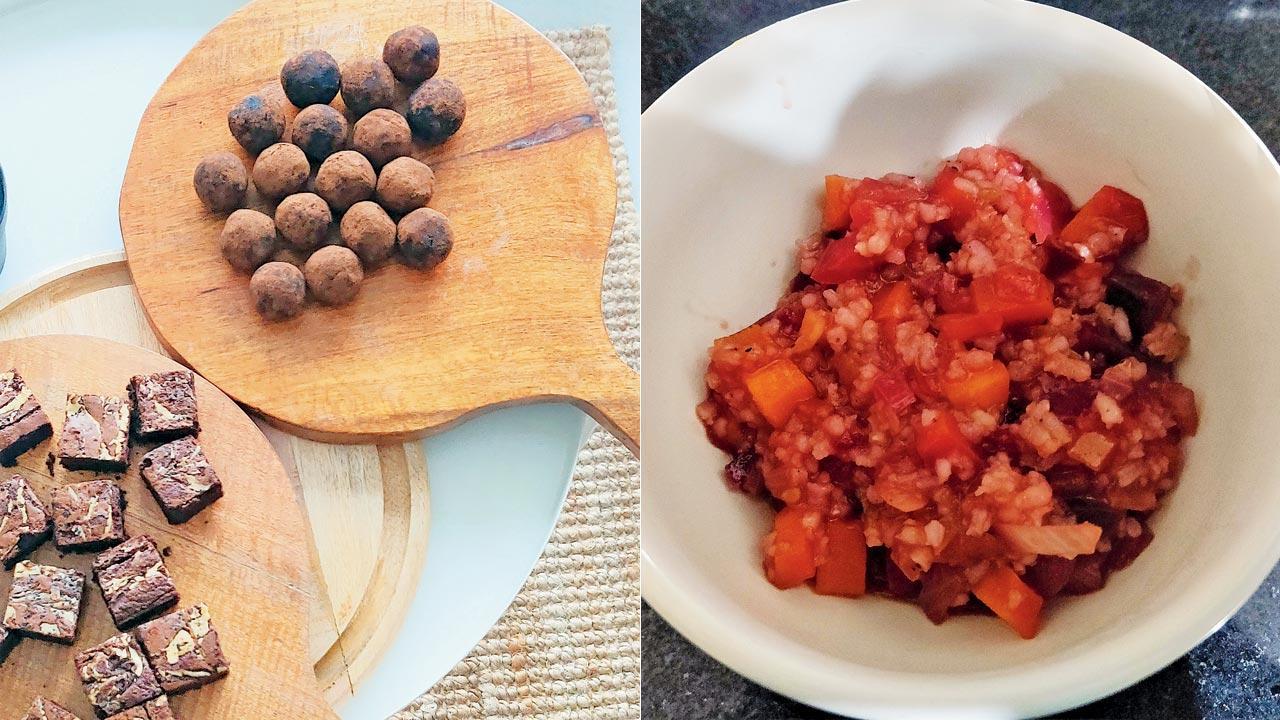 Home-cooking has been a heady, fun affair these past two weeks — from tossing up a warm salad with a peanut and lime dip to whipping up stir-fried rice with teriyaki sauce and a hot soup with a punch of miso ginger. Cue, the new entrant on the block, Boombay — a line of dips, sauces and spreads that jazzed up our food cravings without having to order in. Launched by Niharika Goenka and chef Aditi Keni last week, the platform was in the making for two years, during which they toured the country to source ingredients from farms and collectives, test flavour combinations, and run 20 to 50 trials. The two met in 2019, a year after Goenka reached out to Keni. "I was at a bar and happened to tell the bartender that I was looking for a chef. The bartender introduced me to a guest who was from hospitality and asked him to help me find a chef. The guest told me Aditi Keni was the chef I needed to revive my project," recalls Goenka, who has a background in Nutrition and Exercise Physiology from Columbia University. She had launched Arugula & Co, a health food start-up in 2018. At the time, Keni was working on another project in Bengaluru. Timur chilli oil used to make Indian red gravy for paneer makhani A meeting with Goenka in Mumbai convinced her to return to the city. Source the best The Boombay philosophy involves sustainable sourcing and mindful crafting of products. "We paid attention to creating a health-focused line," shares Goenka. The duo uses jaggery and coconut sugar, and cold-pressed oils from seeds such as sesame oil and extra-virgin olive oil. Niharika Goenka and Aditi Keni For the soy sauce and miso ginger, they have sourced two types of miso from Allahabad. "A Japanese professor came to Allahabad Agriculture University in the 1960s, and started the Makino School of Continuing Education to cross-promote and trade with Japanese ingredients in India. They make soy sauce and miso using native chana; their soy sauce is salted using Himalayan rock salt," reveals Goenka. Sourcing everyday household ingredients was the most difficult part, admits Keni. "We are sourcing our Kashmiri mirchi from Kashmir. Bright in colour, they are fruitier and pack in a stronger flavour. The Timur chilli, known as the Indian schezwan peppercorn or mountain pepper comes from the Northeast. Found across regions and altitudes, it adds a unique version of spice," the chef shares. The jarcuterie tasting Taste test The Timur chilli crisp (Rs 395 for 190gm), which has been the most-used jar in our kitchen, includes five chillies, onion, garlic, sesame oil, and pissi loon pahadi hara namak from Uttarakhand. We love how the products have interchangeable uses; a dip can be used to thicken a gravy or to season a salad. Drizzle sauces double up as cooking sauces, and it has been a riot in the kitchen since. The first sauce we use is teriyaki (Rs 310 for 250 gm). We prepare it for an Asian-style veggie and rice stir-fry. The bottles have their own oil content and do not need any addition, except salt for taste. A tad too sweet for our palate, we prefer the smoked chilli jaggery (Rs 370 for 220 gm), which Keni said was the most difficult product to create. It features the Sirarakhong chilli that is grown in a village in Manipur. Earthy and slow, yet steady in its spice punch, the jaggery balances the spice, along with the smokiness that gives it a sweet lift. Peanut and lime dip We love the miso ginger (Rs 380 for 250 gm) with a tart and umami lift; a spoonful transforms our pumpkin soup. The big favourite is the peanut and lime dip (R295 for 190 gm) that doubles up as almost everything — a dip, a spread and also as an addition to a curry to add tartness. If you crave for a sweet ending, use the chilli caramel (Rs 255 for 190 gm) to whip up a caramel chilli chocolate tart, while the Timur chilli crisp can be used for brownies and truffle balls too. We intend to drizzle it on our ice cream for the next soirée. Log on to @boombayway on Instagram, Facebook and Twitter; amazon.in; boombay.in
25 July,2022 10:23 AM IST

| Mumbai

| Phorum Pandya