She's a movement expert, theatre actor, and now director. But the project she's excited about is taking theatre to those who can't afford a ticket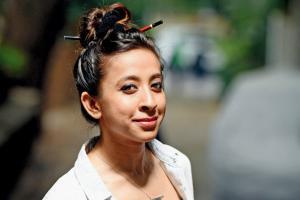 Yuki Ellias' award-winning movement-based piece, Elephant in the Room, was part of the official India@UK2017 showcase at the Edinburgh Festival Fringe. Pic/Shadab Khan
Yuki Ellias, 39
Theatre artiste
From a late child who hadn't started speaking until the age of three to a "bad RJ" who lost her job when the radio station she worked for switched from English to Hindi programming, Yuki Ellias doesn't hesitate to count her failings. What she humbly glides over, though, are her achievements, which in the eyes of her contemporaries and senior artistes have played a significant role in bringing Mumbai's theatre scene to vibrancy.
In a profession that's considered an unconventional career path, Ellias's choices have been still more unique. Back in the early 2000s, when a new generation of theatre artistes were choosing to study in theatre schools in the UK, she picked the Jacques Lecoq International School of Theatre in Paris.
"Apart from the fact that it was more affordable, what the school offered was very different from anything I had seen. I remember, from a batch of 90, only 30 students made it to the second year. When I was being interviewed, a teacher told me, 'I think you are mad. And I want to see your madness.' I had never heard a mentor say something like this," reveals Ellias. The school's focus on body movement was another "lucky match" for her, as she was to realise later. She was invited to be the movement director for British theatre artiste Tim Supple's 2007 opera, The Magic Flute, while her award-winning movement-based piece, Elephant in the Room, was part of the official India@UK2017 showcase at the Edinburgh Festival Fringe.
By 2008, Ellias had decided it was time to impart training to others, and took a course in theatre pedagogy in London. So, a few years later, when The Drama School Mumbai was founded, Ellias was among its first faculty members. More recently, she has turned her focus on direction. "When I started out as an actor, I was happy to be in any play as long as I got the best part. Then for five years, I enjoyed my role as a teacher. But now, I am investigating my space in India through the stories of my roots," she shares.
And those stories aren't just reaching regular audiences. Ellias's initiative, Basti Mein Masti, which she started earlier this year, is a production that she takes to those who can't afford a ticket. While the first edition was performed in her domestic help's neighbourhood in Sion, another was taken to a juvenile home in Matunga.
What keeps the streak of madness going? "I think I was bred to become what I am today. I grew with so much stimulation around me. My parents would sign me up for a film appreciation course or a class in music or some sculpture session - not for me to take it up as a profession, but so I could appreciate the arts," says Ellias of her editor-publisher mother, Bina Sarkar, and father, Rafeeq Ellias, a documentary filmmaker.
She adds, "Our lives as theatre artistes follow a radically different timeline from those of schoolmates who did an MBA, for instance. And it's a privilege to have the support of a family that is relaxed about who you are. I hope young people striving to work in theatre receive patience, space and encouragement, like the kind I got."