Mumbai, the home ground of Irani cafes and culinary fanatic Parsis, readies to judge a hospitality veteran on nostalgia. Phorum Dalal drops in for chai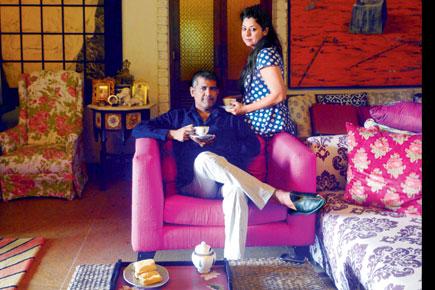 Irani Cafe
Hospitality veteran AD Singh traces his fascination for the Zoroastrian community that totals a minuscule 1,30,000 globally, to his childhood. Hathikhanawala was the surname of a set of family friends, and the little Singh often wondered, "What race would a family that ate elephants belong to!"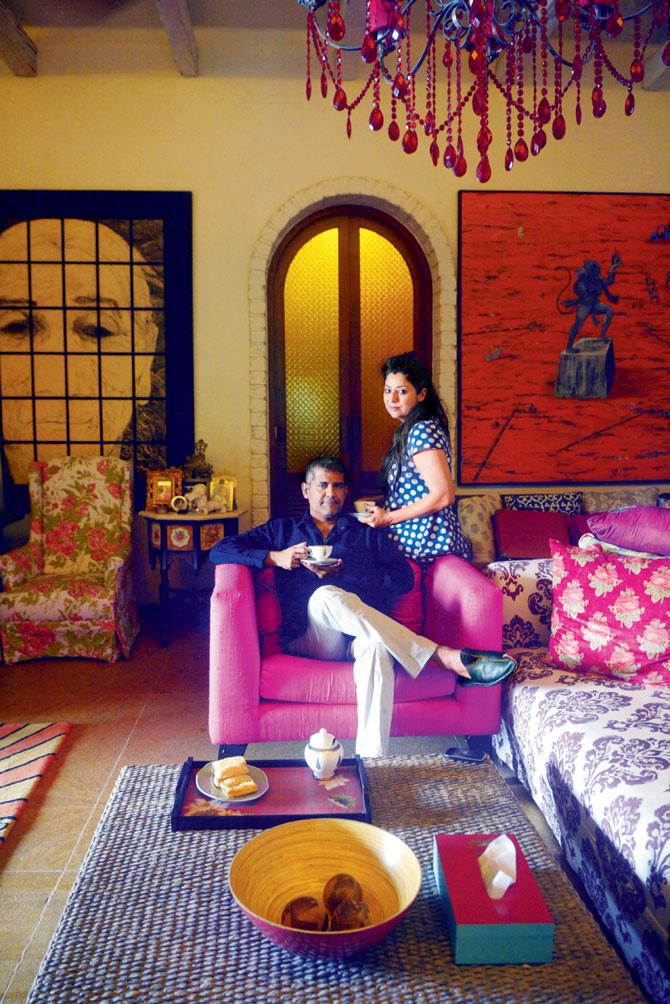 ADVERTISEMENT
Decades later, the restaurateur pays his tribute to a people who played an intrinsic role in lending Mumbai's café culture its character, by opening the fifth branch of SodaWaterBottleOpenerwala (SBOW) at Bandra Kurla Complex. The name, also a surname among the Parsis (although often, it's labeled fictitious), is archaic but Singh's eatery is a contemporary version of the bun-maska-chai outlets that dotted every city turnaround after the 1950s. And this return to home is making him nervous.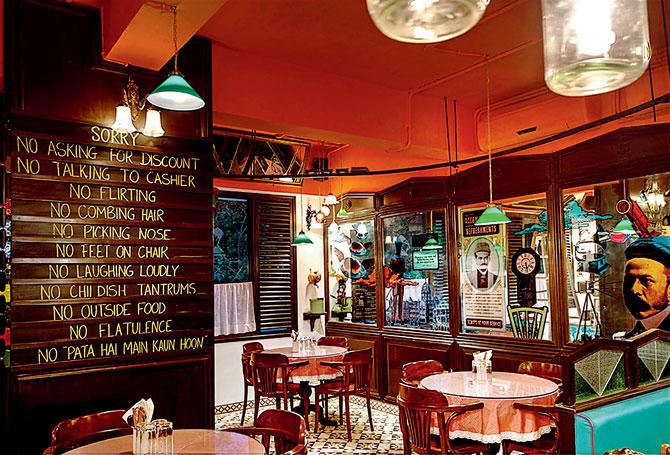 The board of rules at SodaBottleOpenerWala in Khan Market, Delhi, is inspired by the one that hung at Dhobi Talao's Bastani & Co., before it downed shutters in 2004, following a feud among partners
"Mumbai," he admits, "will be the hardest market to please. We were worried even when we opened in Delhi since the capital had little exposure to Irani cafés and Parsi cuisine. But with that challenge overcome, we are ready now," he smiles, sinking into a fuschia couch at his sea-facing Napean Sea Road apartment.
In the last decade, Mumbai saw several of these cafés down shutters. Some owners said they were no longer commercially viable. Some fell victim to warring partners.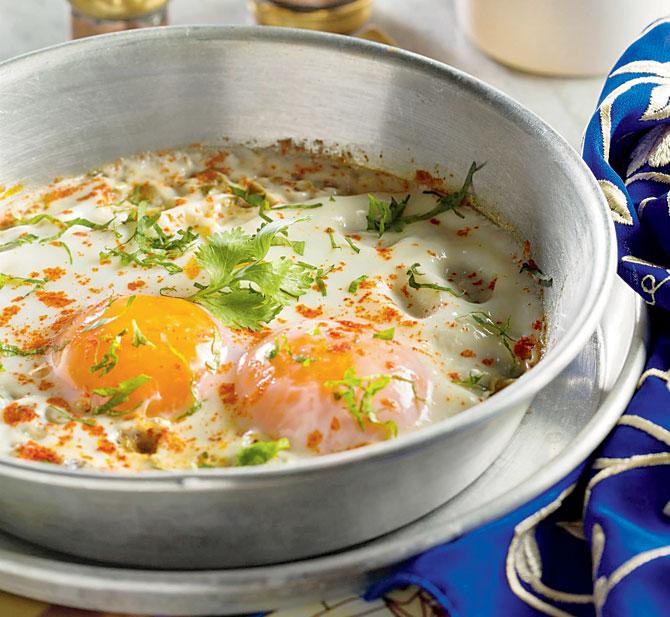 Bheeda par eeda
When Irani chai and kheema pav lovers were sulking at their loss, Singh was plotting a way to carry the legacy forward. "The concept is uniquely Indian, and Irani joints have played an important role in the country's culinary history," Singh believes. He opened his first SBOW in Gurgaon in November 2012. Then came another in Khan Market. Outposts in Bengaluru and Hyderabad followed.
Like its predecessors, the BKC outlet will serve Parsi staples patra-ni-machchi and dhansak, but offer a mix of Bombay street food, too. "Our best dishes include a version of Bhendi Bazaar's famed seekh paratha and Willingdon Club's eggs Kejriwal," says Singh.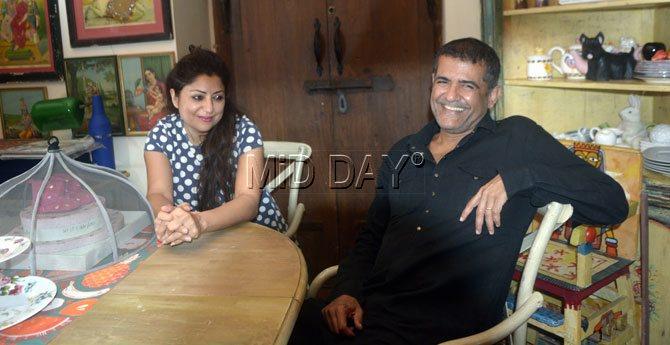 The couple hopes to introduce millenium babies to café culture. Pic/Pradeep Dhivar
His wife Sabina walks into the room in a breezy polka dress, and asks, "Chai?" Singh says he has ordered it, before she interrupts with, "and khari?", referring to the chai's iconic accompaniment, a flaky rectangular biscuit.
Like their home, which carries a contemporary feel successfully punctured by kitsch in bits, SBOW's interiors are a product of Sabina's design sensibility. Together with architect Clement Dyselva, she gave it a pop, Andy Warhol-inspired whimsical feel. "We were oscillating between a traditional look which the older generation would connect with, and something new," says Sabina, who oversaw processes as her graphic designer created artworks of Parsis in Einstein hats and milked Chor Bazaar dry of its antiques. The bentwood chairs and round marble-top tables were retained (menus carefully slipped under a glass placed atop red and white tablecloths), and the stewards were handed jonty caps and aprons. "It was AD's idea to add a 'wala' to each of their names," she laughs. "So, you have a Sameer Chaiwala and Prakash Daruwala."
Attention to detail also brought with it funny moments. Sabina, who has gone to great lengths to procure black and white photographs of ancestors from Parsi friends, and others from Chor Bazaar, once had a customer walk into the Khan Market SBOW, look at a photo frame and exclaim, "Hey, that's my great grandmother!"
The couple's search for a Parsi manager hasn't yielded results but at the helm of the kitchen is chef Anahita Dhody (with Kulbeer Rana). The menu encourages guests to mix and match. Singh's favourite combination is berry pulao with Aunty's aloo cutlet. Although he swears by Fort's Britannia & Co.'s berry pulao, he is confident that his version is at par. "We've followed authentic recipes, although the presentation may be contemporary. Everyone's mum makes the best dhansak, but to ensure that quality is maintained, we've roped in local Parsi caterers to regularly audit our food," he says. Blogger Chowder Singh is the man behind planning the menu.
The eccentric fun, symptomatic of Parsis, continues in the form of the SBOW anthem, Do the Dhansak Dikra, which is played at every outlet. The couple's yoga teacher's son, Meherzad Patel came up with the idea, and Singh, who broke into Mumbai's hospitality industry in 1999 with Just Desserts in a Fort bylane, says it has stuck. "Guests under 30 don't relate to the Irani café culture," he says. "SBOW is our attempt to attract newer audiences, and tell them its story."