Bakeries — American Express, A-1 and J Hearsch — continue to draw in crowds for their diverse menus. the guide peeks into their ovens nudging out tales that have become part of the suburb's lore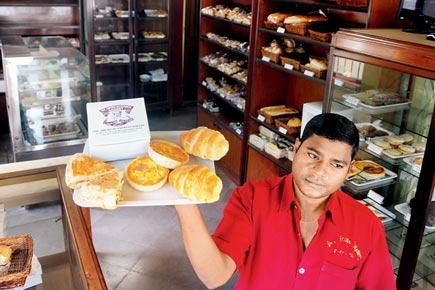 A-1, American Express, J Hearsch & Co Bakery, Bandra, baking business, Mumbai Guide, Bandra bakeries, Food
American Express Bakery
"We knead...
Your Needs."
This tagline greets one into the cosy American Express Bakery (AEB), the offshoot of the Byculla landmark, and an icon on the busy Hill Road. A hallmark in the 1950s, Yvan Carvalho informs that the place was opened as a branch by his grandfather. Speaking of the range of butter paper-ed eateries, Yvan tells us that it has always been the same — breads and cakes (pound cakes, cupcakes, and mawa cakes).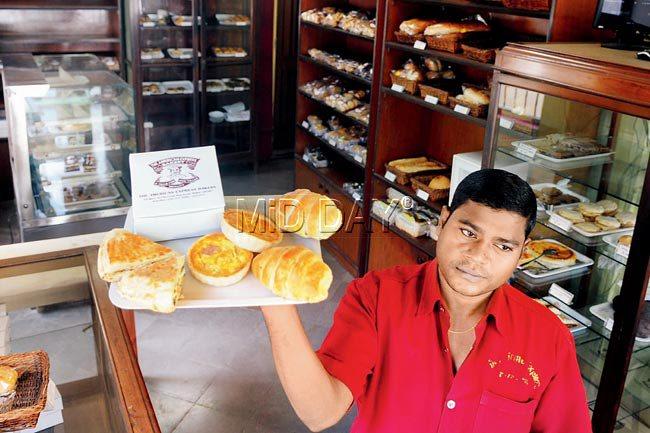 Babu, of the American Express Bakery (AEB) in Bandra, poses with the bakery's favourite baked goodies. He has been with AEB for the last 16 years. Pic/Nimesh Dave
The onus of the bakery transferred from Yvan's grandfather to his grandmother, then his father and now him. From the advertisements to the logos, and even the 'kneading' part were all formulated by his enterprising grandfather. Yet how did the dough tantalise his grandfather? We wondered. Any experience in baking?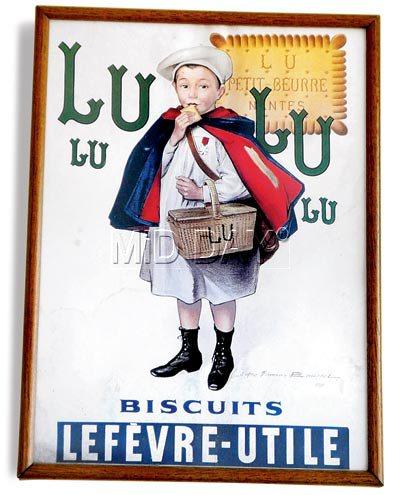 The branch sports several old advertisements that were conceptualised by Joseph Carvalho.

It was all books, which were then considered the bibles of baking. Since then, machines that were imported from England, one dating to 1940 and the other to 1965 are still in use. Brothers Yvan and Emit, adding to the family love for the bakeries, introduced biscuit crinkles and biscottis as they discovered new treats during their travels.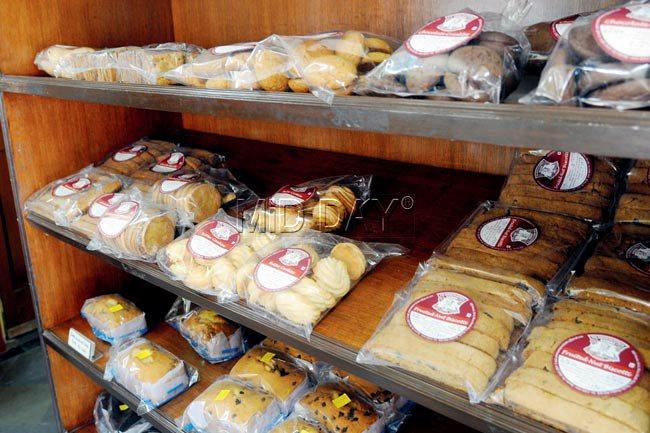 All special items are reasonably priced while their specialty breads fly of their shelves in no time 
Yvan recalls that learning how to run a bakery has been hard. "People don't realise that one needs to know about the machinery, accounts or finance, and manage labour and costs. Yet one thing I am proud of is that we have stuck to our quality."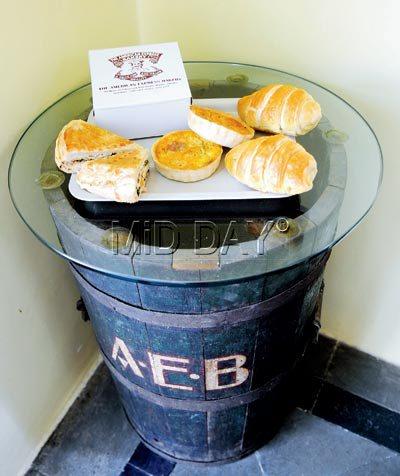 The American Express Bakery wooden barrel is reminiscent of its earlier days
Recalling a recent incident, he shares that since the floods in Kashmir, almonds had become cheaper than walnuts, which were '1,000 per kg. "Yet, we stuck by our prices. What can you do? It is a natural calamity," he gestures. From expats to youngsters, the AEB has had celebrities too. Director Imitiaz Ali, leader Tushar Gandhi, actresses Helen and Ratna Pathak Shah have made in an appearance to savour their delicious baked items.
While specialty breads and biscuits are incredibly popular, one can look forward to Guava Cheese, Fruit Mince Pies, Coconut Toffee and other unusual X'mas harbingers as Ivan confides that the plums are soaked in already.
On 9.30 am to 8.30 pm, Sundays closed
At Villa Sushma, Hill Road, Bandra (W).
Call 26422857
J Hearsch & Co
Unlike the other two bakeries, J Hearsch & Co can have a stranger run around in circles on Hill Road, until a kind bystander points out the derelict-looking house around the corner that masks the century-old bakery. Once discovered, the bakery is reminiscent of the erstwhile spacious Bombay, and bears the vibe of a college place. The bakery hums and buzzes from 7.30 in the morning to 10.30 in the night, a shortened set of working hours than its 24-hours open policy of before.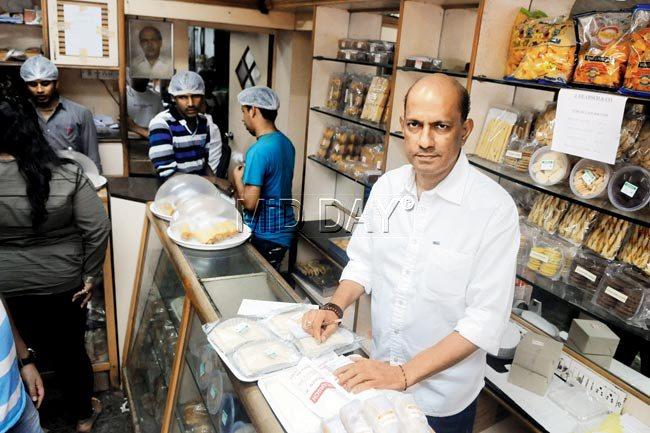 Hearsch's counter is brimming with a wide variety of food items;
Melvin D'Sa, one of the three D'Sa brothers, has been overseeing the bakery for the last 35-40 years, though as per an earlier mid-day article (October 16, 2011), the Fernandes family has been the "lessee-cum-proprietors of Hearsch". The German gentleman, Hearsch, was the original propreitor of the bakery during World War I; he, however, had to flee the country in those turbulent times. Carrying down the legacy was a young woman, Sophia Fernandes, whose family stills carries the onus.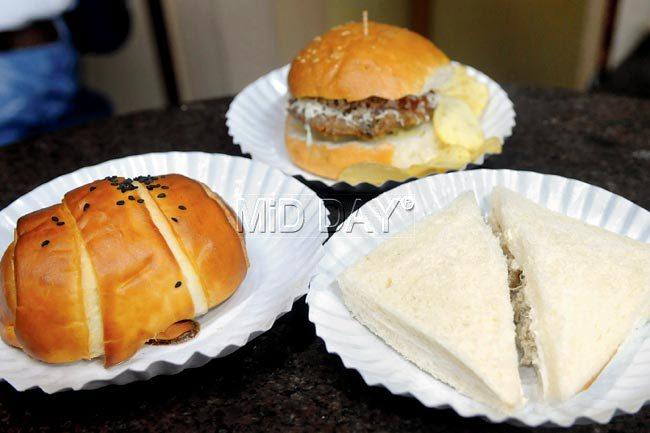 Hearsch's puff, roll and sandwich are equally delicious
Melvin D'Sa confirms that he has been part of this city icon since the 1980s when the mantle was passed on to him from his breadman father. "My father was a bread distributor and he had only worked in a bakery. After my elder and middle brother went abroad, I started handling the operations," says the 64-year-old Melvin, a Science graduate from St Xavier's College.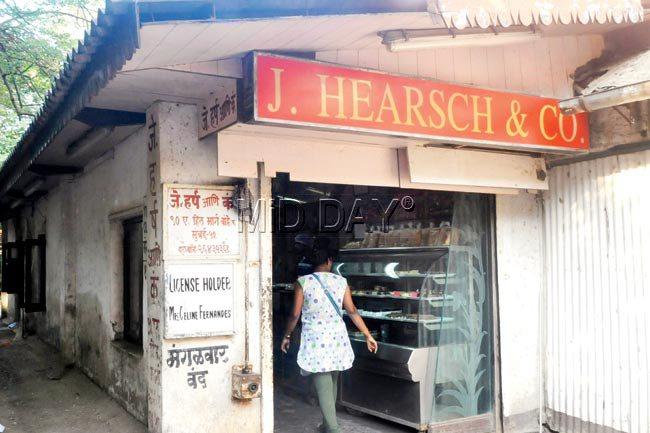 Hearsch & Co is like a secret hangout, given its clandestine location. Pics/Nimesh Dave
Till 1985, like 90% of Bandra bakeries, J Hearsch & Co sold pav, sandwich bread, kadak pav, and bran bread. Melvin recalls the hardships endured to run such bakeries including rude labour and prickly heat during the summer until the bakery got its automatic oven.
After his father's demise in 1987, brothers Melvin and Steven introduced rolls, puffs and cakes. "Anybody in this business will tell you that there is very less margin in bread and more in snacks," informs Melvin who works in shifts with his 55-year-old brother. Nudging 'exotic' items like croissants, garlic bread, and French bread on the menu, the palate of their customers has undergone a change. Quzzing about the crowd favourites — the burgers and the chicken puffs — one notices that both items have had their own success stories to tell.
He admits that introducing the burger to the Bandra crowd was a hard task at that time as people hadn't heard of it. But once it caught on, there was no looking back. In fact, their chicken puffs "sell nothing less than 500 a day," says a self-effacing Melvin.
It's not only people who flock the beloved bakers day in and day out, there's a gang of cats who secretly drool over the Hearsch's mayonnaise too; an item that is said to have a secret recipe of its own.
"Initially, our rolls were made by mum at home and were brought to the bakery, so that, in a way, was a family secret. But that or even the mayonnaise has been shared with the workers here and there's nothing that is hidden from them," he says, One hopes and yearns to continue to enjoy the makeshift shaded seating between rocks and a parking lot while a heady bouquet of smells tickles our tastebuds. Wondering about the future, Melvin divulges that there are many plans but nothing concrete as of yet.
"My daughter is in a catering college but hasn't said anything yet. Also, we renovate a place every four or eight years, and I would really like to do that. In fact, I would like to make it a cafe but then we are just conductors of the bakery," he concludes.
On 7.30 am to 10 pm, Tuesdays closed
At Hill Road, Bandra (W).
Call 26435361
A-1 Bakery
If there's one thing a true Bombaywalla has to stock for their dining table, it has to be pav. The moulded, soft, husky-brown bread is as multifaceted as the megalopolis itself. And meeting Bandra's needs, just as it always has been since the 1950s, is the A-1 Bakery that was started by the Irani family after they migrated from Iran.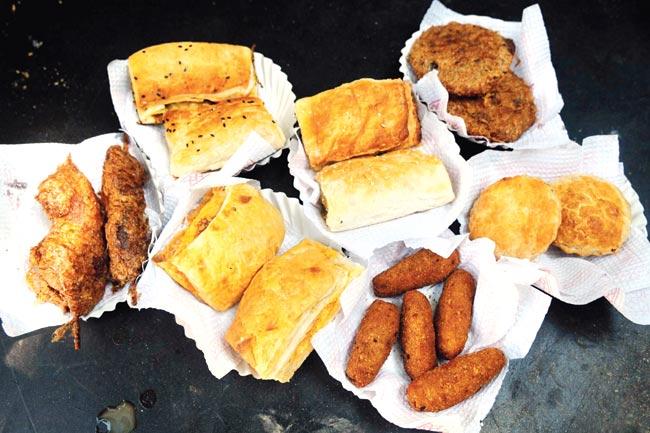 A-1 Bakery offers four different kinds of puffs. There are also cutlets, croquettes and nugget slices. 
Now, helmed by the third generation, Aaron Irani overlooks both the Bandra and the Malad branches along with his brother-in-law. "It started selling hot breads along with the Irani Mawa cakes and biscuits (initially). As time went on, newer products were introduced which have retained their popularity, reputation and recipes till today," says Aaron.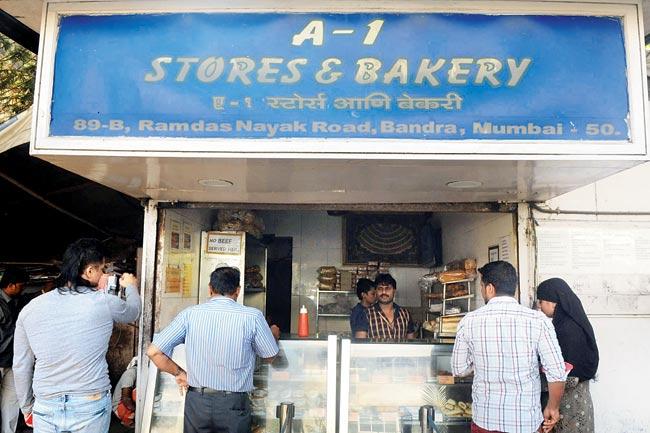 A-1 has a no-frills ambiance, though you should not judge its menu by its size
Facing Hill Road in all its simplicity, A-1 has had even partygoers seeking succour at 5 am. Being a stone's throw away from the American Express Bakery, the open facade is divided into queues as people order lipsmacking savouries. "The hot favourites have been the Chicken Roll with Mayonnaise, Chicken Puffs, Mutton Puffs, and Chicken Cutlet Pav," says Aaron. While the staff hardly has a moment to breathe, there is renovation going around with greater plans in the pipeline. "We are the only and the most famous bakery in Bandra supplying hot breads (pavs) and the very, very famous hard breads called Gootlies. Also in terms of breads — the dinner rolls, sweet buns, and the multigrain buns are very popular," shares Aaron.
As young boys stand at a table chatting merrily while trees play light and shade, one can suspect that A-1 is their regular haunt. Christian elderlies patiently await their turn appraising fresh breads from a distance. Clearly, very few need to look at the menu though it teems with a variety of snacks, desserts and breads.
While we are on the cusp of entering the month of Yuletide, Aaron assures us that there are special family recipes for all products and to stir up the seasonal magic, Christmas sweets are already getting prepared.
On 5 am to 9 pm, daily
At Hill Road, Bandra (W).
Call 26426211