Mumbai's KEM hospital staff accidentally leaves catheter piece inside the head of a five-month-old baby Eliza battling intra-ventricular haemorrhage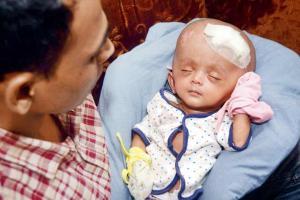 Eliza rests in the arms of her father Anand Waghmare on Saturday
The trauma of five-month-old Eliza Waghmare just doesn't seem to end. Born premature with hydrocephalus - a condition that causes excessive water retention in the brain termed Cerebrospinal fluid (CSF) - Eliza's treatment has not just seen several bumps and red tapism, but even now with help pouring in from Good Samaritans, there are hiccups.
On November 16, neurosurgeons at Juhu's Dr RN Cooper Municipal General Hospital, where Eliza was offered free treatment, found that a foreign body, 4 cm-long, had been left in her brain by neurosurgeons from Parel's KEM Hospital who previously operated on her.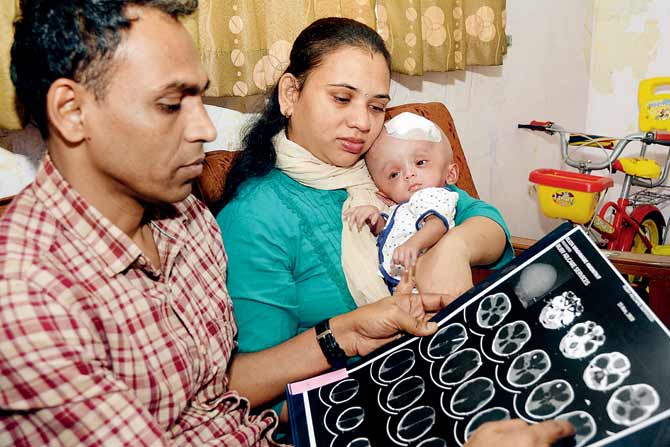 Anand and Jayanti Waghmare with five-month-old daughter Eliza, who was born with hydrocephalus
The Cooper CT Scan was meant to be a routine one to check if a procedure to insert an Ommaya reservoir - an intraventricular catheter system used for removal of CSF - had been successful. The scans, however, showed that the first tube, inserted during Eliza's admission at KEM, had been left inside. It seems that this was neither put on record during her discharge nor were her parents, Anand and Jayanti, informed about this. The fear now is that this will lead to further infection and the young girl is currently too vulnerable to undergo another surgical procedure.
Speaking to mid-day, Dr Shashank Joshi, consulting neurosurgeon at Cooper, said, "My junior went through the CT scans and was surprised to see that the Ommaya tube had not been placed properly - meant to be on the right side of the brain, it was showing up on the left side in the scans. But, when he again checked, he found that there was not one, but two Ommaya catheters in her brain." Dr Joshi adds that while the catheter placed by Cooper surgeons was in its correct position (right side of brain), the one on the left had been left there during the procedures Eliza underwent at KEM.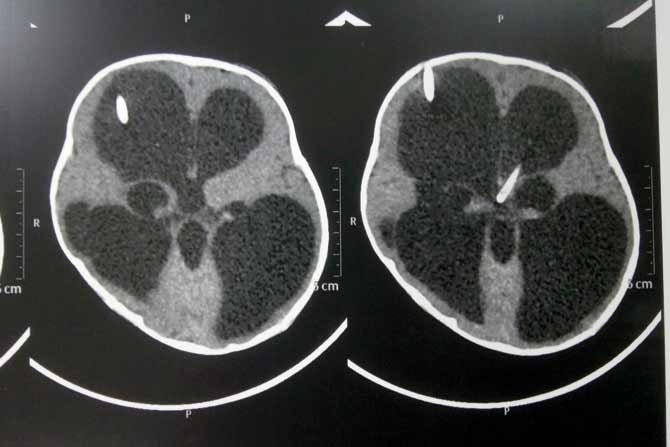 A CT scan done at Cooper hospital shows the floating Ommaya catheter left accidentally by KEM staff. Pic/Sayyed Sameer Abedi
Dr Joshi added, "It was either not noticed or not brought to the notice of seniors [at KEM], as the discharge report or medical notes of KEM only states about removal of the Ommaya reservoir."
Anand, says that on June 17, Jayanti lost her vision. Initially, it was partial loss and then became complete loss. After this, she became unconscious. She was initially admitted to a private hospital in Kalina and shifted to KEM the next day. On June 19, she delivered Eliza, who was admitted to the Neonatal Intensive Care Unit (NICU) from where she was discharged on August 16. On July 22, an Ommaya tube was inserted in her brain. "After discharge, on August 16, we were called for a follow-up and on September 5, the treating neurosurgeon told his junior to remove the CSF through the Ommaya chamber.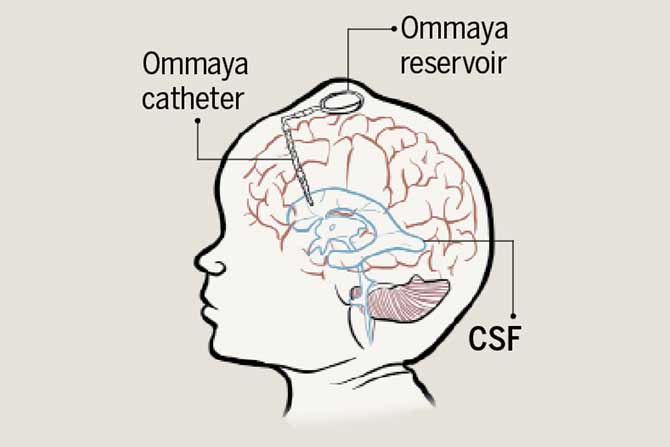 Anand claims that post this, the sutures from the surgery came undone and, while the junior doctor attempted to cut the threads, it wasn't done properly allowing the skin to move which led to the displacement of the Ommaya chamber. "The chamber was removed by KEM doctors on October 9. It's only now that we learnt that the doctors left the catheter inside," he said, adding, "I am in the process of seeking legal opinion. I am keen that an inquiry be initiated by KEM in this, as the concerned junior doctor has not documented the sliding of the catheter in the medical records. I am not raising this issue to seek publicity or compensation, but to ensure that the doctors are held accountable for negligence."
Dr Joshi said infection cannot be ruled out, if the CSF is already infected. "Our concern and priority at this stage is to ensure that we continue to tap the CSF fluids from Ommaya chamber - our last extraction was 120 ml. The protein level continues to be over 400 mg dL. Unless it drops below 100 mg dL, we won't be able to do much. The only treatment in hydrocephalus is inserting a shunt to drain the fluid to the abdominal cavity."
On the removal of the 4 cm long catheter, Dr Joshi said, "The child is too vulnerable for further surgical procedures at this stage. We will continue to monitor the child's health and would do the needful as and when required. And we must also understand that the child continues to be critical."
A senior consulting neurosurgeon, not wishing to be named said, "The concerned junior should have documented the breaking of the catheter. But these catheters are inert and sterile and do not produce tissue reactions. Such accidents do happens, but not often."

KEM says
Dr D P Muzumdar, senior neurosurgeon with KEM, under whose care Eliza was initially in, said the concerned junior doctor might have inadvertently missed documenting that the catheter had slipped inside the brain. "We do not expose children to unwanted CT scans. Even in Eliza's case, we did not do a CT post the removal of the Ommaya chamber, to see if anything was left behind. Moreover, the infant had already gone through an MRI a few weeks prior to this," he added.
Muzumdar clarified, "The catheter remaining in the brain was not causing any blockage, as we were able to extract the CSF even when we did the last tapping on the child on October 31. We have gone out of our way to support and do everything for the child and parents. Instead of trusting us, the parents decided to take the child to another hospital, which we feel bad about."
Catch up on all the latest Mumbai news, crime news, current affairs, and also a complete guide on Mumbai from food to things to do and events across the city here. Also download the new mid-day Android and iOS apps to get latest updates