Mumbai's temple of music, standing brave in the face of the digital revolution, finally accepts defeat. Kala Ghoda's Rhythm House prepares to fold up operations as early as February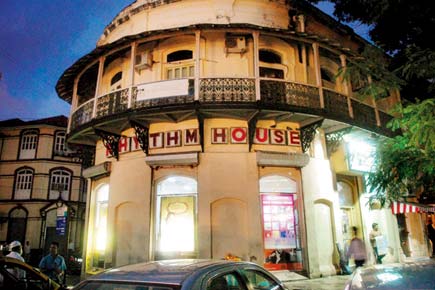 When Goa-based writer Joseph Zuzarte makes a stopover at Kala Ghoda's iconic music store, Rhythm House, he calls it a pilgrimage.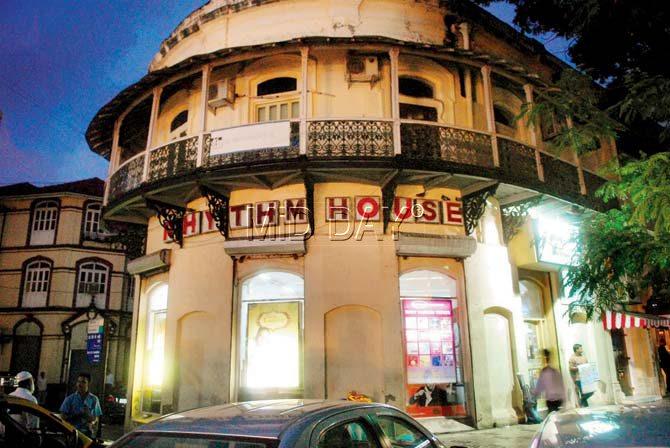 Often frequented by AR Rahman, Rahul Sharma and Zakir Hussain (pictured below), Rhythm House was famed for its AC music booths, where customers sampled tunes before buying. Pic/Sayed Sameer Abedi

It's not an amplified statement. It's what most regulars at a store that's fed Mumbai its music since the 1940s are likely to say. Which is why news of it preparing to fold up operations comes as disappointment.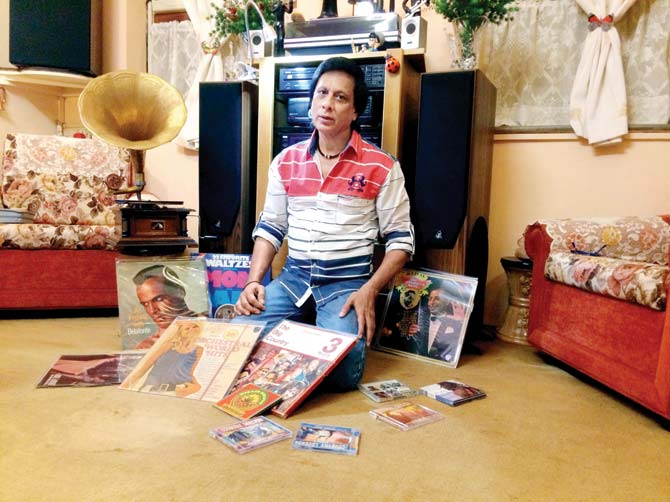 Dadar resident Ian Rodricks, 63, an avid collector of LPs, has been visiting the store since he was five
Several of those aware of the developments told this paper that it has been conveyed to the staff, some of them there for decades, that the brick and mortar store will shut as early as February. The online store, where music lovers from across the world are known to put in requests, is likely to continue given the encouraging response it has received since launching in 2010.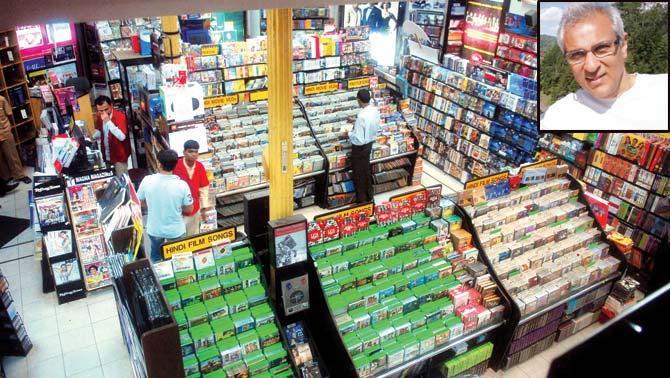 The staff made this store a winner. (Inset) Mehmood Curmally
Rhythm House's dynamic owner and managing director, Mehmood Curmally was often celebrated for holding up to the digital revolution. In an earlier interview to this paper in June 2013, he had said, "The size of the music industry is also the downside. There are so many options. It would be suicidal to think about opening another store." He was optimistic because, "there are people in this city who still appreciate good music and know where to source it from."
When mid-day called Curmally on Tuesday, he said, "Yes, we have been discussing the closure. However, the details haven't been finalised yet." He requested that we speak to him after he had had an "internal" discussion.
It was a close friend of the Curmallys, Sulaiman Nensy who founded the store in the early 1940s. Mehmood Curmally's father, who'd visit it as a college student, gradually took over the business. Mammo, as he was fondly called, started out selling jukeboxes and LP players, all "imported" initially. His interest in Western Classical and Jazz coupled with his brother's knowledge of Indian Classical made them a winning team.
Kalyanji Anandji dropped in "to get inspired"; Shammi Kapoor and Pt Ravi Shankar were regulars. Jethro Tull, The Police, Peter Andre, Zakir Hussain and AR Rahman have all visited.
Ashwin Balchandran, a former staffer, says he visited Rhythm House as a kid to get his music. He later worked there, before moving on to other stores and music labels. He is now an independent music consultant. At the store yesterday, Balchandran remembers the mood as grim. "I went at about 7 pm to pick up a classical Mandolin U Srinivas CD. The three staffers there —I have known them for years; they ask me how I am when I walk in — looked dejected. They told me, 'achcha hua tu aaya. We've been told the place is shutting in February'. They are worried about their future. This is all they have known all their lives."
Balchandran thought they were joking until he set his eyes on the stock. "It was clearly not what I associate with the store. The concert DVDs had disappeared. Instead, there were regional films, with some Classical, Pop, Rock, and Christmas CDs," he says.
Balchandran had once asked Curmally why he didn't turn to the suburbs to keep the institution going; south Mumbai could always source its music from abroad if it wished. "Rent this place and take a small something in Bandra or Andheri, I told him. If it doesn't work in six months, shut it down. But don't do so before you give it a shot in the suburbs," he recollects.
But he admits that the store outlasted some of the newer entrants, and with good reason – what he calls its 'wild catalogue'.
"The staff, they know every artist. But elsewhere, nobody wants to – or even can – keep a catalogue like Rhythm House does. That catalogue, it makes shopping so exciting. And trust me, the world knows what that place is. Foreign tourists who stay at the Taj and Oberoi come here. Musicians drop in regularly. While I was still there, Rahul Sharma and Shiv Kumar Sharma walked in one morning, when their CD was playing on the store sound system. Imagine that!"
Dadar resident Ian Rodricks, 63, is an avid collector of LPs. A visitor to Rhythm House since he was five with his father, Rodricks cuts us mid-conversation when we refer to it as a music store. "It's not a mere music store," he argues. "It's sacrilegious to say that. There was a gentleman called Akbar in the sales section, and he'd help me personally. It was such a warm, inviting feeling to walk into Rhythm House."
Rodricks speaks of a trait of Rhythm House's character that most say defined it. Knowledgeable and helpful staff and a collection wider and well curated that any other store in the city made it a winner.
Knowledgeable and helpful staff and a collection wider and well curated that any other store in the city made it a winner.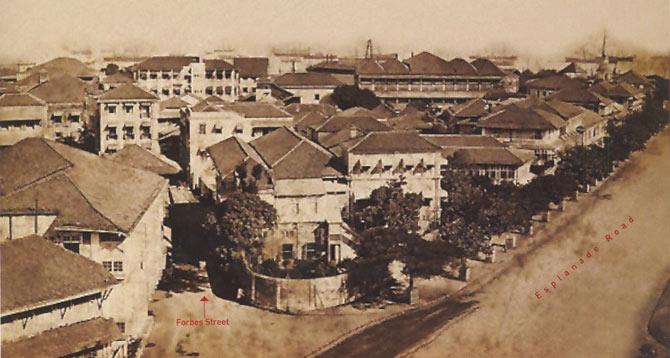 A view of the area that is today's Kala Ghoda before the 1870s. This image was taken from Watson's Hotel that was the most high-profile hotel of old Bombay. Note the curve in the building plan (where Rhythm House stood in the 1940s) at the meeting of Forbes Street (now V Gandhi Road) and K Dubash Marg that is reminiscent of today as well. PIC COURTESY: Extracted from Bombay: Exploring The Jewish Urban Heritage by Dr Shaul Sapir 
That it sat at the mouth of the heritage precinct of Rampart Row was a draw. It was flanked by the Jehangir Art Gallery on its right (incidentally, the neighbourhood lost another iconic institution from the neighbourhood, Jehangir's Café Samovar this year). Sitting right beside it was Wayside Inn, another bohemian address, now long gone, where writers Kiran Nagarkar and Arun Kolatkar hung out.
Zuzarte headed here for the rock and classic music collection in particular. "Their consistency is commendable; they have had a great collection ever since the time music was on cassettes."
Music lover Sheridan Pinto speaks of their Christmas Carol collection — 'it was second to none'.
That Curmally chose to keep up with international stores, introducing AC music booths where customers could sample music, was a bonus. "Unlike other stores, where they'd allow you to listen to barely 1.5 LPs and practically chase you out, here, we'd listen at leisure," says Rodricks. A monthly brochure in the post kept him abreast of new arrivals. "Sometimes, they would send a postcard, too, with the latest in their music collection. Now, postcards also extinct."
Pinto, who has been a visitor here since 1985, says, "The possibility of this iconic store shutting down is akin to the fading of a song. What is music in this city without Rhythm House? I'm going to miss the gigantic spread and the staff, not to forget the help desk which lived up to its name." Pinto says he has acquired 80 per cent of his music collection, including audio discs and DVDs, from here; the most treasured are three Crossroads Guitar Festival DVDs. "They say you can get any music on the web. Well, I'm not sure. That's why I'm going to miss Rhythm House."
Inputs by Apoorva Puranik and Maleeva Rebello