Rare celestial occurrence of total lunar eclipse and blue moon on January 31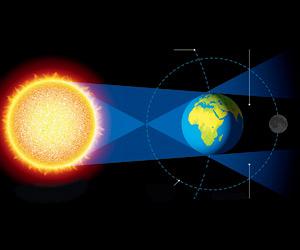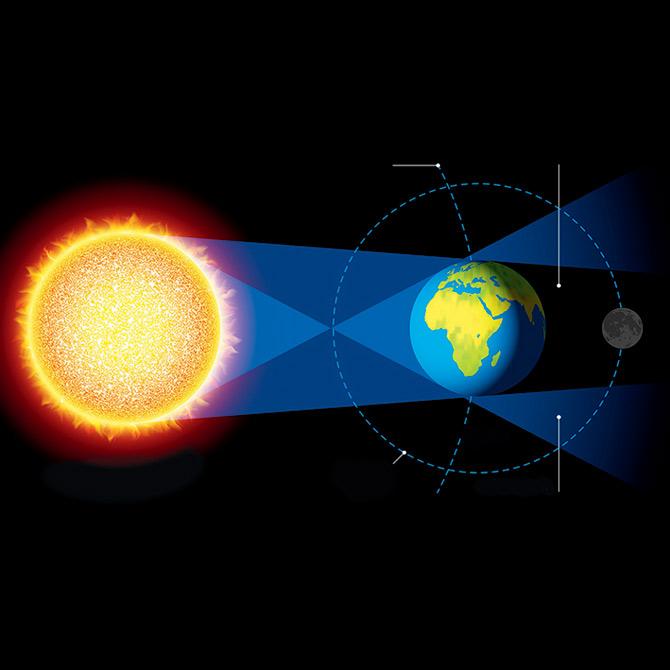 A Full moon and a total lunar eclipse, in the same month that began with the super moon – now, that's something that occurs once in a blue moon. And, a blue moon it will literally be, as January 31 will see the second full moon in a calendar month. Mumbai will be witness to the phenomenon for over an hour while the moon moves into the total eclipse phase.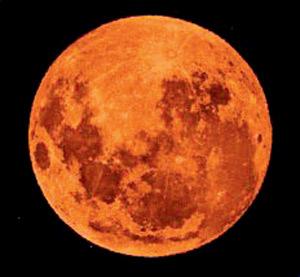 Much to the joy of stargazers, the year began with a super moon [the one that occurs when the moon is closest to the Earth and appears 14 per cent bigger and 30 per cent brighter] on January 2. Speaking to mid-day, Arvind Paranjpye, director, Nehru Planetarium, said, "All over India, the eclipse will start when the moon is below the horizon. But, as it heads towards a total eclipse, the moon will rise above the horizon and it will be in clear view." "The phenomenon will take place at 6.20 pm. The eclipse should reach totality at 7 pm and end at 7.37 pm. So, celestial viewers will have around an hour and 16 minutes to view the magnificent event," he added.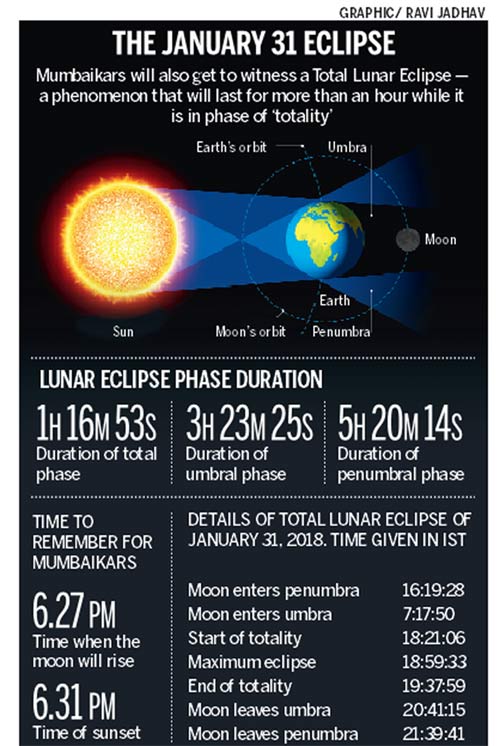 The total lunar eclipse
Explaining the total lunar eclipse process, Paranjpye said, "During a lunar eclipse, the shadow of earth can be seen traveling across the lunar disk. There are three stages to this eclipse — the penumbral, the umbral and the totality. The moon is about 3.84 lakh km from the Earth. At this distance, the shadow of earth has both umbra and penumbra. The central dark shadow is called umbra and the outer shadow is penumbra. During the eclipse, moon first enters penumbral shadow of earth. The progress of the penumbral shadow becomes apparent when more than half of the moon is covered by it. Umbral shadow of the Earth on the moon is distinct and its progress can be easily noticed. When the moon is entirely covered by the umbral shadow, it is a total lunar eclipse."
Why the red moon?
Apparently, during the total phase of lunar eclipse, the moon appears red in colour. Paranjpye said, "The colour can be explained by the same logic why the sun appears red during sunrise and sunset. Fine particles in the Earth's atmosphere scatter the blue component of the solar spectrum and what reaches us is the red part. These red wavelengths fall on the moon, giving it a reddish hue." However, Paranjpye added that January 31 wouldn't witness a super moon.
Catch up on all the latest sports news and updates here
Download the new mid-day Android and iOS apps to get updates on all the latest and trending stories on the go