The Smart Commute taking place tomorrow, will endeavour to whet the city slickers' appetite for trying an alternate mode of transport to work, the humble bicycle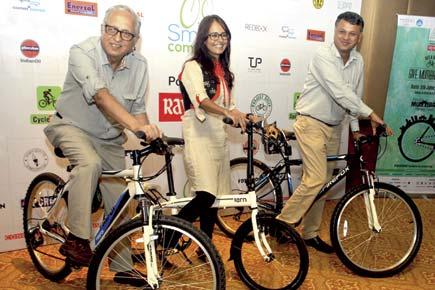 A press conference at Sofitel hotel in Bandra-Kurla Complex recently, got the wheels turning of the Cycle2Work initiative to be held in Mumbai on Friday, June 5. The Cycle2Work (C2W) or Smart Commute is in its fourth year and encourages people to lessen pollution by riding a bike to work.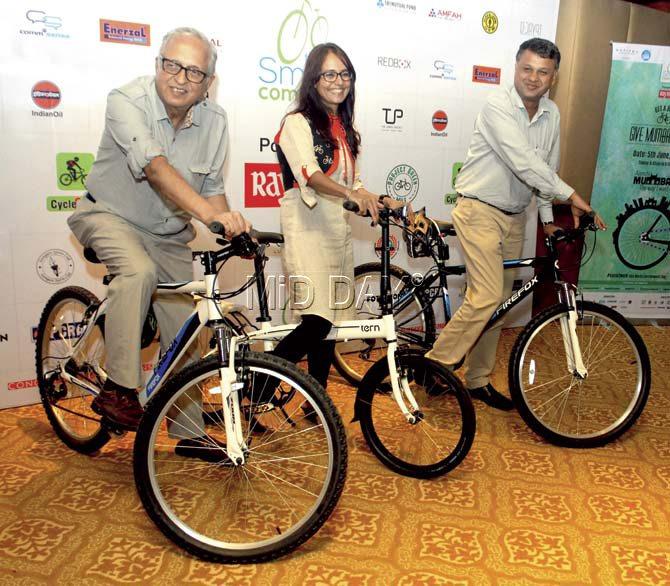 To work. A Datar, Firoza S and R Agarwal prove where there's a wheel there's a way. Pic/Shadab Khan
ADVERTISEMENT
For two hours on Friday, June 5 morning, nearly 600 registered participants are going to take seven specified routes and ride on bikes from different start points towards Sofitel Hotel at Bandra-Kurla Complex (BKC), which is the end point of the Smart Commute. Though this is just a one-off ride, on a weekday morning, it is a teaser or an attempt to 'whet' appetites about riding a bike to work.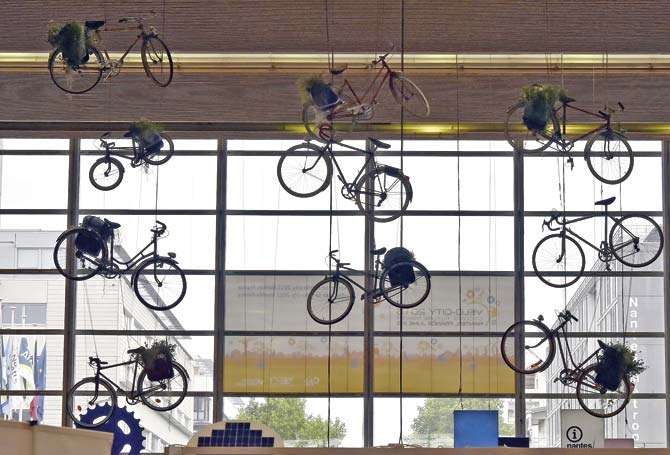 Bikes are displayed in the Nantes (France) exhibition hall during the Velo-city (bike-city) show. Nantes  has invested heavily to develop this transportation method. Pic/AFP
Given the practical problems that cyclists encounter in Mumbai, like traffic, bad roads, safety issues, long distances and no shower rooms in offices (you do not want to walk into a workplace that is Sweat Central) getting people to climb on to a bike and go to work is a huge challenge.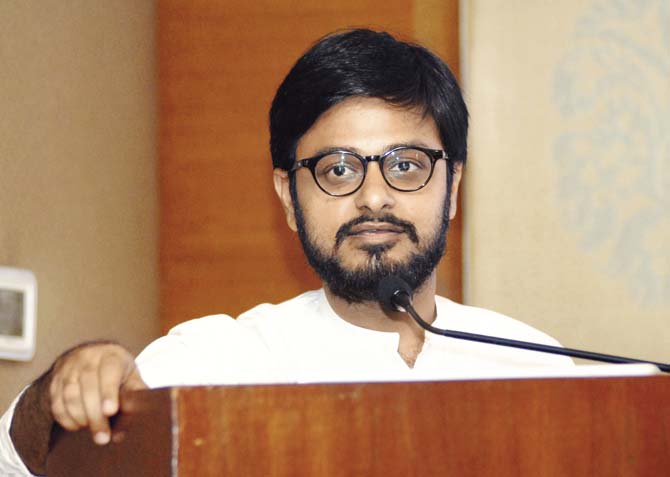 The bicycle should become a seamless mode of transport, thinks Dushyant A
Yet, founders and initiative organisers refuse to be deterred by the obstacles and say they have been working with companies to, "ensure they produce an environment in which it is conducive to get people to cycle to work. Talking to the Human Resources (HR) department of companies to organise shower rooms and also enable spaces where employees can park their bicycles safely," is one part of that task, they say.
Emphasis
Environmentalist Rishi Agarwal of the Mumbai Transport Forum, said on the occasion, "There has to be stress on improving public transport and encouraging people to walk or cycle to work. We already have the Equal Streets concept every Sunday in Bandra, Khar and Santacruz. Internationally, we have to catch up with other cities, where mayors of cities ride a bike to work!"
Speaker Dushyant A architect, claimed that after initiatives like this, there has to be a next step, towards "Making cycling to work routine, it is time people understand the experience. Cycling to work gives you a different window to the world." Given the long distances in Mumbai, he said, "The government must be open to accommodating bicycles in trains.
If cycles could go into trains, it would be a huge step forward," claimed the architect who believed this would break new ground for bicycle commuting in Mumbai. Dushyant ended his presentation with a quote by Albert Einstein, 'Life is like a bicycle, to keep balance one has to move on'."
Madness, welcome
After a dash of Einstein it was transport expert Ashok Datar at the mike. Datar, whose presentation was spiked with wit, claimed that the bicycle was the "Most important shape of the transport of the future."
Datar said that bicycles are part of Mumbai's transportscape, "Used by dabbawallas, newspaper vendors and milkmen, but we do not notice them, they are invisible, it is time for us to make them visible because they are the future of mobility."
Datar then raised some laughs when he referred to Firoza Suresh, the prime mover behind the project. Firoza's practices or pedals what she preaches. With her preferred mode of transport as the bicycle, Datar said that Firoza, "Is the true brand ambassador for cycling in the city. She is not just the brand ambassador but a brand by herself. She once came cycling to my home and carried her bicycle up five flights of stairs."
Datar added that there was, "love, passion and enthusiasm" that Firoza had about cycling, tempered by wisdom. Having said that, Datar added with a laugh that, "We need mad people to drive change, we need madness in the world. Only the wise have not improved the world. We need a dash of madness to think out of the box."
In the end, Datar thought that though Smart Commute promoters were still at an early stage when it came to cycling to work, "It has great potential to grow," he signed off adding that the bicycle, "will become very important in the not so distant future."
Uphill
Cyclist Firoza Suresh, the spirit and founder, cycle2work, admitted there were several creases one needed to iron out, before large scale cycling took off in the city. "Everything is a challenge," said Firoza, "including convincing authorities to give us the green light for the project.
As we approach them, the typical response is, 'is this a cyclothon?' We have to convince them it is not a cyclothon but a commute to work. We have it on a weekday not a holiday, as this is not leisure cycling, it is a commuting effort," she explained.
Last year they had 300 people register and participate in Smart Commute and this year, there has been a 50 per cent spike to 600 persons, a quantum jump, proving that the wheels of the project may turn slowly but they do turn, surely. Keep the faith Firoza & Co. we say.
In lighter vein, some good things about this commuting to work on a bike may be the option to bicycle beside the boss and say sneakily: 'boss, go take a hike'… oops bike we mean.