The Taloja residents filed a complaint saying the companies were releasing chemicals into the rivers, badly polluting them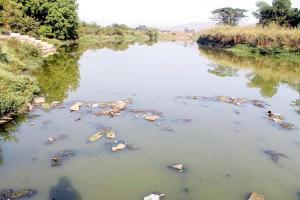 The rivers now stink and the colour of water has changed too, locals complained
Owing to the large-scale pollution of the Ghot and Kasadi rivers near Taloja, local residents recently led a morcha to the Taloja police station against the companies in the MIDC area. The residents filed a complaint saying the companies were releasing chemicals into the rivers, badly polluting them.
The complainants alleged that the Navi Mumbai city authorities - City and Industrial Corporation (CIDCO), Navi Mumbai Municipal Corporation (NMMC) and the Panvel City Municipal Corporation (PCMC) - have paid no attention to preserving natural resources in the city. CIDCO has ignored the wetlands in the region and now the PCMC, too, is neglecting the rivers in Panvel. The residents of Ghot village, who have been suffering owing to their proximity to the Taloja MIDC area, are now agitating to save the Ghot and Kasadi rivers.
"They have ruined our natural resources. Why can't the authorities take action against the companies?" Ramchandra Jethe, a local, said. Another resident Jayesh Jadhav agrees. "I have been living in Navi Mumbai for years and have visited the Ghot river so often. But in the last two years, the picture has completely changed. The river now stinks and the water is black in colour," he said.
PCMC Commissioner Ganesh Deshmukh said that civic body officials have been asked to look into the matter. "I have asked them to take necessary action," he said.
Catch up on all the latest Mumbai news, crime news, current affairs, and also a complete guide on Mumbai from food to things to do and events across the city here. Also download the new mid-day Android and iOS apps to get latest updates