In the third part of the five-part inspiring stories series, we look at the story of Krish Chawla who invented low cost yet effective air purifiers and also promoted planting a tree sapling for every product sold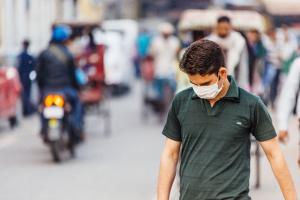 Representational Picture
Since the start of history, the fundamental requirements of human civilization have been spoken about to include food/water, housing, and clothes. Of course, as civilizations have evolved, the human need and its expression have also increased. However, the crux of existence has always been accepted as the above. It has been only in the recent years that the human need of breathing clean air has emerged as a still more crucial challenge.
It is a reflection of the times that we are living in. You ascribe it to polluting industrialization or unsustainable construction, excessive traffic or plain and simple overpopulation and sanitation, the truth is that something as elementary as the air we breathe, something that from primeval times was taken for granted hence never considered as daunting, is in the last decade or so being perceived as the most formidable threat to the salubrity of our civilization.
The air pollution in Delhi has reached alarming levels. Although the residents suffer the adverse affects through the year, the problem is exacerbated during the autumn season. Now that also coincides with the festival season in India. You are prompted to reminisce Charles Dickens from the 'Tale of two cities', it was the best of times, it was the worst of times, it was an age of wisdom, it was an age of foolishness, it was the spring of hope, it was the winter of despair.
The contrast in Delhi is as glaring as the legendary expression. While there is the usual euphoria associated with the season, on one hand, the weather conditions rankle the residents on the other. The distress is magnified for patients afflicted with asthma or related disorders and their families. Their memories of Diwali, a festival of lights and sound and sweets and celebration, are instead of inhalers and nebulizers. The central social conversations tend to revolve around a systemic failure of governance that has led to the situation where inhaling fresh, pure air has become a rarity.
One cannot fault the civil society for displaying a streak of cynicism in times such as these, but these also make for parlous times, when people across the strata rather than being gung-ho are visibly perturbed. People often brood and curse in such situations but there are a few who take the initiative and work to bring about a change.
Krish Chawla student of class 11th of Modern School Vasant Vihar in New Delhi has been one such change maker. As a young 16-year-old boy and a victim of respiratory ailments, he was both empathetic and innovative. He developed low cost yet effective air purifiers. His products called Breathify Lite and Breathify Air use reliable Hepa filtration technology. Where the price range of air purifiers is anything between Rs10000 to Rs50000, Krish came up with a revolutionary price of Rs 1899 only. He further built on the affordability quotient by devising a 1+1 scheme where you could buy one purifier and get the other one free.
Krish's wisdom belied his youth; he understood that air purifiers by themselves would have a limited impact on the grave pollution problem. A more comprehensive approach would entail preventive measures in order to usher in considerable and sustainable improvement in air quality. He promoted planting a tree sapling for every product sold so as to work in the long run on the extraneous environment while the air purifiers would allay pollution in indoor spaces.
Krish along with his friends launched another movement called U V and I. It aims at creating awareness of harmful effects of ultraviolet rays of the sun on human eyes and propagates the use of polarized glasses to offset the same. They have conducted informative sessions in places such as Apollo hospital and Venu eye institute. Over 100 glasses have been distributed free of cost to the weaker sections of the society such as rickshaw pullers, cab drivers, labors who are most vulnerable to the side effects.
Krish's story is a testament that no matter how grievous the problem, the ordinary citizens can initiate effective solutions. Those in a position of privilege, rather than wring their hands in despair, take matters in them. We may not be able to do everything for everyone but that should not stop us from doing something for someone. One has to be proactive and cumulative impact will have the potential to make this world a better place, as the iconic singer Michael Jackson so evocatively sang, for you and for me and the entire human race.
Catch up on all the latest Crime, National, International and Hatke news here. Also download the new mid-day Android and iOS apps to get latest updates