Cricket historian and author Gulu Ezekiel informs me that it's 25 years this month for the shutting down of Sportsweek, the popular magazine which widely-travelled sports journalist Khalid Ansari started way back in 1968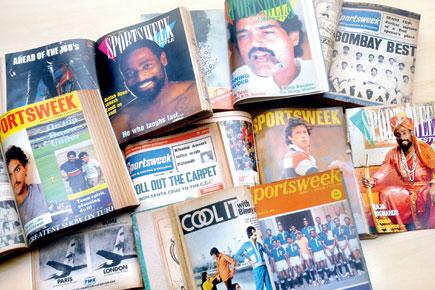 Cricket historian and author Gulu Ezekiel informs me that it's 25 years this month for the shutting down of Sportsweek, the popular magazine which widely-travelled sports journalist Khalid Ansari started way back in 1968.
For many readers, Sportsweek was a good substitute for Sport and Pastime, which folded up, in the same year.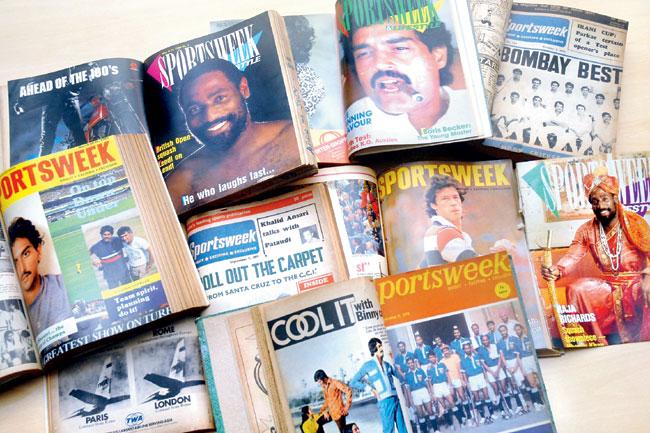 Down memory lane: A part of the writer's collection of Sportsweek issues 
It's a pity Sportsweek failed to survive when it was renamed Sportsweek & Lifestyle and edited by then recently-retired Sunil Gavaskar.
The competition was stiff. Kolkata-based Sportsworld edited by MAK Pataudi then thrived on juicy stories and their coverage of India's cricket tours was made special by Mudar Patherya's inspirational work as a touring journalist.
The Sportstar, which still rolls out from Chennai, had the best photographs apart from some fine writers.
In pre-satellite television days, these magazines helped popularise the game immensely. In the early 1970s, Sportsweek 'covered' some of their issues with the latest update on Test matches featuring India. And as any collector will tell you, those issues are priceless. In the mid-1980s, a famous actor-cum-passionate sports fan visited my home to borrow a book, which had a collection of sports articles that included an extract from Jesse Owens' autobiography My Life as Black Man and White Man. He asked if he could see my modest collection and among the few bound volumes of Sportsweek, he spotted the one that contained issues of India's 1971 triumph in the West Indies. He asked if he could have that volume. I politely refused.
Sportsweek's popularity gave rise to the need for a cricket quarterly magazine in 1974. In its 10-year existence, it gave cricket fans and statisticians much more than what Sportsweek could fit in their editions. I know of a collector whose complete set was broken when a bound volume containing 1979 issues was reduced to flames in his pathologist friend's laboratory that caught fire many years ago. The collector hasn't been able to set it right (pun intended) and the good doctor passed away.
While Sportsweek's theme was 'Bright, Exciting, Exclusive', World of Cricket lived up to its credo of 'The World's Best Team of Writers' which included Australia's Ray Robinson, England's EW Swanton, West Indies' Tony Cozier and RT 'Dick' Brittenden from New Zealand.
Even before Gavaskar became editor in 1988, he used to write regularly for the magazine. He was frank and fearless, not very easy to be when one is still playing for his country.
Sportsweek staffers remember the batting legend visiting the office at Tardeo to chat with the late Sharad Kotnis, who was the magazine's long-serving Associate Editor till 1985. Kotnis' contribution to the magazine cannot be underestimated. He was nothing short of a pillar under whom some of this city's finest sports journalists trained.
Star columnists are a common sight in newspapers today, but Sportsweek was where it all started in India and Khalid Ansari must be credited for the concept. Getting the most famous name in Indian batting as editor was a big catch in itself. Gavaskar didn't just have his name printed as editor. He did justice to his role by writing editorials whenever available and even interviewed the most famous names in the sporting world for various cover stories.
In one of those interviews, Gavaskar asked Dennis Lillee whether there were some contemporaries who were as committed as the great fast bowler, and Lillee said: "I think Greg Chappell was very much (committed). Rod Marsh, Andy Roberts. You were pretty committed too. I know because from the 1981 series if I got your wicket, it was the result of very, very hard work on my part." As a Gavaskar fan, I felt great.
Sportsweek and Lifestyle thrived on Gavaskar's goodwill. During West Indies' 1987-88 tour of India, Gavaskar not only interviewed Vivian Richards, but also got him to pose as a Maharaja and a boxer for photographer Rajeev Asgaonkar. Of course, Sportsweek was no stranger to Richards, who wrote for the magazine during his 1983 tour to India.
Sportsweek's popularity with sportspersons was constant. Long before cricketers received huge cheques, Sportsweek sponsored the man-of-the-match awards. Big cricket stars endorsed the magazine. And Farokh Engineer used to say in a radio commercial, "I am Farokh Engineer. I read Sportsweek. Do you?"
Sportsweek would have found it hard to survive in today's Internet-driven world. But that's only an assumption. The fact is, Sportsweek was more than just a magazine. Its annual awards encouraged sportspersons in days when rewards and recognition were few and far between.
In his highly-researched book on Indian cricket, Patrons, Players and the Crowd, Australian Dr Richard Cashman wrote that Sportsweek helped raise Rs 18,000 for the Bangladesh Refugees Fund in 1971 by organising a football match between a Bangladesh and Mumbai team. The very next year, a Sportsweek-conducted cricket match boosted the National Defence Fund by Rs 150,000.
Even a quarter century after its closure, some cricket lovers like me, miss the thrill of getting their hands on a new issue every Thursday morning. Well played, Sportsweek (1968-1989).
Clayton Murzello is MiD DAY's Group Sports Editor