She had been given to an NGO by her mother, who was unable to care for her, and was adopted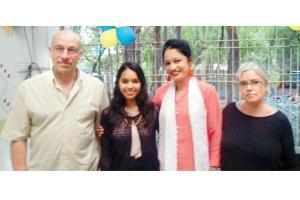 Zeenat with her adoptive parents and administrative officer Sharmila Syed
Almost 22 years after she was adopted by a Spanish couple, a 23-year-old woman returned to meet her biological mother. On Saturday, she had an emotional meeting with her mother in Pune, who cried and hugged her, gave her gifts, and even apologised for being unable to care for her.
Zeenat alias Mireia, was adopted by Antich Marti Raman, 56, a sound technician, and his wife, Garica Batacia Fores, 57, a librarian. She was 14 months old when she was adopted from Shreevatsa, run by Society of Friends of the Sassoon Hospital (SOFOSH). Four years later, the couple adopted another one-year-old, Akash, from the same organisation.
ADVERTISEMENT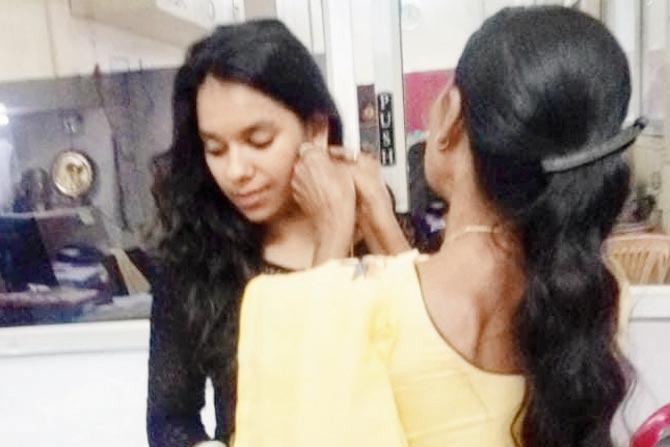 Zeenat's mother gives her a pair of earrings
Zeenat's first visit to India was as a 10-year-old, but she and her parents were unable to trace her mother. She has studied till Std XII and wants to pursue psychology. She worked in a restaurant for three years to save money and return to India. She was shocked to learn that she was born out of an abusive sexual relationship.
On Saturday, when Zeenat met her mother, neither could speak to the other, as she only speaks Spanish with very little English and Alifiya (name changed), her mother, speaks only Hindi.
Alifiya said, "I was 21 years old when I was repeatedly sexually abused by a relative. He and my family deserted me when I got pregnant. I did not want to abandon Zeenat, but I was not married and also worked as a maid to survive. I did not want her to suffer." She added that she often remembered Zeenat in her prayers.
'Will learn Hindi'
Zeenat said, "I won't forget how Ammi took so much pain to give birth to me. I won't forget how SOFOSH has helped me. Next year, I will come to India again and will learn Hindi."
Catch up on all the latest Mumbai news, crime news, current affairs, and also a complete guide on Mumbai from food to things to do and events across the city here. Also download the new mid-day Android and iOS apps to get latest updates