Pune-based visual artist, recipient of Britain's prestigious art prize, mirrors the global upheaval. His works quarry through the personal and the familial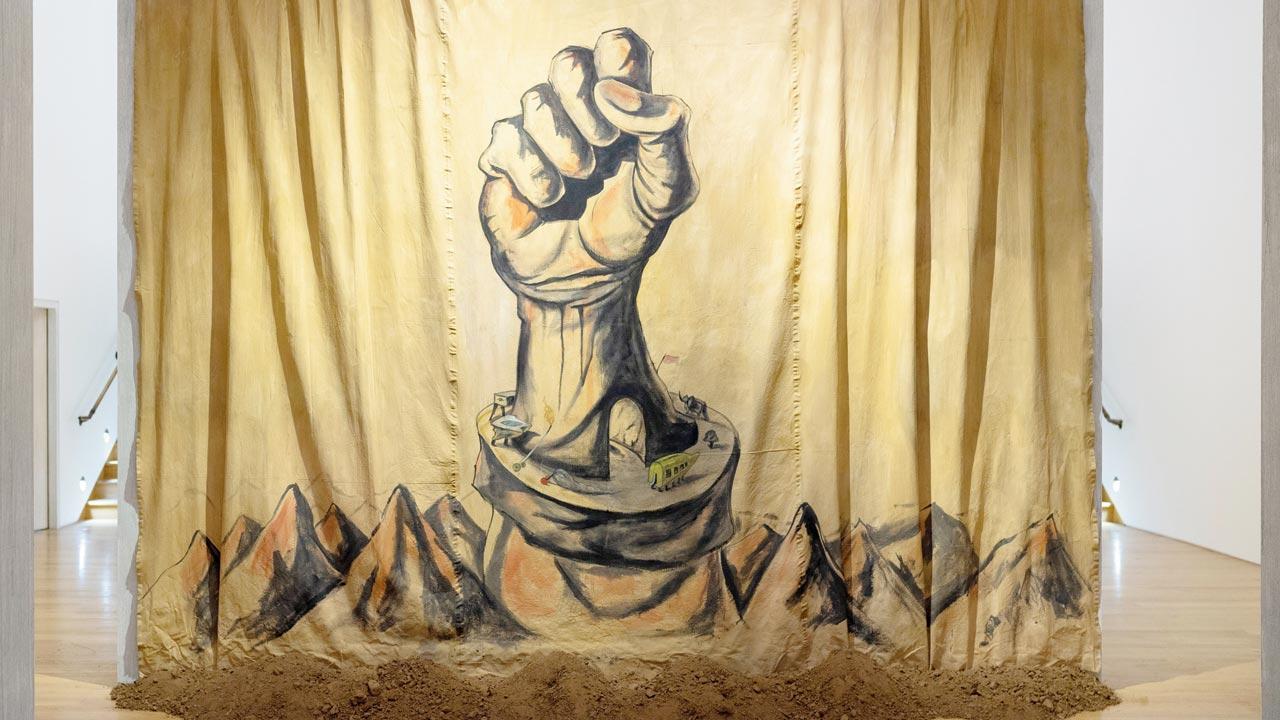 Pachpute's 'clenched fist' mounted at Britain's National Museum Cardiff.
A clenched fist, faceless half-human machine-like figures, a hint of a mask, a drone camera positioned curiously, a disinfectant spray amid an arid excavated landscape—this is visual artist Prabhakar Pachpute's depiction of the world around him. His apocalyptic universe, which disturbs, but also provokes enquiry, is now mounted on the charcoal-washed walls of Britain's National Museum Cardiff. It will be on display until September 5, as part of the biennial showcase of works of the Artes Mundi 9 prizewinners. Pachpute is one of the six winners who shared the prestigious contemporary art prize.
In a sort of first-of-its-kind tradition, the prize has been split between six artists—photographer Carrie Mae Weems (US), Meiro Koizumi (Japan), Dineo Seshee Bopape (South Africa), Firelei Baez (Dominican Republic), Beatriz Santiago Munoz (Puerto Rico) and Pachpute, representing India. They were shortlisted from 700-odd nominees of 90 countries, recognised for poignant portrayals of contemporary times, be it Weems' capture of an African-American youth or Koizumi's video testimony on Japan's war excesses or Baez's use of acrylic canvases to bring alive colonial domination. The prize in one sense is a validation of the visual artists' struggles to retain their creativity amid curfew, family commitments, logistical challenges and a home-bound existence.
ADVERTISEMENT
Visual artist Prabhakar Pachpute with his work, Sea of Fists, at the Jameel Arts Centre, Dubai, in 2019. Pic courtesy/Jameel Arts Centre
For an artist like Pachpute, art practice is defined by years of first-hand observation and research of mining sites in ten-odd countries, including Poland, Turkey and Brazil. The 1986-born artist was wedded to miners' lives even before he graduated in fine arts from Chhattisgarh and completed his post-graduation in sculpture from MSU Baroda (2011).  He  grew up in the Sasti village (Chandrapur district of the coal-rich Vidarbha region)  characterised by opencast projects.  His engagement with mining workers, which includes his immediate family members spanning three generations in Chandrapur, thus, extends beyond artistic depiction. He is also a member of Saptarang—a platform binding poets, farmers, miners and labourers to counter exploitation. 
But the year 2020 upturned the normal. He couldn't commute to his studio in Yerawada in the initial lockdown months in Pune—one of the cities ravaged by COVID in India. "Work-from-home is a hold-all cutesy phrase.  But the mind finds it difficult to focus when everyone is at home, including a sprightly five-year-old." 
At Pathakhera coal mines in Madhya Pradesh (2014). PIic courtesy/Vinod Bobade
Pachpute's new regimen, babysitting included, at home signalled a change in his physical art-making processes.  He took to new materials, particularly oil colours and A4 size paper, so that he could carry the "movable studio" to Varora and Rajura (Chandrapur) during short family vacations. Also large-scale charcoal drawings did not fit the bill.  He used charcoal pencil extensively. Interestingly, the artist is so far known for his immersive larger-than-life landscapes, displayed over the last decade in spaces as diverse as Kolkata's Experimenter or Mumbai's Clark House Initiative or the Glasgow School of Art.
Pachpute's fresh work at Cardiff is an interesting mix of large and small-sized paintings. For instance, the two large-scale banner works, Rattling Knot and The Close Observer, underline the vast land-water resources under attack.  Devoid of lush green vitality, these barren, scary landscapes extend on to the walls of the gallery. They pose existential questions, which predate the ongoing pandemic. They present a wasteland that humans create in the name of development. 
Rattling Knot. Pic courtesy/Amol K Patil
As Prateek Raja, co-founder of Kolkata's Experimenter gallery, which represents the artist, says: "Pachpute's works reiterate the self-destructive potential of the human race.  It makes us wonder as to how close we are to the knife's edge!"
Pachpute's showcase at Artes Mundi 9 is prefaced by his research stint in Wales in March 2020. He spent considerable time in the South Wales Miners Library in Swansea.  Little wonder that his visual motifs—the blasted landscape in The Close Observer resembles the heap in Welsh slate mines—capture the reality and commonality in not just Wales and India, but across geographies. He references his own guided tours of coal, iron, marble, lignite, copper mines, some of which caused personal trauma. He was overwhelmed by visits to sites where miners and helper animals were buried after they presumably met with accidents. 
Museum Menageries, a cluster of 40 small paper works at Cardiff reflects Pachpute's lament of repetitive debased backbreaking mining labour over centuries worldwide. His collection of morphed animal-human forms is a commemoration of all living beings, overworked horses included, who toiled in a dark underground universe, unprotected by law. His portrayal of the "manager" figure in the dystopian landscapes has also been appreciated as a potent symbol of corporate power.
As Artes Mundi director Nigel Prince says, the "work speaks to shared histories and conditions, but without being overt or literal in its references."  He says artists like Pachpute shed new light on subjects, uncover forgotten or dismissed moments and circumstances. They also reach broad audiences, spark dialogue, and debate, as has been the track record since the inception of the prize in 2003.
For Pachpute, engagement is at the heart of his art, irrespective of the lockdown curbs. There is another upcoming assignment at Bratislava for which he will soon ship his works. Using acrylic colour, charcoal pencil and graphite on canvas, he is going to depict the post-COVID impact on the industrial sector. Titled Potential Agrarianisms, the exhibition, beginning August 20, at Kunsthalle Bratislava (Slovakia) is also a shared platform, where Pachpute will contribute his perspective on the global agrarian crisis. 
Collective farming experiments and farmers' rights movements ignite much of Pachpute's consciousness, and not surprisingly, because farmers' woes and land politics are at the centre of national conversation in present-day India. 
The raised fist in his work, A March Against The Lie (acrylic and multani clay on canvas), symbolises solidarity of the masses; it signals the possibility of doing things differently. If one looks closer into the tunnel that he has painted in this work, the light at the end of it will be apparent.  
Sumedha Raikar-Mhatre is a culture columnist in search of the sub-text.  You can reach her at  sumedha.raikar@mid-day.com