We live in a world so vast. A world consisting of more than a billion homo sapiens and most of the personalities we come across tend to promote smoking, drinking, cigarettes, hookah, clubs, and more things considered inappropriate. Merely to appear calm but is it relaxed and healthy? Of course!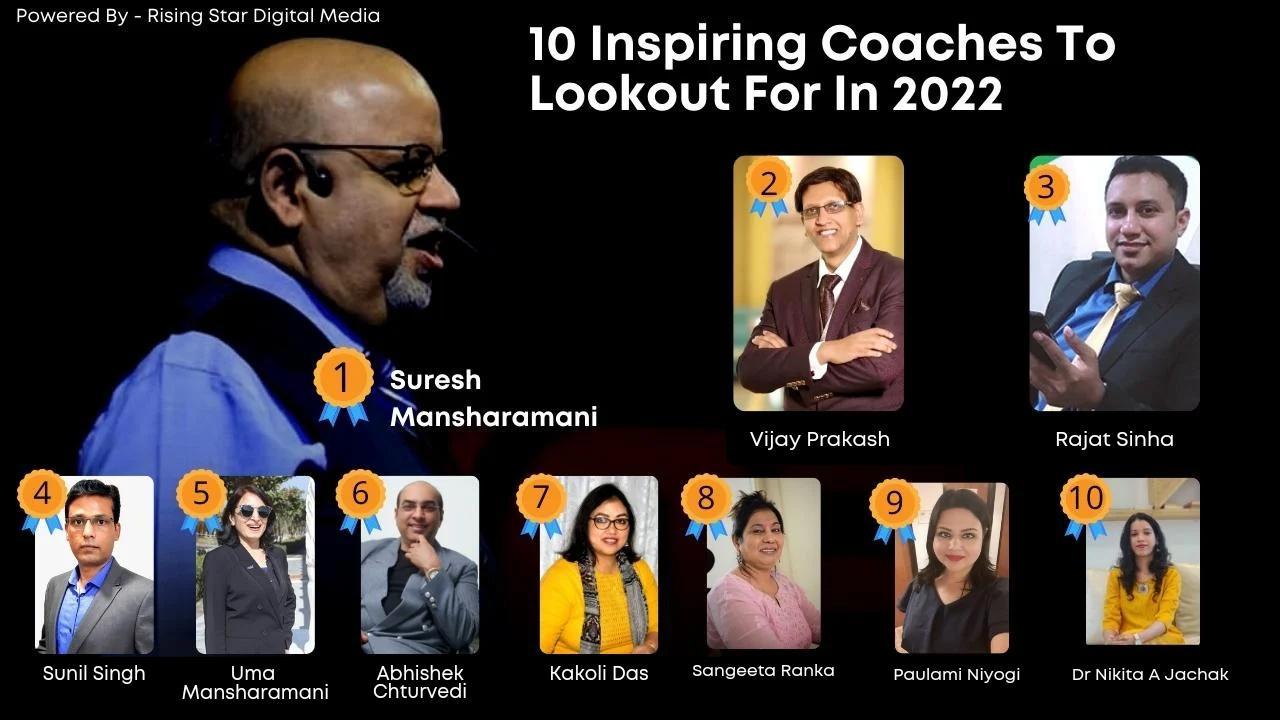 And these days, people face many health issues, going to depression, mental health, rse not! relationship problems, and many other problems in life that affect their business and personal life.
Thank God that today In this era of problems, we have people who are helping people transform their lives and helping them succeed.
ADVERTISEMENT
They aspire to transform the lives of the people they encounter for the greater good. These people are a god-sent blessing. Let's look at the 10 Inspiring Coaches Transforming the Lives of People.
Mr Suresh Mansharmani
Mr Suresh Mansharamani is the best business coach to millions of people! Mr Mansharamani is a serial entrepreneur who has worked relentlessly to launch new firms and is exceptionally innovative in inventing new company strategies. With his tried-and-true methods for increasing profits, Mr Mansharamani, India's lone OKR (OBJECTIVE KEY RESULTS) coach, has earned the hearts of thousands of enthusiastic entrepreneurs and company owners. Tajurba, a well-known Networking Platform, was established under his guidance and is noted for practical learning through real-world experiences and implementation. The most crucial piece of advice he gives to all aspiring entrepreneurs is that, while reading is a wonderful and useful habit, it will yield no results until the knowledge gained from these books is put into practice.
​
​Vijay Prakash
Vijay is a co-author of SLUMDOG INVESTOR. During his 16-year trading career, he discovered that anyone can build a sophisticated system, but only a genius can simplify it. He made it his personal mission to educate the common individual about the stock market and how to trade it using the approach he and his partner devised nicknamed the "5-minute millionaire PRO Trader." Through his live seminars, workshops, videos, and online courses, he inspired over 35,000 students to become expert traders. His goal is to influence 100,000 people through live and online programmes, courses, and seminars.
​​Dr Rajat Sinha
Dr Rajat Sinha has established himself as a Sales Coach, especially in the Commission Selling Industry!​ ​ He is a serial entrepreneur who has made Startups profitable, that too within 1st year – to the Solopreneur Community in a big way.​ With his tried-and-true methods for increasing profits, Dr Rajat Sinha, India's lone Demand-Generation coach, has built an ardent Fan Following, and a close-knit community of 25000+ Business Owners, Solopreneurs, Private Practitioners and Commission-Selling Salespersons.​ The most crucial piece of advice he gives to all aspiring entrepreneurs is that - All the Money in the world Comes from Someone Else's pocket.​ Master how to ask for that money - in a way that the prospect is glad to hand it over to you.
​​Sunil Singh
​​Sunil Singh started as a technician at a dealership and eventually became the company's CEO. Sunil has spent a lot of time and energy acquiring the best coaching techniques from all over the world to become a wonderful mentor and coach. Sunil used his skills to help young students and working professionals avoid career twitches while also helping them become more powerful and promising persons in their personal and professional life. He is presently creating a mentor network and a learning management system that will allow students and professionals to learn at their own pace and at an affordable cost. His mission is to touch 1 million lives to build a rewarding career.
Uma Mansharamani
Uma Mansharamani, is a Certified Trainer, TEDx Speaker, Motivational Public Speaker, and Business and Life Success Coach with 36 years of business experience. Bein​g​ the founder of an Apparel Export company that she brought public in 1995. With the issue being 300 times oversubscribed, she went on to get a presidential award in 1996 for adding the highest revenue growth to her company in their industry in a single year. 
She supports business owners in Goal Setting, creating the necessary mindset for expediting their firms' revenues and profits growth. ​While aids them in clearly defining their objectives, organizing teams, and building a strategy, that too with deadlines for clear actionable performance efficiency growth by identifying gaps and filling them majorly by utilizing current resources while maintaining a fulfilling and successful personal life.
​​
​Paulami Niyogi
Paulami Niyogi is a self-employed entrepreneur, certified coach, and International Trainer. With an objective to assist people in clarifying goals, identifying potential roadblocks, and overcoming each one. If you wish to make a significant change in your professional or personal life, Paulami can coach you in overcoming obstacles. Her coaching talents are credited to Coach Kaushik Mahapatra and Rajesh Bhat. Ever since she was a child, she has been a humanitarian.​ She is well-known for her unique Coaching style. ​She does have ​​​coaching initiative towards "Mindful wisdom", with her unique ways and methods. ​​Paulami has aided individuals, professionals, and corporations in accomplishing their goals.​
​​
​Abhishek Chturvedi
Abhishek Chturvedi is a keynote speaker, author, business mentor, and top-notch Performance Excellence Coach mentored by a few of the industry's big names. He holds the expertise to conduct workshops/ coaching programs customized explicitly to invigorate individuals and businesses. His experiential learning programs empower clients to discover and achieve their unique inherent potential by pursuing excellence. The exceptional blend of world-class mindset coaching tools-n-techniques and the vast hands-on experience of building high-performance sales and operations teams for over twenty-seven years deliver incredible transformations. Abhishek specializes in helping sales and operations organizations grow their revenues significantly, maximizing productivity, and retaining talent.
​​
Kakoli DasMandal
She's a Mindset Makeover Coach, a keynote speaker, and an abide traveller too. With a mission is to raise awareness about mental health and how everyone can find their own purpose in life and live their life peacefully. After 13 years in corporate, she shifts her focus to Counselling and coaching. She is mentored by some of the industry's biggest names. Her main goal is to assist people in discovering their true purpose in life and achieving happiness, health, and wealth. On a yearly basis, she provides coaching to individuals, start-ups, schools, and universities. She aspires to change 1000 lives in 2 yrs.
​
Sangeeta Ranka
Life coach Sangeeta Ranka has documented experience of working in the aviation health wellness fitness business and education for over 29 years. She is a motivational speaker with a strong background in management. A master's degree in economics has given her expertise in business planning, coaching, and development. She is also a competent operation professional with a solid background in operations management. Sangeeta has substantial coaching and counselling expertise in addition to her academic prowess.
​Dr Nikita A Jachak
Dr. Nikita A Jachak  is a superb motivational speaker &  life coach  founder of Mind Power Institute who never fails to motivate and encourage others around her. She has more than ten years of experience as an engineer , NLP  mind power , DMIT , and help . She is well- known for being extremely adaptable and she is capable of handling career counseling , transformation  of life . Career path of Students
We can all benefit from a good nudge now and then. All of us have a day in which we feel completely unsure of what we're doing and why we're doing it in the first place. When we have negative thoughts, we feel low and lose focus on what we want to accomplish and who we really are. Eventually, we come to the conclusion that life is frustrating and poorly run. As a result of the guidance of these coaches, we are once again able to extend our wings.
And we appreciate and salute these coaches who are doing the Inspiring work and transforming lives. We wish them the best for their Future Initiatives!
 ​​
"Exciting news! Mid-day is now on WhatsApp Channels

Subscribe today by clicking the link and stay updated with the latest news!"
Click here!