"A Indian Most Dynamic National level Human Rights and Social Activist Dr Dibyajyoti Saikia hails from Assam. He aims to establish peace and humanity and eliminate social evils through quality and knowledge-based life-oriented education.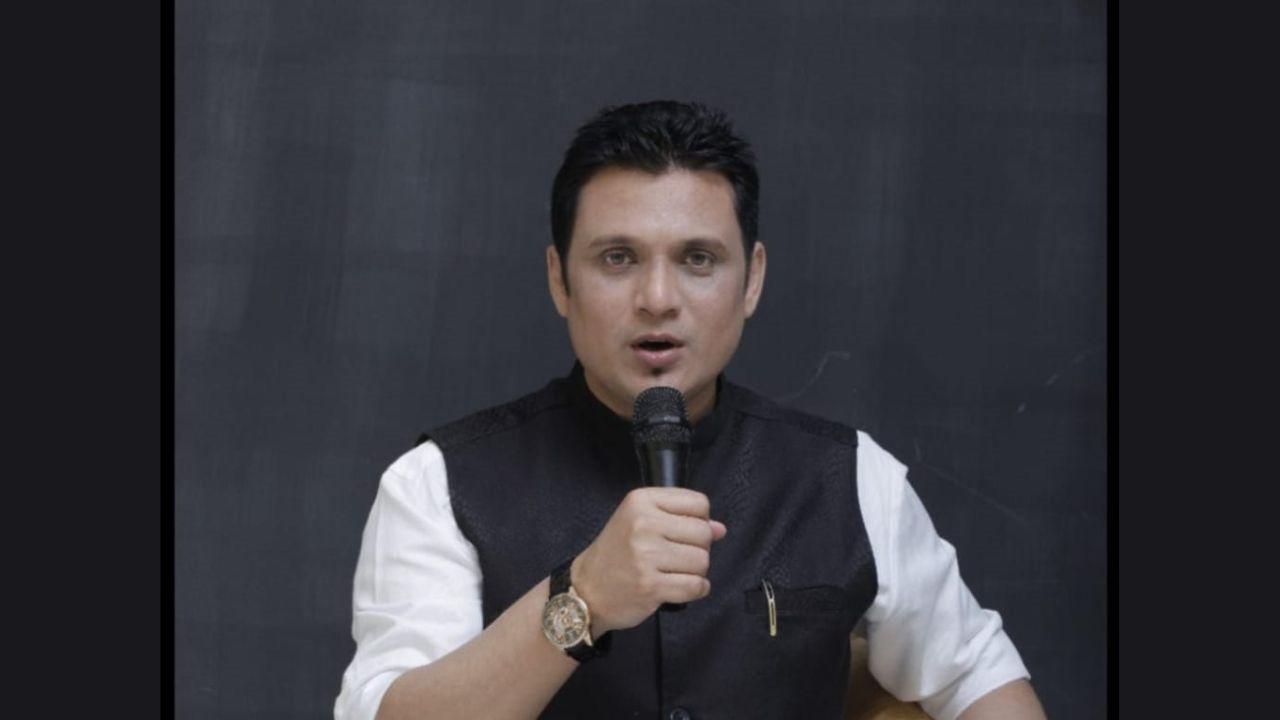 In his 44years of life, having extensive experience of 22 years working on  ground zero to prominent level social work and awareness drives and sensitization programmes across the country over a range of issues, he mainly work in the field of anti-superstition, anti -mob lynching, anti-terrorism, anti-drugs to re-establish peace and  harmony through the Society. 
He promote knowledge-based education by which one can establish himself financially or socially. For the financially backward people, poor farmers, and people who became a victim of witch-hunting, he used to support their talented children in terms of financial, education, college level or even university levels, and I am proud that many of them are now established their lives Saikia said. They are established in the Society as a govt. Employee and business. 
He is one such activist hailing from Assam, who has led countless awareness drives in the far-flung rural pockets of the pan India. For nearly the past two decades, he have rescued almost 300 witch victims and relentlessly raising his voice against Superstition. Not only rescue many victims of superstitions and communal violence with the help of police, but he also helped in their rehabilitation.
On humanitarian grounds, he rescued many orphan and homeless youth, witch victims, gave them treatment, arranged their food and clothes, and established them in shelters. 
For the economic and social upliftment of our farmers, he used to raise his voice from time to time. Here his motto is to provide appropriate pricing to the farmers and better scientific techniques for agriculture. He also motivate their child and new generations to continue farming in a new and scientific way for more economic benefits to serve the nation.
Activist Dr Saikia fought against drugs and its effect on society. The growing drug menace in Society is one such issue that requires another level of intervention among youth. Such a sensitive issue is affecting the new generations and destroying families at a rapid pace. We are on a mission to tackle the drug menace and make the State a drug-free on.
Flood is a perennial & serious problem in Assam; every year, a large section of the population is affected by this problem. The situation worsens as the primary communication source is interrupted by the flood. He try to help those people, including the poor and farmers, who suffered severely from floods. Majorly distribute cloths, food items, agricultural equipment, crop seeds and rescue and run rehabilitation drives with the help of concerned departments.
He is also a motivational speaker. He Train the youth and community leaders to reach the general people, especially farmers & farmer leaders and literate them with the help of agriculture scientist. It includes VDP, Village Head Persons, and Youth Wing Leaders etc. He is the visiting lecturer at Assam Police Training Centre (College at Dergaon, Assam) for DSP categories. For his hard work and commitment to eliminating any social evil from Society, like witch hunting, mob lynching, moral policing, drugs consume & drugs paddling & paddlers.
"Assam Witch Hunting Prohibition, Prevention & Protection Act 2015" is finally established. It already gives justice to many such victims. He still keep helping the victims re-establish and restart a new chapter in their lives. During the Covid crisis, knowing that it may not be safe to go out, he went to many remote villages located at the Assam-Arunachal border in the Lakhimpur District of the State and distributed masks, soaps, food and sanitizer to people. He educated and motivated familiar people about the essential things to do in the time of Corona Virus to avoid social stigma and Superstition and rumour.
To spread social awareness among the masses, he wrote songs, produced and directed street plays, short film, and wrote many columns so that he could quickly spread the positive vibe and messages to Society. He is fortunate to receive good reviews about that ground zero work, and he could resemble the exact scent of his plays and songs. Culturally he is a sound person. He also work to preserve and promote Assamese & Indian culture globally.
In his struggle to uplift the Society for a better change, many media organizations, Dainik Bhaskar, Dainik Jagaran, Punjab Kesari, News24, Economic Times, The Week, Outlook, New Indian Express, The Times of India,  The Telegraph, Patrika, , Assam Tribune, The sentinel, Tehelka, Hindustan Times etc. and internationally The Global Post, USA Today, Al Jazeera and world-famous "Time Magazine" mentioned him for his work. 
Apart from publishing his work, many media organizations gave him awards and honours, such as - The peace award for Gallantry work from Journalist Association for Assam, India's Iron Man Award from MTTV India - Gujrat, Manawata Award for Humanitarian work from Dispur Press Club from Guwahati Assam, National Icon Award from NCR Aab Tak News, Award of Excellence 2020 for National Level Humanitarian work from G Town Society Magazine from New Delhi, Glory Award 2021 for Gallantry work towards peace from NeFocus News etc.
 "The Unsung Hero" - The famous media organization ETV Bharat filmed a documentary about him where his social work on humanitarian grounds was highlighted. Also, noted National Award winner filmmaker of India Goutam Bora is currently making a documentary on the social life of Activist Dr Dibyajyoti Saikia. 
As a Sectary General of National Level Social Organisation Brothers, executive member of World Parliament Association, National & International Member of many organizations. He was the founder general secretary of Samminitta Yuva Tirtha, a youth wing of "asom sattra mahasabha". He pursue with different religious people of the country and ethnic groups to maintain communal harmony and brotherhood between different communities of Assam and within the country. He is working towards peacefully solving the border clashes between Assam and its neibouring states through discussions so that we can restore peace and development in the disputed bordering areas. 
He is recognised nationally and internationally for contributing to peace and humanitarian work to uplift society. Apart from that, he Received the Bharat Ratna APJ Abdul Kalam Rastra Ratna Award, Bharatiya Surya Samman 2021, International Kalam's Golden Award, Babu Jagjivan Ram Smriti Samman (Recognized by Govt of India), Rashtriya Gourav Icon Award, Paramveer Chakra Veer Abdul Hamid Corona Yodha Award, Tilka Majhi Rashtriya Samman, Sant Gargebaba Karmabhumi Purashkar, World Parliament International Award, Global World Peace Nobel Award (International), World Genius Records from Nigeria, BigFM Pride Award, Rajib Gandhi Excellence Award from Maihar Times, Global Teaching Excellence Award and many more. 
As per the CID records of Assam Police, there are almost 29 people were being killed on 2011 in the name of witch hunting. From 2011, He relentlessly raises his voice to stop murders and tortures in the name of witch. He drives massive campaigns throughout the State and educates those people. He rescues many such victims. 
And today the figure comes down from 29 to 3 /4 people and which he believe a very big success for him.  When someone is convicted as witch, the whole family suffers. He supports their children providing the basic educational materials. He believes education is key to eliminate social ills. To protect the poor, backward people from social ills in the name of Superstition, witch-craft, He was working hard since 2009 to establish an act to safeguard such victims and he was fortunate that Assam Witch Hunting PPP Act 2015 is granted in 2018. 
 Apart from Superstition, drugs are clinging the youth of Assam. From past few years, he is working against drugs and many such victims choose right path after his strong counselling and later they became such a valuable asset who always campaigns against drugs and its deadliness. This is another achievement of his. 
His ultimate goal is a peaceful world and a peaceful society, because he believes if mankind needs to go forward, there must be peace involved. And peace is must for development and progress.
 He attend many motivational programmes in different schools and colleges, He motivate them stating his ground zero experience.
In his limited amount of income, he still support many needy poor people, farmers and their children and providing them educational materials for their better future. For a peaceful world, We need quality, knowledge based proper life oriented education. Through his motivation and his ground zero social work he spread the message of peace and humanity.
While taking witch hunting victims to their native place after their treatment, he faces many disturbing incidents where accused tries to attack him. But still he tries to convince them his best just to reform the Society.  
In his journey as a most dynamic Human Rights and Social Activist, he meets many superstitious people who started hating him. In-fact sometimes, few come to attack him as well. But he tackles all those hustle and bustle just to establish peace and harmony for better and positive Society.