Candles are always an impressive gift to receive – not only do they smell good, but they look pleasing and really add to a place's aesthetic.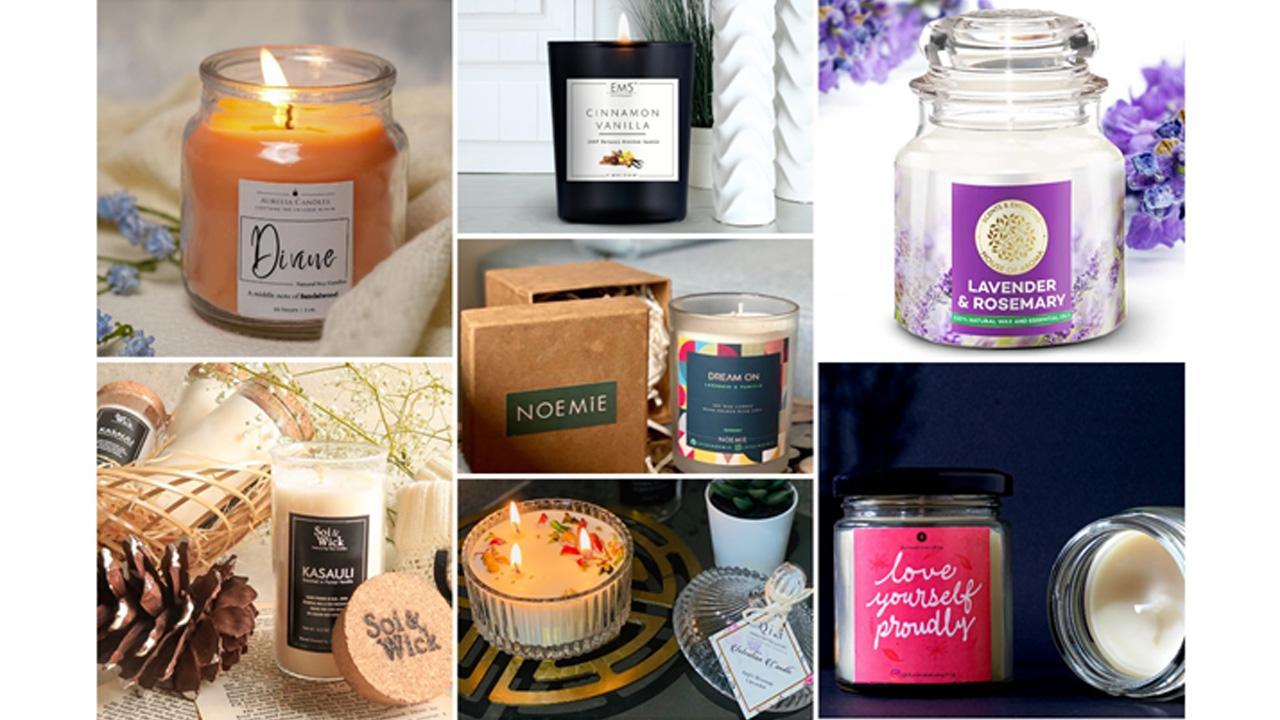 They are thoughtful and something that no one can ever have enough of. Here we have put together a list of top candle brands and their best sellers that you should buy too.
Aurelia Candles:
ADVERTISEMENT
Aurelia candle is a brand started by two best friends, who are both chemistry postgraduates and have a passion to lighten the world with their organic and sustainable products. This Gujarat-based brand uses vegan soy wax and mineral oil-free fragrances to design and produce their candles, diffuser oils and wax melts. Aurelia Candles has won several hearts by tailoring its products according to the customer's demand by even using a myriad of custom fragrances created for them.
Their best seller is a candle called delight which features a fragrance called white poison. This is the first custom fragrance that they ever created which has notes of mahogany, peppermint, and a whole lot of sweetness. This fragrance is perfectly mild and balanced.
Soi and Wick:
Scented Soy Candles, are eco-friendly and natural, and have been inspired by nature and travel. These candles have a wonderful smell, are responsibly sourced, and are delivered in beautiful packaging. Each Scent is inspired by Travel Experiences relevant to Ankur at some time. So, in some way, this collection of candles tells the story of his travels over the years. Simple yet Luxurious, Soi & Wick Candles are made using 100 % Vegan Soy Wax, with a lead-free cotton core wick. They are primed with best-quality fragrances and essential oils along with dried botanicals for an eco-friendly, clean burn and no black soot.
Their best seller is their Kasauli Candle. Scented in Forest Vanilla - If you feel like getting in touch with your inner self, and encouraging feelings of self-love, beauty, and romance, then these soy candles are just for you. A warm vanilla aroma from the Valleys of Kasauli with a musky back note.
House of EM5:
EM5 was born 3 years ago with a passion for all things fragrant. Started with just 12-15 variations of perfume roll-ons, the brand today offers a soulful variety of 150+ fragrances. A fragrant surrounding equals a happy vibe. The idea behind the birth of these candles was to spread an aroma that associates one's senses with enchanting memories. Each candle is Made with EM5's proprietary blend, it holds fragrance for a longer time and keeps the surroundings aromatic after blowing out the candle The scents are carefully curated to present a range that offers exclusivity and uniqueness.
Their best seller is the mesmerising fragrance of their Cinnamon Vanilla, loved by many already. The Aromatherapy of the blend of Cinnamon Vanilla Candles by EM5 is known to diminish feelings of depression, faintness, and exhaustion, stimulate the libido and strengthen immunity. The resulting fragrance is very warm, Cozy, and Welcoming.
Noemie Candle:
Based in Mumbai and created in a home kitchen with love as the special ingredient, Noemie is a brand founded by two friends, Rhea and Zara, obsessed with homemade products.
Their fragrances can fill up a whole room and they use soy wax which is not only a more environmentally friendly choice but also lasts longer. Their hand-blended fragrances are inspired by moods.
Their best seller is Whilst Dream On, but there's one for every mood! Dream on, the perfect calming blend of lavender and vanilla is a perfect soy candle pick for your snoozy days and dreamy nights. It's available in 260gm jars and 125gm minis both of which are hand poured with love!
Qïri Handcrafted Luxury:
Qïri Handcrafted Luxury, based in Nashik offers fragrances that create the surprise of the new, infused with the comfort of the familiar. Experience the stress-relieving and energising benefits of their wide range of fragrances through their candles. These products make the perfect gift for all occasions; just choose from their line of Festive candles, Zodiac Crystals, Bubble Candles, or Jade candles! Their candles, made exclusively using soy and coconut wax, are green and sustainable.
Their best seller is the Intention Candle where Woody Oudh stands beyond any other. This famous fragrance lights up and fills up a room in minutes. It has calming and medicinal properties which also help in eliminating negative energies.
House of Aroma:
House of Aroma connects scents to emotions. They create products inspired by nature and positive emotions. Their mission is to create exceptional products and, most importantly, unforgettable experiences.
Their best seller is Aromatherapy in a Jar which is made from natural soy wax and beeswax. The fragrance is a blend of 100% natural lavender and rosemary essential oils. Lavender is known for its calming and relaxing effect. Lighting this lavender-scented candle by your bedside can help reduce anxiety, manage insomnia, and give a soothing effect to your mind, body, and soul. Rosemary enhances the herbaceous aroma, creating the perfect spa feeling at home.
Illuminate Lives Gifting:
Illuminate Lives Gifting was created keeping in mind the disparity that comes with Premium & Luxury Products. The mission has been to create ultra-high-end candles that are affordable so anyone can enjoy their beauty and ambiance. Aiming to bring awareness to self-care with carefully curated products and experiences for everyone.
Their best seller is the Arabian Musk. It has been one of the best-selling fragrances out of the huge variety of fragrances that they offer. Arabian Musk is the perfect blend of Aud Aromatic Notes inspired by the Middle East & Floral Notes. These Candles are infused with the best Fragrance Oils which leave a lasting aroma that will fill your home with a soft and comforting scent!
"Exciting news! Mid-day is now on WhatsApp Channels

Subscribe today by clicking the link and stay updated with the latest news!"
Click here!