On receiving the award, Saran VJ, Chairman of MAX Hair Clinic remarked, "It was an exceptional experience, as innovations are being recognized by eminent organizers like Brand Impact on pan India and global platforms. Hence, lets cruise and work hard towards future innovations in Healthcare Aesthetics."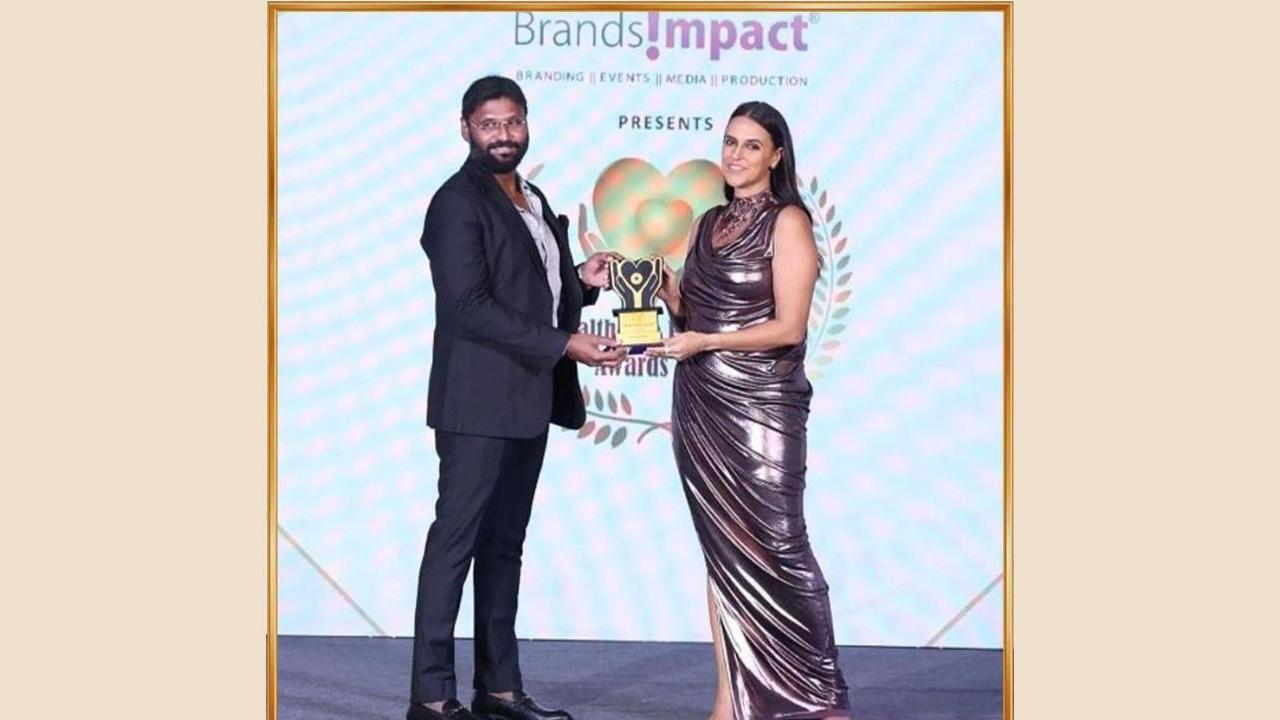 Healthcare Excellence Awards 2023
Hair restoration and replacement solutions provider MAX Hair Clinic, which has multiple outlets in Indian and registered office in USA as well, has bagged the accolade for "Most Innovative Aesthetic Clinic of the Year" at the third edition of the Healthcare Excellence Awards 2023 by Brands Impact. During a gala event held at the Radisson Blu Hotel, Dwarka, in New Delhi, MAX Hair Clinic was honoured for its achievements by Chief Guest Neha Dhupia.
ADVERTISEMENT
The Healthcare Excellence Awards 2023, presented by Brand Impact, aims to recognise healthcare organisations and individuals for their outstanding achievements in improving the effectiveness and efficiency of healthcare delivery. Participation in the awards is open to all individuals and organisations in the healthcare industry, providing an opportunity to gain national recognition that can benefit their business.
Since its founding in 2004, MAX Hair Clinic has cemented its position as India's top provider of hair restoration and replacement solutions. Thanks to its unwavering dedication to quality and excellence, MAX Hair has established itself as the best in the business for several years.
On receiving the award, Saran VJ, Chairman of MAX Hair Clinic remarked, "It was an exceptional experience, as innovations are being recognized by eminent organizers like Brand Impact on pan India and global platforms. Hence, lets cruise and work hard towards future innovations in Healthcare Aesthetics."
MAX Hair has committed to creating personalised solutions for people with hair-related concerns. Its team of highly experienced professionals, with their never-ending quest for perfection, has produced cutting-edge scientific discoveries and unmatched expertise in the field of hair restoration. With this commitment, MAX Hair Clinic only offers the best Hair Cosmetic Systems, Hair Transplantation, and Hair Replacement products and solutions.
The reach and impact of MAX Hair's superior services and products are felt in India and beyond. The clinic has a sound footing in the United States as well. The clinic is most renowned for its hair replacement solutions, which give clients an incredibly natural look. Additionally, the clinic is proud of its Human Skin Lace Cosmetic Systems, recognised for their perfect undetectable and unmatched comfort.
MAX Hair Clinic uses the most advanced FUE hair transplantation techniques, placing them at the top of their industry. They have established a new healthcare innovation standard by introducing the ground-breaking Ice cell Sapphire Micro FUE hair transplant process in India. This method, unique to MAX Hair Clinic, strengthens its status as India's most cutting-edge medical facility.
Experienced specialists at MAX Hair Clinic propose individualised treatments to ensure desired outcomes for customers. There are plenty of options to choose from - hair transplantation, beard transplantation, hair restoration, hair replacement, and programs for hair retention. With its dedication to quality and cutting-edge technologies, MAX Hair is a ray of hope for those struggling with hair loss and other scalp related concerns
The clinic provides much-needed hope and tangible, instant transformation to clients at any stage of hair loss. Hair loss is not the end of one's story, but rather the start of a new one, says Mr Saran VJ from Max Hair. This is reflected in MAX Hair's innovative technology and commitment to customer happiness.
MAX Hair aims to establish itself as a cutting-edge hair studio by fusing conventional notions of Hair Transplantation with creativity and professionalism. They strive to give clients seeking holistic hair restoration solutions a polished, advanced response to their inquiries, one that is based on a thorough comprehension of their specific requirements. By prioritising satisfaction, maintaining professional ethics, and rendering out-of-the-world hair transformations, the clinic hopes to become more widely recognised pan India & globally soon.
"Exciting news! Mid-day is now on WhatsApp Channels

Subscribe today by clicking the link and stay updated with the latest news!"
Click here!