In an era where access to clean and safe drinking water is paramount, RO Care India emerges as the leading one-stop solution for all your water purification needs.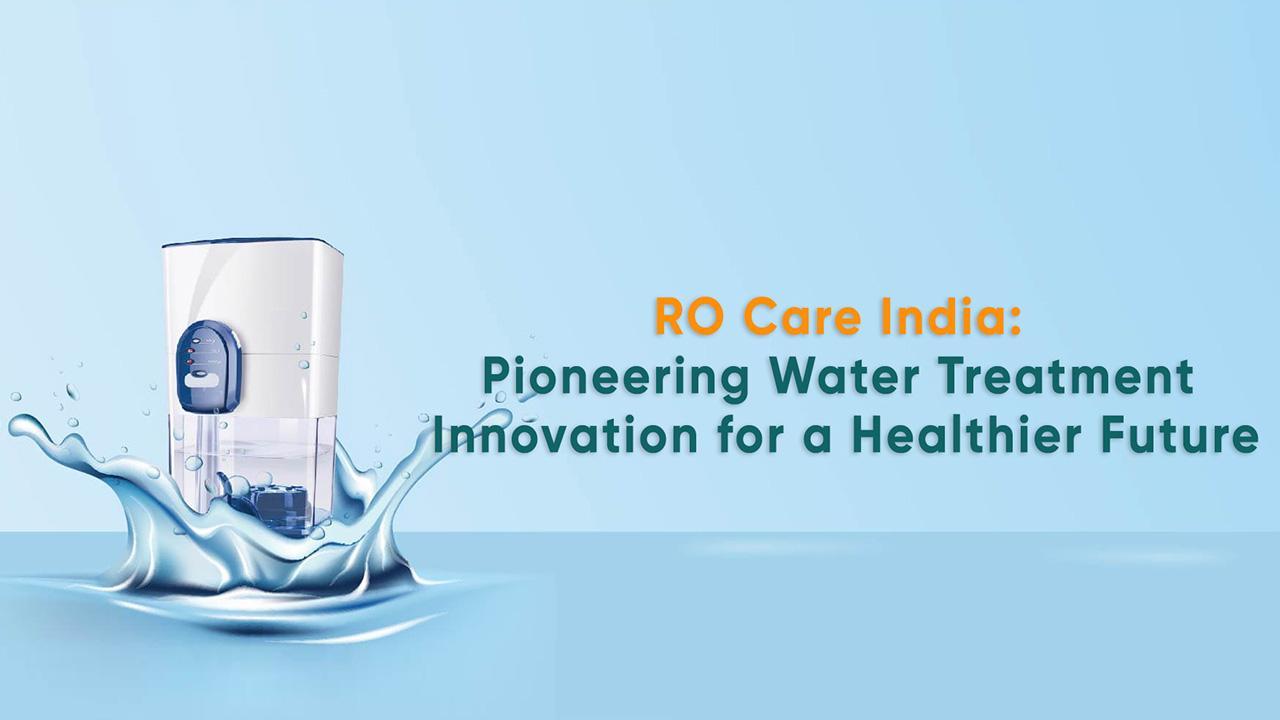 RO Care India: Innovating for a Healthier Tomorrow
With a comprehensive range of products and services, a dedicated team, and a legacy of 15+ years in the industry, RO Care India continues to be the go-to choice for individuals and businesses seeking top-quality water treatment solutions.
ADVERTISEMENT
In a world where water quality is a growing concern, RO Care India stands tall as a beacon of excellence in the water purification industry. Since its inception, the company has been driven by a commitment to providing pure and healthy water to households, businesses, and industries across India.
Speaking about the company's journey, Mr. Manoj Sharma, the Managing Director and Founder of RO Care India, stated, "Our mission has always been to make clean and safe water accessible to all. We started this journey 15+ years ago, and today, we are proud to have touched the lives of millions with our water purification solutions. Our commitment to quality, innovation, and customer satisfaction remains unwavering."
RO Care India offers a diverse array of products and services, making it your ultimate destination for all things related to water purification. From residential water purifiers to industrial RO plants, the company caters to a wide spectrum of needs:
1. Water Purifiers: RO Care India offers a range of cutting-edge water purifiers designed to remove impurities, contaminants, and bacteria, ensuring you and your family enjoy safe and pure drinking water.
2. Water Purifier Spare Parts: Keeping your water purifier in optimal condition is crucial. The company provides genuine spare parts to ensure the longevity and efficiency of your water purification system.
3. Water Softener: Hard water can wreak havoc on your appliances and plumbing. RO Care India's water softeners help in reducing the hardness of water, making it gentler on your equipment.
4. Water Ionizer: Discover the benefits of ionized water with RO Care India's water ionizers. Alkaline water is known for its potential health benefits, and these devices provide it at your fingertips.
5. Water ATM: A novel concept for public places and communities, water ATMs by RO Care India dispense clean water 24/7, promoting easy access to safe drinking water.
6. Water Chiller: Keep your water cool and refreshing with the company's water chillers, ideal for homes, offices, and commercial spaces.
7. RO Plant: For industries and large-scale water treatment needs, RO Care India offers robust RO plants that can handle high volumes of water purification.
8. DM Plant: Deionized water is essential for various industrial processes, and RO Care India's DM plants ensure you get the quality you need.
9. STP (Sewage Treatment Plant): In an era where wastewater management is crucial, RO Care India provides efficient sewage treatment solutions for a sustainable future.
10. ETP (Effluent Treatment Plant): Ensuring that industrial effluents are treated responsibly is vital for environmental conservation, and RO Care India's ETPs do just that.
Why Choose RO Care India?
- Quality Assurance: RO Care India sources only the best materials and employs stringent quality control measures to ensure that every product meets the highest standards.
- Experienced Team: With a team of experts who are well-versed in water treatment technologies, the company offers unmatched technical support and guidance.
- Service Excellence: Whether you need RO service, installation, repair, or maintenance services, RO Care India provides prompt and efficient assistance to keep your water purification system running smoothly.
- Innovation: The company continually invests in research and development to bring cutting-edge solutions to its customers.
- Environmental Responsibility: RO Care India is committed to environmental sustainability and strives to develop products and solutions that minimize water wastage and energy consumption.
As a socially responsible organization, RO Care India actively participates in various community initiatives aimed at providing clean water to underserved areas. The company believes that access to clean water is a fundamental human right and is dedicated to making a positive impact on society.
In conclusion, RO Care India is more than just a water purification company; it's a symbol of trust, reliability, and commitment to a healthier, safer future. With a wide range of products and services, a dedicated team, and visionary leadership under the guidance of Mr. Manoj Sharma, RO Care India is poised to continue its journey as a leader in the water purification industry.
For more information about RO Care India and its offerings, please visit https://www.rocareindia.com
"Exciting news! Mid-day is now on WhatsApp Channels

Subscribe today by clicking the link and stay updated with the latest news!"
Click here!