Under the leadership of Rachna Sharma, Founder - Phuro Innovations, and Co-Chair - Harvard Alumni Entrepreneurs India - an evening with an event titled "Political Peace Dialogue – SAARC" will be organized on 21 September 2022, 0500 PM onwards for supporting World Peace Day at Kiran Nadar Museum of Art, Saket, New Delhi.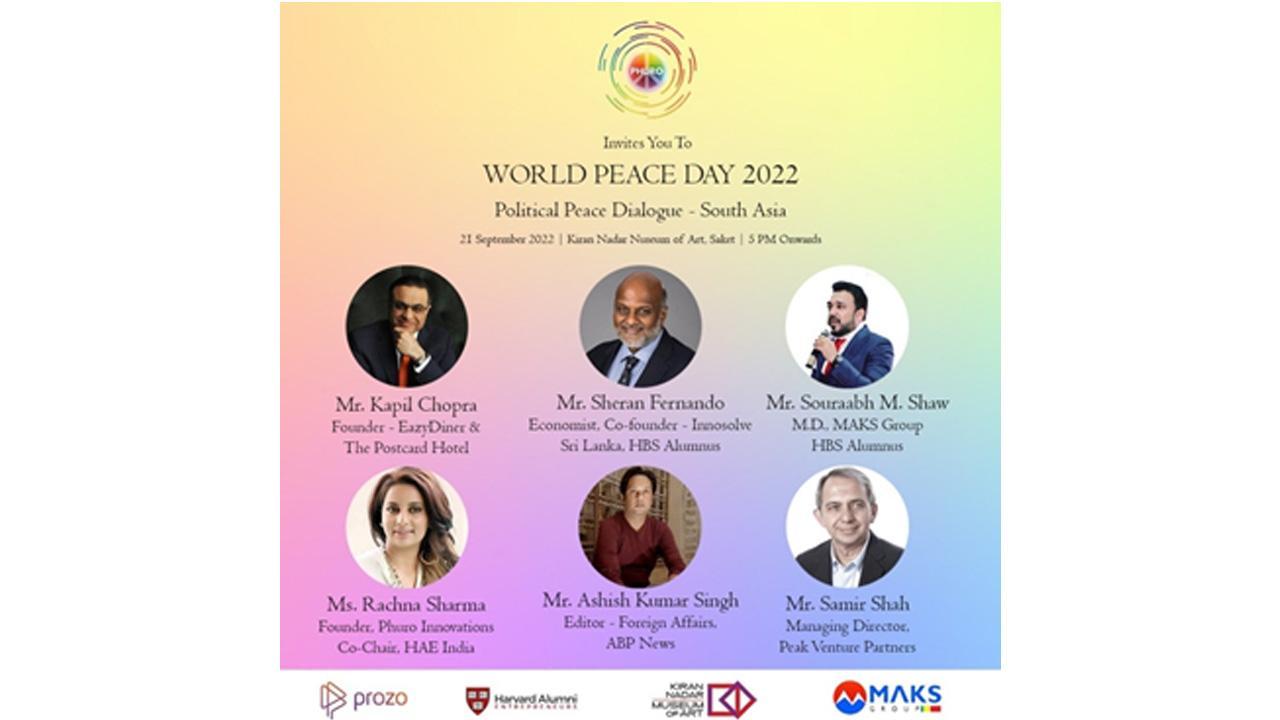 The event will bring into focus the need to establish a Structured Dialogue for Political Peace with an aim of establishing people-to-people and business-to-business connect for "Igniting Intra-regional Trade", "Powering South Asia" and "Expanding the Scope for Tourism".
An evening dedicated to World Peace Day wherein previously held and documented minutes of "political peace dialogue" with thought leaders of SAARC nations will be circulated to all delegates. World Peace Day is the annual festival for Phuro Innovations, which they celebrate with thought leaders, changemakers and innovators. This year the evening will be dedicated to SAARC in 2022. 
ADVERTISEMENT
Mr. Kapil Chopra, Founder - EazyDinerand The Postcard Hotel, and former President - The Oberoi Group, will express his insights on "Tourism Interdependence - South Asia and the need to help Sri Lanka".
Mr. Sheran Fernando, A Sri Lankan Economist, Business leader & Co Founder Innosolve Lanka,  will rekindle hope for Sri Lanka by his thoughtful speech on "Compelling Business Opportunities in Sri Lanka and the need to de-escalate the Tensions with Political Peace Dialogue"
Mr. Souraabh M. Shaw, Managing Director - MAKS Group and Alumnus of Harvard Business School with a knack for international trade will emphasize on the need for "Economic Interdependence in South Asia", a key parameter for regional growth and development.
Rachna Sharma & Mr. Ashish Kumar Singh, Editor - Foreign Affairs, ABP News will discuss the "Trade-offs in Governments while choosing Political Peace Dialogue" which are deep rooted  in the history of political philosophy of  "Westphalia " in International Relations operating in this regionSAARC. 
Mr. Samir Shah, Managing Director of the 100 Million Dollar Sustainability Venture Fund, Peak Ventures, will shed light on "Future of South Asia - Energy Efficient Economy".
The event will be organised  in partnership with MAKS Group and Prozo - an integrated supply chain company at Kiran Nadar Museum of Art,Saket,with outreach partner Harvard Alumni Entrepreneurs.