If you think you have to leave your brains at home for a Salman Khan film, be surprised. This one will need you to take your heart along with your brains. For above everything else, 'Bajrangi Bhaijaan' sure has its heart in its right place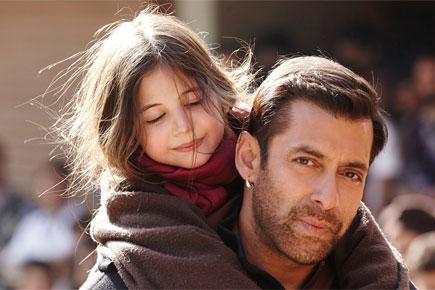 Bajrangi Bhaijaan review
'Bajrangi Bhaijaan'
U/A; Drama
Director: Kabir Khan
Cast: Salman Khan, Kareena Kapoor Khan, Nawazuddin Siddiqui, Harshaali Malhotra
Rating: 

If you think you have to leave your brains at home for a Salman Khan film, be surprised. This one will need you to take your heart along with your brains as well. For above everything else, 'Bajrangi Bhaijaan' sure has its heart in its right place.
Photos: Star-studded screening of 'Bajrangi Bhaijaan'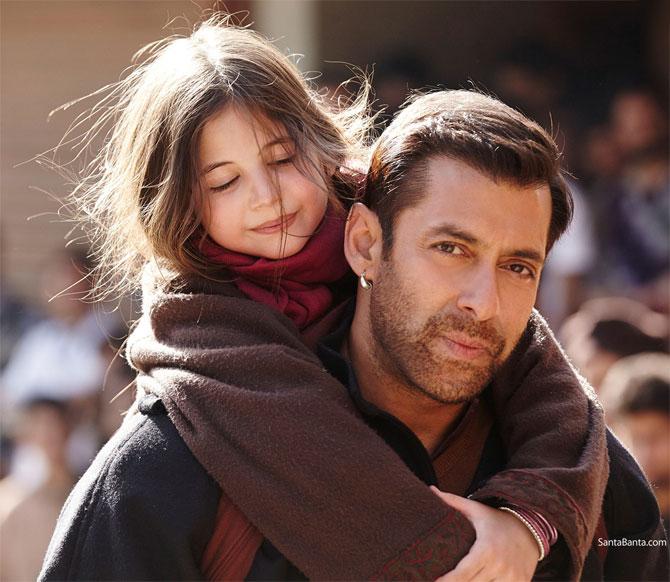 Salman Khan and Harshaali Malhotra in 'Bajrangi Bhaijaan'. Pic/Santa Banta
Salman Khan plays Pawan Kumar Chaturvedi aka 'Bajrangi Bhaijaan', a clean hearted simpleton, a Hanuman bhakt with loyalty inherited from his father towards RSS. And he is refreshingly not the typical dude ready to throw punches in the air at any moment. On the contrary, he is the antithesis of a typical Salman Khan character; he is modest, peaceful and bows down even when he spots a monkey. Pawan meets Rasika (Kareena Kapoor Khan) when he comes to Delhi from UP to stay with his father's friend's family. His idyllic, simple life takes a turn when he encounters a six-year-old child, Munni aka Shahida (Harshaali Malhotra) from Pakistan, and he takes it upon himself to return her to her family.
Nawazuddin plays Chand Nawab, a struggling freelance reporter.
Also read: Top 10 Salman Khan movie dialogues
This movie portrays secularism in an unpreachy, fun way. No taxing jingoism, no chest beating dialogues, instead you are served self-effacing humour and smart lines (Dialogues by Kabir Khan and Kausar Munir). Some scenes and dialogues make an impact, like the one when Pawan tells Chand that, 'Bajrangi hamari madad karenge', and Chand asks him jokingly, 'yahan Pakistan me bhi?'. Or the one during a more serious moment Chand poignantly says, 'Yahan nafrat bikti hai, mohabbat nahi' (taking a dig at the media).
The story (by V.Vijayendra Prasad) is about conversion. No, not the archaic one religion to another kind, but of the humane variety; from being conditioned to be rigid about one's own religion to peacefully accepting to co-exist with the unique ways of other religions.
Wah Bhai Wah: Salman Khan's endearing bond with kids on screen
Too many convenient co-incidences, a few loopholes and over the top at places, are the flaws in the film which you want to overlook because of the good intention, right emotional pitch and sensitive handling of a story which could easily create trouble in the current, inflammable circumstances. Kabir Khan gustily walks a tight rope here and one must hand it over to him for managing to keep the right balance.
Salman Khan pleasantly surprises with his un-hero like performance, Kareena doesn't have much to do and you wish she did and Nawazuddin, who's trusted to make his characters most believable is perfectly cast. But it is the little Harshaali Malhotra who will steal your heart with her angelic face and evidently natural talent.
The exaggerated climax, however, seems to drag a little too long.
Be ready to want to wolf whistle, even when you have a tear or two stealthily streaming down your cheek. Watch it.
Watch the trailer of 'Bajrangi Bhaijaan'