Inspired by real life tragic love story of Manoj and Babli who were killed in the name of honour, 'Guddu Rangeela' had the potential of becoming a powerful, deeply disturbing film which shows the mirror to the barbaric ways that a particular panchayat functions in. Alas, it is not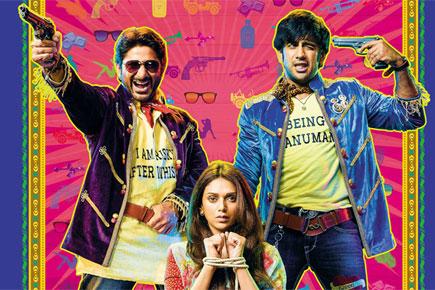 'Guddu Rangeela' review
'Guddu Rangeela'
U/A; Comedy/Drama
Director: Subhash Kapoor
Cast: Arshad Warsi, Amit Sadh, Aditi Rao Hydari, Ronit Roy
Rating: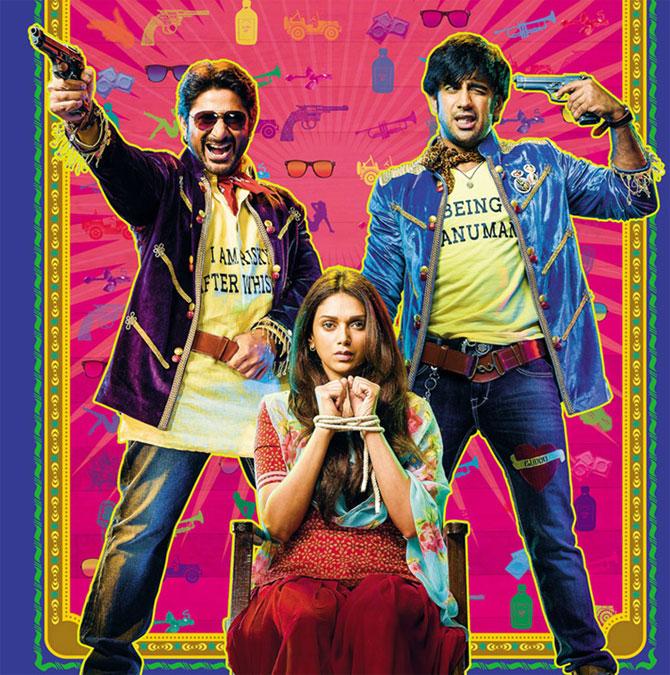 Arshad Warsi, Amit Sadh and Aditi Rao Hydari in 'Guddu Rangeela' poster. Pic/Santa Banta
It was touted to be a film which takes on the Khap Panchayat as it is inspired by the real life tragic love story of Manoj and Babli who were killed in the name of honour. So 'Guddu Rangeela' had all the potential of becoming a powerful, deeply disturbing film which shows the mirror to the archaic, barbaric ways that a particular panchayat functions in. But, alas, it is not.
The scriptwriter and director (Subhash Kapoor) seemed to have gotten so carried away with the idea that he didn't bother to scratch the surface before starting out to make a movie on it. What we are sadly meted out in this film is the general and vague idea about how the panchayat works. Ronit Roy, who presumably plays the evil leader of Panchayat, Billu Pehelwan, could have been any sneering, misogynistic, control freak villain in any other set up.
The superfluous ho-hum handling of the subject is perhaps why you don't feel any tug of emotion or get outraged when the newly married couple, Rangeela (Arshad Warsi) and Babli (Shriswara), is hounded to be killed by Billu. The last time we saw a couple being dragged to death by Khap Panchayat was in 'NH10' and that was far more believable and disturbing.
Photos: Special screening of 'Guddu Rangeela'
The story lacks consistency. The main crux of the story gets confusing as Billu's sister-in-law Baby (Aditi Rao Hydari), who becomes the centre point of the conflict, seems more bothered about Billu's 'ayyashiyaan' (debauchery) than him going about killing young lovers in broad daylight in the name of Khap. After a point, we lose track of what exactly Rangeela, his partner Guddu (Amit Sadh) and Baby are fighting against.
Arshad Warsi puts in a decent effort, but he's saddled with a role where he's grossly miscast as a young bridegroom on the run. Amit Sadh is sincere. There is a spark of chemistry between Hydari and Sadh, only if it wasn't nipped in the bud by cheesy lines. Ronit Roy is brilliant; only if he had a better character sketch he could have taken this film a notch above.
If only.