Is Ram Gopal Varma back in form with 'Veerappan'? Not really. But you do see glimpses of the lost genius in a few chase scenes. Sandeep Bharadwaj as Veerappan and Usha Jadhav as Mutthulakshmi are perfectly cast and they both do a convincing job of it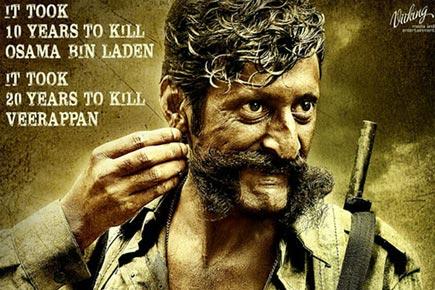 'Veerappan' - Movie Review
'Veerappan'
A; Drama
Director: Ram Gopal Varma
Cast: Sandeep Bharadwaj, Sachiin Joshi, Usha Jadhav, Lisa Ray
Rating: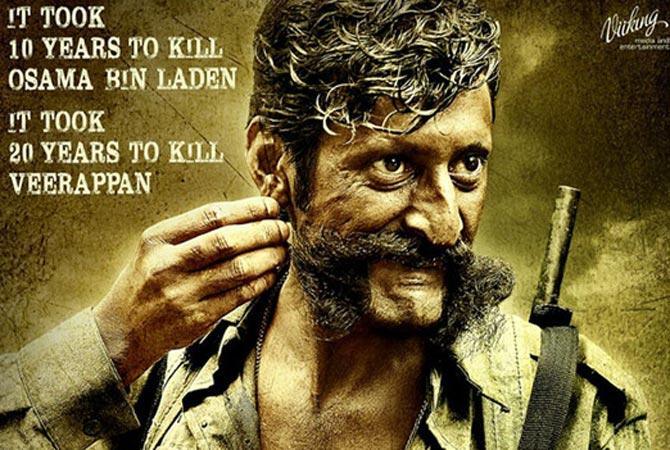 'Veerappan' poster. Pic/Santa Banta
Is Ram Gopal Varma back in form with 'Veerappan'? Not really. But you do see glimpses of the lost genius in a few chase scenes and shooting sequences between the police and the criminal and you so wish he did. Also looks like Ramu has gotten out of his painfully sell-indulgent phase and is actually going back to serious story telling. The camera, for starters, doesn't voyeuristically sneak up the skirts or look down the cleavages of the women in the film.
Ramu's 'Veerappan' is based on the story of the dreaded sandalwood smuggler from South by the same name who was gunned down by the police in 2004. Veerappan and his gang hid in the jungles that spread between Karnataka and Tamil Nadu for years and took advantage of the differences between the governments of the two states to create rampage.
Ramu chooses to sensationally call Veerappan the most dangerous man on earth. He might not exactly be that, but the daredevil criminal, who mercilessly killed elephants for their tusk and human beings if they were inconvenient, had created an impregnable world of his own, which was near impossible to enter into. Sachiin Joshi (also the producer of the film) is the lead cop who mans the operation to get Veerappan out of his fortress and kill him.
Varma attempts to narrate an engaging story, but the narration gets drowned by relentless ear splitting background music. Lisa Ray plays a spy who befriends Veerappan's wife Mutthulakshmi (Usha Jadhav) and passes on some vital information to the cops. Lisa Ray, who's obviously limited by her acting talent, looks more like she belongs to one of Ramu's horror movies than this one.
Sachiin Joshi makes an attempt to look and act the role he plays, but then the attempt shows more than the talent. Sandeep Bharadwaj as Veerappan and Jadhav as Mutthulakshmi are perfectly cast and they both do a convincing job of it.
Even then this could have been an engaging watch, if not spoiled by that constant assault on one's eardrums.