By picking subject of gender role reversal for film, R Balki walks on tightrope, and though execution gets wobbly once in a while, he regains balance every time. Arjun Kapoor makes sincere effort to fit into his role, while Kareena Kapoor Khan lights up the screen whenever she's on it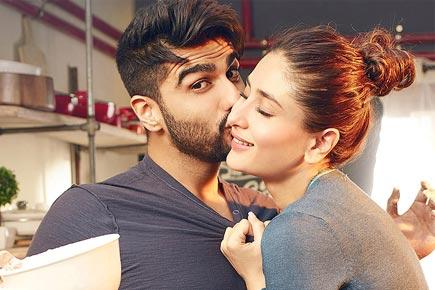 'Ki & Ka' - Movie Review
'Ki & Ka'
U/A; Romance-comedy
Director: R Balki
Cast: Kareena Kapoor Khan, Arjun Kapoor, Swaroop Sampat, Rajit Kapur
Rating: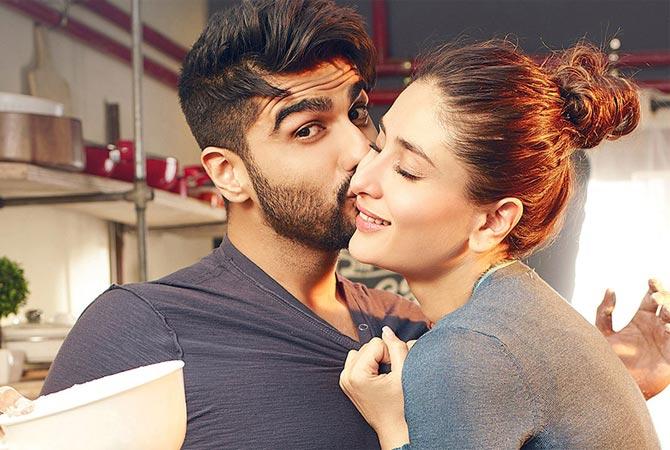 Arjun Kapoor and Kareena Kapoor Khan in a still from 'Ki & Ka'. Pic/Santa Banta
By picking the subject of gender role reversal for his film, R Balki walks on a tightrope, and even though the execution gets wobbly once in a while, he, thankfully, regains the balance every time.
When the aggressively ambitious marketing professional Kia (Kareena Kapoor Khan) bumps into the young chap Kabir (Arjun Kapoor), she realises that he's everything that she is not; unambitious, openly emotional and passionately wishing to keep himself away from the corporate rat race, yet they seem to fit in together. Even as sparks fly during their first meeting, their contrasting personalities come right to the fore. He's the sensitive kind who would cry in a public place over his mother's death, even 10 years after her demise, and she's the positive one who thinks they should chug single malt whiskey instead, to celebrate the dead mother's memory.
It is refreshing to see the two central characters of a film know their priorities and also themselves enough to not want to sacrifice the true core of their personalities at the altar of marriage and a significant relationship. Unlike filmi marriages that are often the result of an obvious culmination of a breezy romantic affair, this is one of convenience with each partner's role in it clearly defined.
The script and Kia's character might seem superficial at the outset, but it slowly unravels certain layers that hit close home. There is a scene when Kia justifiably gets upset with Kabir for saying that she's no less than a man. "I am not doing anything to prove that I am better than a man, I am just trying to do the best of what I do," she says thus reflecting the sentiment of many a contemporary woman, who often gets mistaken to be a feminist, when for her, as a true professional, her gender ceases to matter.
In one scene, Kia is shown terrified at the prospect of being a mother when a big presentation is round the corner, and thankfully, there is no justification to her behaviour thereafter. In a society where motherhood is glorified beyond proportions, it is sensitive of Balki as a writer to recognise that not every woman feels grateful at this unexpected 'blessing'.
More than the gender role reversal, the film concentrates on the power game between two people in a relationship. As Kia's mother (a lovely comeback by Swaroop Sampat) puts it succinctly in pre-climax. It's the tussle between the person who is the breadwinner of the family and the other one who chooses to look after the home, no matter what the gender of each person is.
Kareena Kapoor Khan lights up the screen whenever she's on it. But beyond looking gorgeous, here she yet again shows how wonderfully natural an actress she is, and why we sorely miss watching her do more such strong roles. The ease with which she shows her affection towards the man she's taken in by, the quiet jealously she feels when he steals the limelight and the unreasonable outburst of a woman who falsely perceives being betrayed, it is impossible to take your eyes off her.
Apart from a hint of smugness on his face once in a while that shouldn't have been there, Arjun Kapoor makes a sincere effort to fit into the role of a sensitive, vulnerable misunderstood young man. The extended cameo of Amitabh Bachchan and Jaya Bachchan is weaved in well and is delightful.
What doesn't work for the film is the constant onslaught of in-film marketing. Though it is done pretty cleverly at some points, too much is always a bad thing. The other thing is that the plot tends to get unnecessary gimmicky at points. Also, one wishes that the other characters like Kia's mother (Swaroop Sampat) as the liberated woman who runs 5 NGOs and Kabir's father, Mr. Bansal (Rajit Kapur as a successful businessman) were not confined to such tight boxes.