The bad thing about 'Pyaar Ka Punchnama 2' is that it is misogynistic and chauvinistic. And the best part? It doesn't pretend to be anything other than that. Some dialogues and scenes are smart, some are uproariously funny and quite a few are not
'Pyaar Ka Punchnama 2' - Movie Review
'Pyaar Ka Punchnama 2'
A; Comedy
Director: Luv Ranjan
Cast: Kartik Aaryan, Nushrat Bharucha, Sunny Singh, Sonnalli Sehgall, Omkar Kapoor, Ishita Sharma
Rating: 

The bad thing about this film is that it is misogynistic and chauvinistic. And the best part? It doesn't pretend to be anything other than that. Like 'Pyaar Ka Punchnama' (2011), the sequel, too, looks at women as nothing but a bunch of exploitative and irritating objects out to make life hell for men. Now, it is for us viewers to choose if we want to take offense or accept it as someone's point of view since that someone has evidently, and unfortunately, not met a better breed of women.
Director Luv Ranjan with co-writers Rahul Mody and Tarun Jain conveniently put the girls in fixed boxes: 1) Brain-dead spoilt brat 2) Money minded and manipulative and 3) Hypocritical and spineless. While feeling a tinge of pity for this team of men for not having come across any other (better) variety, one must admit that the female characters in the film might be clichéd but definitely believable and real.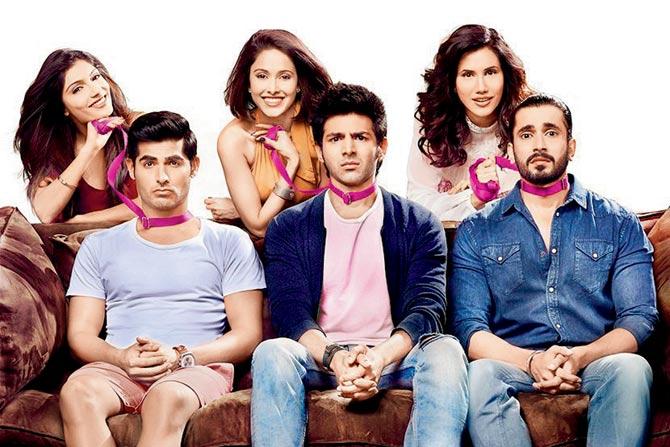 Kartik Aaryan, Omkar Kapoor and Sunny Singh with Nushrat Bharucha, Sonalli Sehgall and Ishita Sharma in 'Pyaar Ka Punchnama 2'
Gogo (Kartik Aaryan) has teamed up with Thakur (Omkar Kapoor) and Chauka (Sunny Singh Nijjar) in the sequel. The three desperate roommates fall in love with three pretty women (Nushrat Bharucha, Sonalli Sehgall and Ishita Raj Sharma respectively) and their happy-go-lucky lives start spiralling downwards at an alarming speed. And that is all thanks to the 'mean' girls who excel in the art of twirling their hapless boyfriends around their manicured little fingers.
The men are nice to look at and have decent acting skills, too. It is the women who manage to irritate the audience, after the first rosy half hour. Nusrat's voice grates on your nerves as she goes on and on in a strange 'hip' accent, Sonalli focuses more on looking hot than acting and Ishita would have been just about okay if she hadn't insisted on wearing tonnes of make up, even when she's supposedly working out in a gym.
What is disappointing is that the film keeps harping on just what the original did and doesn't carry the sequel to another level as one hoped. Some dialogues and scenes are smart, some are uproariously funny and quite a few are not.
It's a fun, one-time watch. And to its credit, it is straight, simple and clear about its intentions, unlike a few 'modern' ones that begin on a woman-friendly note, but actually end up belittling them.