A hero's entry should be celebrated with catcalls, coins, and cacophony. Shah Rukh Khan has given us all three of them in his 30-year old (and counting) career. Here are some personal favourites!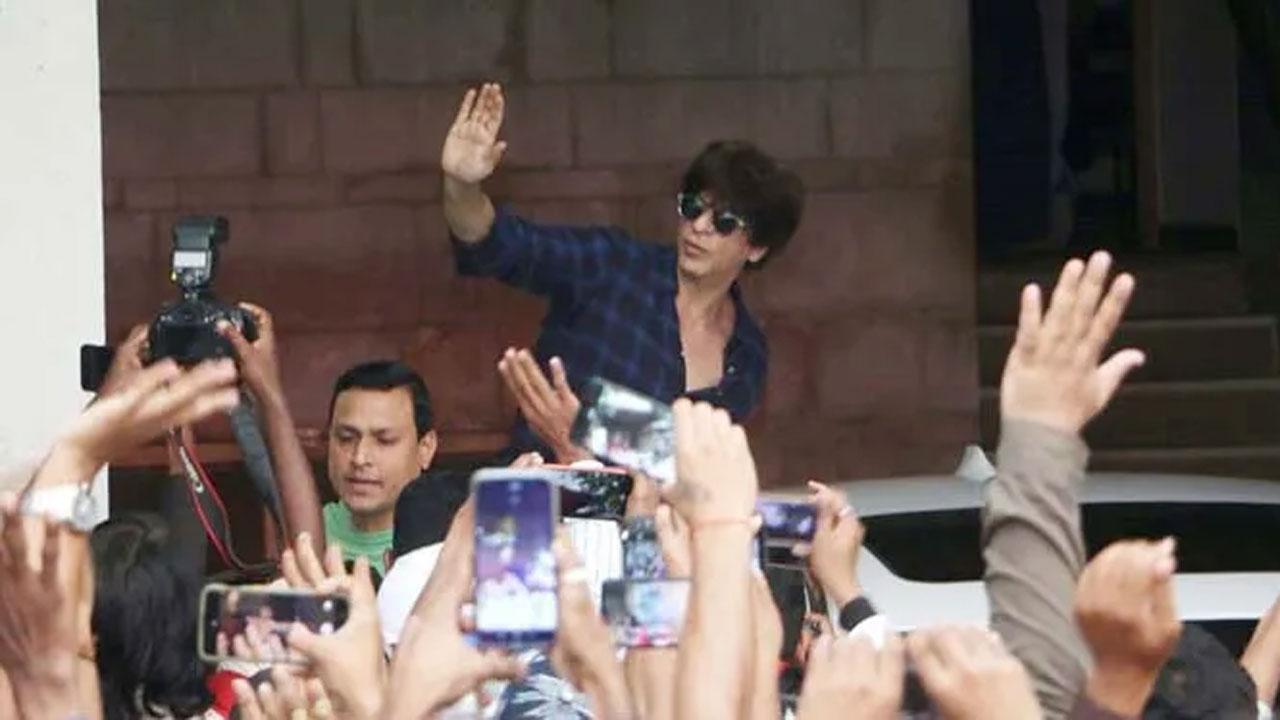 Shah Rukh Khan File.Pic/Yogen Shah
Once an actor transforms into a star, the onus of his introduction scene falls on the writer and the director. It cannot be ordinary or odd, it has to be larger-than-life and over-the-top, especially if he's acting in a film that's larger-than-life and over-the-top. Shah Rukh Khan, whose film career completes 29 years of fame, fortunes, frustrations, and failures, has been introduced in every way possible.
A hero's entry should be celebrated with catcalls, coins, and cacophony. Khan has given us all three of them in his 30-year old (and counting) career. Here are some personal favourites:
Deewana (1992)
Where it all began! 'Deewana' was the debut of SRK and director Raj Kanwar. The biggest stars of this tragic romance were Rishi Kapoor, Divya Bharti, and Amrish Puri. Khan entered the frame post interval. It was a song. It was on a bike. It was watching Amitabh Bachchan in 'Muqaddar Ka Sikandar' all over again. The only difference being that Bachchan was celebrating his destiny alone, Khan cheered for love with his friends. 
Dilwale Dulhania Le Jayenge (1995)
It's almost stale to inform that Khan was not too keen to sign on the dotted lines. His skepticism stemmed from his desire to be an action star and not a romantic hero. Aditya Chopra convinced him about the power the story of Raj and Simran has, Kajol was his Simran. She was introduced first, in a song that's about the man of her dreams, and the first verse of this track introduced Khan playing football. At this moment, we knew they both were made for each other even before they met each other. The iconic success of this romance made Shah Rukh Khan a blazing sensation. He has often confessed about being shy and reclusive, and yet could charm all his ladies, he says he's uncomfortable doing romance, and has yet redefined the genre. His success isn't just iconic but rests on being ironic too.
Baadshah (1999)
Seven years into the business and Khan already began to mock his legacy. Abbas-Mustan, maybe tired or bored of their thrillers with twists and turns, tried their hands at comedy and comedy that rested on timing, performances, and camaraderie. A lot of the stuff in this cracker of an entertainer seemed improvised, even if it wasn't. Khan owned a car that had Baadshah written on it, he entered a casino and the first thing we saw was his silhouette, his face being introduced only when he lit up his cigarette. 'Baadshah' introduced us to X-Ray shades, casino goggles, toffee bomb, Lizard shoes, a hi-tech, ingenious car, and Khan at his parodic best. Never before, never again.
Mohabbatein (2000)
Aditya Chopra loves to create conflicts in his love stories, all love stories have conflicts so Chopra is no exception. In this, the conflict was Narayan Shankar (Amitabh Bachchan) and his three principles that are too famous to be repeated here. Gurukul didn't allow its students to fall in love. All led loveless, charmless life. Enter Raj Aryan Malhotra (Khan at his charismatic best). Even before we saw him, we listened to his music and that too in the college's campus. As Shankar was on the brink of reprimanding him, we saw a close up of his violin and intoxicating eyes. It was a very cool intro shot, so much so that one even forgot to ponder how did that little girl he was playing the violin for enter the campus.
Kabhi Khushi Kabhie Gham (2001)
Karan Johar's sappy, stylish family saga is largely remembered for the throwaway performance of Kareena Kapoor Khan as Pooh, short for Pooja, but one shouldn't forget to remember what Johar did with his favourite co-star SRK in this film. There was a grand Pooja at home and Jaya Bachchan was celebrating the occasion with her entire family, crooning the tile song in Lata Mangeshkar's legendary voice. And then came this star, carrying all his aura and swag. He got down from a helicopter and began to run in slow motion towards his sprawling mansion. Even before he could arrive, the mother was waiting with the Thali at the doorstep. Here, Shah Rukh Khan's entry was elevated by Jaya Bachchan. He may be King Khan, but nobody can beat mothers. 
Kal Ho Naa Ho (2003)
Nikkhil Advani's directorial debut had stamps of Karan Johar's brand of cinema all over. The story was based in New York, the leads were immensely attractive, and the narrative had all the elements of melodrama and mush. A family with terrible issues prayed for an angel in their lives. Cut to Shah Rukh Khan as Aman, their new neighbour. It's flimsy but how do you expect realism when you get an angelic introduction? 
Don (2006)
The original was written by Salim-Javed, the remake was directed by Farhan Akhtar, the son of Javed Akhtar. There was hardly any actor who could have accepted this uphill task of filling in the shoes of Amitabh Bacchchan. Big B as both Don and Vijay was a riot. The new Don was leisurely paced. Khan, dressed in all black, flamboyantly flaunting his black shades in a darkened room too, performed ballet with the ballerinas before he proceeded to eliminate his first enemy. It was narcissistic, nonchalant, and nostalgic. 
Om Shanti Om (2007)
Farah Khan's love for Hindi Cinema is known to all her fans and friends in the industry. This was an ode to the cinema of Manmohan Desai, illogical yet infectious. The opening credits of this reincarnation potboiler saw Rishi Kapoor shooting for 'Karz', with Subhash Ghai behind the lenses. A sea of junior artists filled the arena as they cheered for the then-Superstar dancing thunderously on the song whose title inspired the name of this movie. One of them was Om Prakash (SRK of course) beaming with gleam. A Superstar in the disguise of a struggling actor rooting for a Superstar of the yore was a classic masala moment.
Fan (2016)
The masala trope turned into meta-ness in Maneesh Sharma's 'Fan'. Khan played both the fan and the phenomenon. More than Gaurav the fan, the introduction of Aryan Khanna the star felt real. It was his birthday, November 2, thousands of people gathered outside Mannat, his residence, and one of the faces was of Gaurav and his scream after seeing him was the loudest. In this moment, Shah Rukh Khan was standing outside and at the balcony of his house. And this was the only moment in the film where Aryan Khanna seemed more like Shah Rukh Khan. 
Zero (2018)
Love knows no bounds, so do dreams. Bauua Singh was vertically challenged but his aura knew no heights. He hated his father and in a fantastic opening stretch, we saw Tigmanshu Dhulia (Bauua's father, yes), threatening a poor, little girl. Came Bauua, standing tall and walking into the frame as heroically as possible. We knew this was a dream sequence since this wasn't someone who was dwarf. Shah Rukh Khan's first dialogue in 'Zero' was in French. Why? Because as stated above, dreams know no bounds. This was a film that was heightened by fantasy and audacity, wish it could fly higher. 
Also Read: Shah Rukh Khan responds to Loki aka Tom Hiddleston's recent appreciation for him