Akshay Kumar, who is all set to come up with his next film Padman in the Republic day weekend, feels that sanitary pads should not be tax free, rather free for women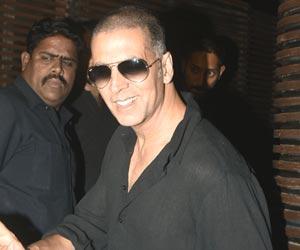 Akshay Kumar

Akshay Kumar
Akshay Kumar, who is all set to come up with his next film 'Padman' in the Republic day weekend, feels that sanitary pads should not be tax free, rather free for women. While promoting the movie in Pune, the 50-year-old-actor said, 'Women are going for tax free sanitary, but I say it should be completely free. Cut the five percent money from defence, make one bomb less and give it to women to get the sanitary napkin.'
'Padman' is a biopic based on the life of Arunachalam Muruganantham, who makes cheap and affordable sanitary pads for the women of his village and fights for menstrual hygiene.
Quirky posters, interesting trailer and some soulful songs have already made fans really curious. Helmed by R. Balki, 'PadMan' also stars Sonam kapoor and Radhika Apte.
The flick is all set to release on January 25 and will clash with Sanjay Leela Bhansali's magnum opus 'Padmaavat', which stars Deepika Padukone, Ranveer Singh and Shahid Kapoor in the pivotal roles.
Catch up on all the latest entertainment news and gossip here.
Download the new mid-day Android and iOS apps to get updates on all the latest and trending stories on the go