Ahead of the release of his debut film - Beyond The Clouds, Ishaan Khatter talks about elder brother Shahid Kapoor and how he has always been averse to books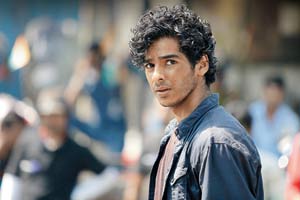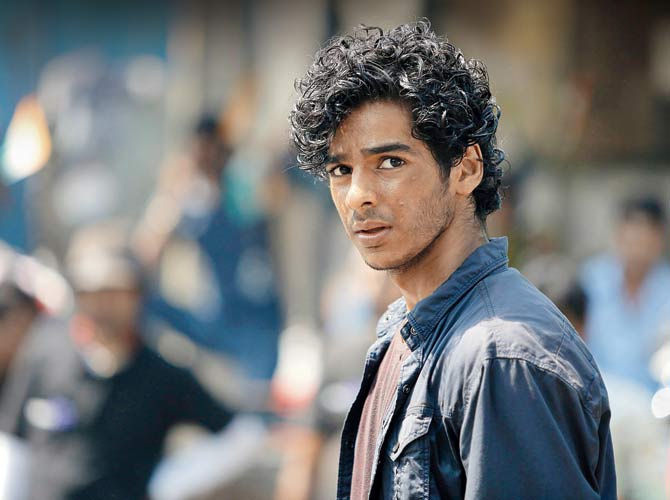 Ishaan Khatter
Given your family history, can we assume you were this kid who was always waiting for his 'big screen' outing?
As far as I can remember, I have always been passionate about acting and dancing. I watched a lot of movies and observed people, lessons from which I would put to practice. I watched films from across the globe, and that shaped my sensibilities. I did not have an idea of the kind of film I wanted to start my career with. However, I knew I wanted to do something substantial without compromising on anything. So, Beyond The Clouds was an instinctive choice. I got a call from casting director Honey Trehan. He gave me a brief of the film, showed me some footage on his mobile phone, and that was it. This movie is as close to the ideal debut that I have always wanted.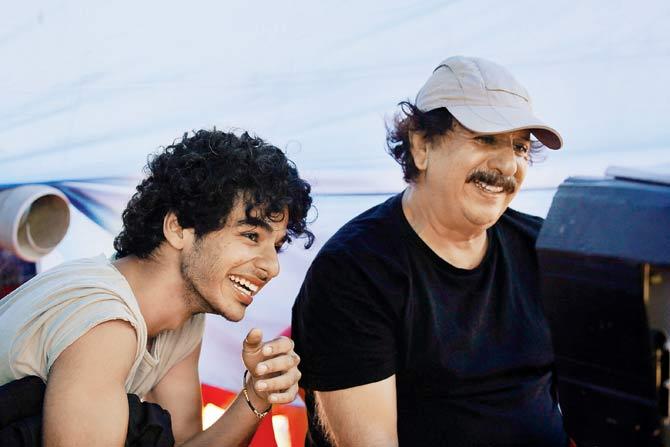 Khatter with Majid Majidi on the film's set
Did you consider getting formally trained as an actor?
It was a conscious decision to not undergo formal training. I didn't want to be influenced by technique. I wanted to discover things on a set. So, I took part in some workshops, read up about acting techniques, and watched a lot of cinema. Later, I worked as an assistant director on two films [Udta Punjab and Half Widow]. I underwent a year-long dance degree. I was open to training further, but my career took a different path. When I was assisting, I got my first film. I didn't want to reject it.
Who was the first person you informed when you decided that you wanted to act?
My mother [Neelima Azim], and I think she already knew. During college, I found academics repulsive, and forced myself to study subjects I didn't want to pursue. That was also the time I decided I would work hard on things that I wanted to chase, like dancing and direction. Initially my mom found me flaky, but later she understood I was passionate about it. There was a time when I would sit down with books, and immediately put them away. I am not dyslexic, but I was like that child in Taare Zameen Par. Co-incidentally the character's name was also Ishaan [laughs].
How has your relationship with your brother Shahid evolved over the years?
I have always had open conversations with Shahid. He would discuss what he felt as a performer, and I would talk to him about his performances. On occasion, he would feel that I have critiqued him, but I only did it to understand the craft better. I have been influenced by him as an actor. He is a beautiful performer. As I grew up, our discussions also evolved. He made me understand the process of acting. Now that I have entered the profession, he discusses issues in greater detail. He tells me his experiences, and it's beautiful, because I also feel that I have grown up. He tells me to listen to my heart and keep
working hard.
It is heard that you had to take permission from Karan Johar, who is launching you in Bollywood, before you agreed to do Beyond The Clouds?
I had given a verbal commitment to Karan sir [for Dhadak], so, it would have been wrong on my part to go ahead with another film without informing him. I told him I felt strongly about [Majidi's] venture, and I wanted to do it. He understood that this opportunity comes rarely, so he was willing to let me do it.
How was the experience of working with Majidi?
As an actor, it was important for me to commence my career with somebody who could set the foundation for me. The biggest learning experience of working with him was simply observing him on set and meditating on what he would tell us. It's been special to work with him. I'd even turn up on set on days I didn't have to shoot so that I could simply observe him. The decision to work with him was a no-brainier. He has become like a father figure.
Majidi doesn't speak English or Hindi. Was it tough to communicate with him?
Language wasn't a barrier for me. Farsi is similar to Urdu. You obviously cannot understand everything, but when we were working on a scene, it was easy to understand him. Also, he had an adept translator who spoke English, Farsi, Urdu and Hindi. Towards the end of the schedule, we didn't even need the translator.
Do you feel any pressure to 'make it' in Bollywood?
I don't think I feel any pressure. It has nothing to do with the number of films on my plate. It is because I am deeply involved in my work. I am really happy to be working every day. The response to Beyond The Clouds has been overwhelming. So I feel blessed and happy. I am also excited about Dhadak. The subject needs to be told.
What will change for you after the Friday your film opens?
I don't know what will change for me. I'll take it as it comes. I don't want to be presumptuous or assume that there will be a mob keeping me from even walking on the streets. I'd love to roam around freely for the rest of my life. To a certain extent, it also depends on how you deal with it, and hopefully, I'll be able to handle it gracefully.
Also Read: Beyond The Clouds actor Malavika Mohanan: Let Ishaan enjoy the limelight
Catch up on all the latest entertainment news and gossip here. Also download the new mid-day Android and iOS apps to get latest updates