Set in Hyderabad and Lucknow, Daawat-E-Ishq, is a love story that also talks about a social cause. The premise is promising, the intention is right, but the half-baked script fails to hold one's attention for long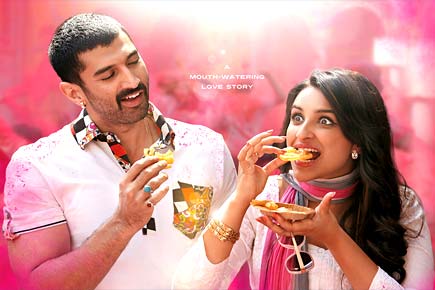 'Daawat-e-Ishq' movie review
'Daawat-e-Ishq'
U/A; Romantic/Drama
Cast: Parineeti Chopra, Aditya Roy Kapur, Anupam Kher
Director: Habib Faisal
Rating: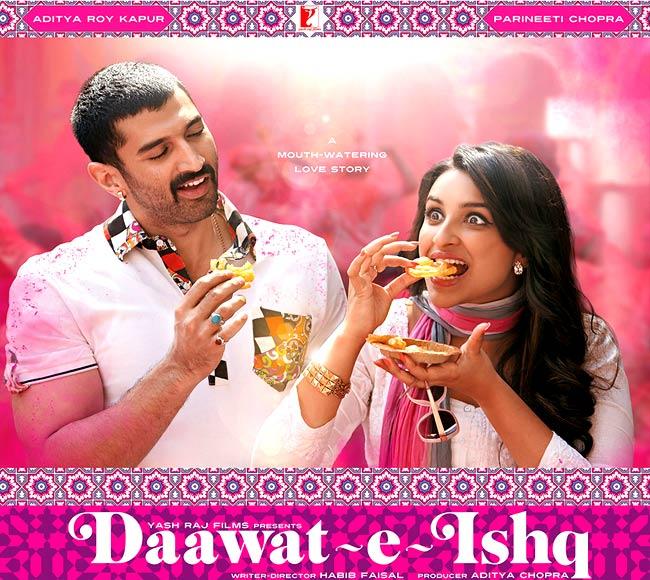 Aditya Roy Kapur and Parineeti Chopra in 'Daawat-e-Ishq'
Set in Hyderabad and Lucknow, Daawat-E-Ishq, is a love story that also talks about a social cause. Written and directed by Habib Faisal, this film revolves around Gulrez aka Gullu (Parineeti Chopra), a young, independent shoe sales girl who plans to go abroad for further studies. But since her father (Anupam Kher) is just an honest clerk in a High Court, all he could afford to do is save Rs15 lakh for her dowry. Gullu and her father are tired of the kind of grooms that their meagre dowry amount attracts. Gullu is not happy as she is looking for an intelligent, English-speaking partner. Her search leads her to a 12th standard passout, the softhearted restaurant owner, Taariq urf Taaru, but by then, her plans have undergone a sea change.
The premise is promising and the intention is right. In a country where dowry is still a huge social malaise (the stats shown in the beginning of the film tell us that even now every hour, one woman in the country is killed for dowry), this film attempts to present the serious cause on an entertaining platter.
But unfortunately, all that intention doesn't come to the filmmaker's aid, since the movie's half-baked script fails to hold one's attention for long. Of course, little things like Gullu and her father's endearing relationship, Tariq's unique brand of love for Gullu, and the fervent movement of the camera as it captures the delightful by-lanes of Hyderabad and Lucknow impress you for a while, but then that's about it. Your interest begins to peter out as the dialogues mostly lack wit and some of the characters seem too dumb to be true.
Parineeti Chopra, by now, can sleepwalk through her stereotypical roles of a small town, plain Jane. It's time she picks other kinds of roles to showcase more layers to her talent. Aditya Roy Kapur is impressive in his portrayal of a sincere lover boy.
The mouth-watering kebabs and biryanis that the characters are shown wolfing down at every given opportunity serve to invoke hunger pangs rather than pique our curiosity about where this story is taking us. By the time you reach the lukewarm climax, instead of staying back, you are tempted to run towards a Mughlai restaurant and dig into a hot plate of seekh kebabs.