Nataliya maintains that she is a successful actress because of her talent, hardwork and passion. She made it on her own without any Godfather or connections in the Industry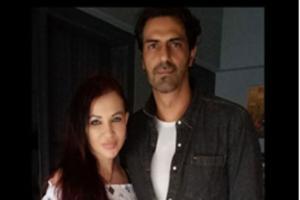 Nataliya Kozhenova and Arjun Rampal
Blamer her exotic appealing looks or her passion for acting, upfront and ambitious model and actress Nataliya Kozhenova will be seen in Ramesh Thete's next Directorial "The Battle of Bhima Koregaon" alongside Arjun Rampal and Sunny Leone.
"I play a foreigner in the film. It may not be the lengthiest role but there is a lot to my character. She is responsible for bringing multiple twists in the film".
Nataliya maintains that she is a successful actress because of her talent, hardwork and passion. She made it on her own without any Godfather or connections in the Industry.