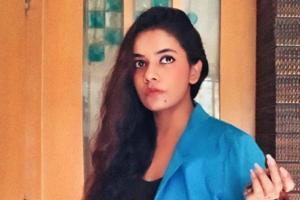 Ritwika Gupta
It has been over three months of lockdown and like every other industry; Mumbai's entertainment industry too took a hit like never before. With shoots on hold, artistes are making use of their time to get creative at home. 'The Intruder' is the title of Ritwika Gupta's new short film. It is a gripping short thriller that has been shot entirely at home, using a smartphone. Ritwika is not just the actor in the film but she has also directed the movie using her homemade tripod.
"Years ago, the idea of shooting movies on a mobile phone was far-fetched but today it is not impossible. I don't have a professional camera or lights. This was something I did out of sheer passion to tell a story. Despite the limitations of the lockdown and resources, I think you can create something unique if you have a good idea. At the end of the day, it's all about story-telling. We are in a state of lockdown but creativity cannot be locked down", she says.
The short film has been remotely edited and put together by filmmaker, Stendor Sorout, without whom Ritwika shares it was impossible to make the movie. Sorout also composed the background music of the film, which really elevated the entire project.