We are talking about Chandragupta Maurya's Malayketu and Tenali Rama's childhood character, a very talented child actor Raman Thukral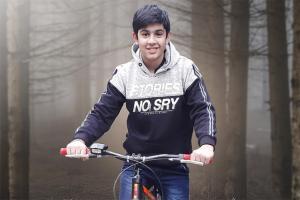 This lad has won the hearts of people through television shows like Chandragupta Maurya, homeshop18 and with many ads for top brands
Our Indian Film Industry and TV world are booming with lots of talent and in this top race what is good to see is young guns are stealing the stardom from top stars in films and serials.
We recently spotted a bright talent who has shared the screen with megastars like Rajnikant and all in the movies. We are talking about Chandragupta Maurya's Malayketu and Tenali Rama's childhood character, a very talented child actor Raman Thukral.
This lad has won the hearts of people through television shows like Chandragupta Maurya, homeshop18 and with many ads for top brands Philips Air purifier, Amway, Winkies cupcakes, Railway Govt ad, images bazaar, Crax: 2 ads, Videocon d2h, Dhanuka Agriculture Commercial ad, Amazon, Flipkart, shop clues print shoots. He has done anchoring for Da Vinci Learning educational Channel.