One of Bollywood's most sensational talents, Rani Mukerji meticulously deconstructs her life before and after films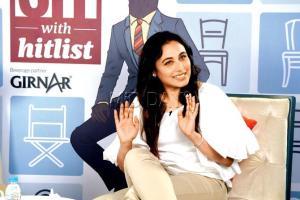 Rani Mukerji
Excerpts from the interview with Mayank Shekhar:
Firstly, we've got to thank you and your filmmaker husband Aditya Chopra as well for coming over. He's an invisible man, surely he's sitting in the room, is he?
Yes, he is. You've got to find him. You had to see Mr India through a red tint. Now I can't decode which colour makes him appear!
No, seriously, does he actually exist?
Of course. And the proof is in the pudding — my daughter. She didn't get baked and come out of the oven (laughs).
I was coming up the lift, and everybody knew you were coming over, one of them said, she's married. The other went, to some Chopra, god knows who! Of course, you've known Aditya for years. Do you remember the first time you guys met?
It's quite historic in my head, actually. He had called me for a film called Dulhan. That movie never got made. But I became his 'dulhan' (bride), eventually, in life.
Was he producing the film?
He was actually directing it. And I had signed up for Kuch Kuch Hota Hai. So he'd asked me a bunch of professional questions that he does with everyone. And this was much before the first film I did for Yash Raj, which was Mujhse Dosti Karoge (2002). And, of course, Saathiya (2002), although that was more of a Bobby Bedi production, with Yash Raj presenting it. Shaad had come to me and said he was remaking Mani Ratnam's film. I was like, "Why are you remaking a great film that Mani Ratnam's already made?" Yash [Chopra] uncle was involved with the film. So was Adi. They were actually shocked to hear that I had said no.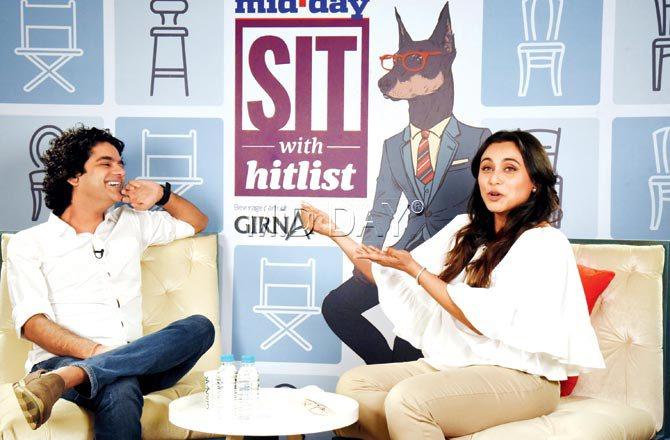 Mayank Shekhar and Rani Mukerji
You said no, simply because it was a remake?
Sometimes we actors think we know it all, although actually we don't know anything. And we have to have people guide us to do the right things. Obviously I wasn't guided properly, and in my enthusiasm of youth, I said no. That's when Adi called me for a meeting, asked, "What's the reason for you not doing this film?"I didn't have a good enough answer, so I said, "Because the girl doesn't have a good role." He just burst out laughing!
True, the film's all about the girl.
Yes, that's when Adi realised that I'm a clueless person in the industry. If I can say that the girl's role in Saathiya has no meat, then I must be really cracked!
What's he like as a person?
I think the best way to describe Adi is that he's a great leader. He's got great leadership qualities. After so many years in the industry, it's really difficult for me to respect someone — we tend to know people, in, and out. Adi is somebody I can genuinely respect as a human being, and this has been the case from even before I became his wife and life-partner.
You mean he has paternal qualities; or is a natural mentor?
I wouldn't say paternal. He's essentially a no-nonsense person. He tells you in your face, the way it is. I think that's great, because a lot of people in films need that reality check. You are surrounded by people who constantly tell you that you're the best. He's a really good bubble-buster in that sense. You need someone to say "You're good, but not the best!" Also, whenever someone goes to him for advice, he puts the other person's interest first, before his own. I think that's a rare quality to have, not only in business, in life as well.
What surprises me most about him is when someone told me the poster on the wall behind his desk is that of Fernando Meirelles' gritty-gangster film City Of God (2002), essentially Brazil's Satya (1998). Now that's the last film I'd associate with Aditya Chopra. Does he still have the poster?
Yes, it's still there! My education of foreign language films, or the films I know at all, is thanks to Adi. There's so much to learn. I think it's important for every actor to not only see the big, entertaining blockbusters, but watch films, where the performances are so real, it's hard to tell it's a performance.
You obviously come from a space where you simply didn't want to be an actor, and was forced into it, by your mom, right?
Not forced. I just thank God I was really a good, obedient daughter! In 1993, I got offered a film called Aa Gale Lag Jaa, which I didn't do. Growing up in Juhu, being from a film family was not really looked upon as cool, as it is now. Back then, being from a film family was like, "Oh, you're from films?" That word 'filmy' was treated as an abuse.
Bollywood was basically uncool.
Yes, Bollywood wasn't seen as a place you could make a career out of. I was in my 10th standard, when I got offered Aa Gale Lag Jaa by Salim uncle (Salim Akhtar), and I had the most bizarre reaction: I started crying! I was like, "How can you offer me a movie?" My mom and dad cajoled me, "You don't have to cry. He's only offered you a film." Eventually Urmila (Matondkar) did that film. Two years later, Salim uncle came back to me because Mamta Kulkarni had said no to Raja Ki Aayegi Baraat (1997). My mom asked me if I wanted to just give it a try, and if I didn't like it, I could always go back to college. I thought she was being practical. At my screen test, they made me wear Mamta Kulkarni's clothes that she had worn in Salim uncle's previous film. And I was like, what are these clothes? They put glycerine in my eyes. It was crazy for me.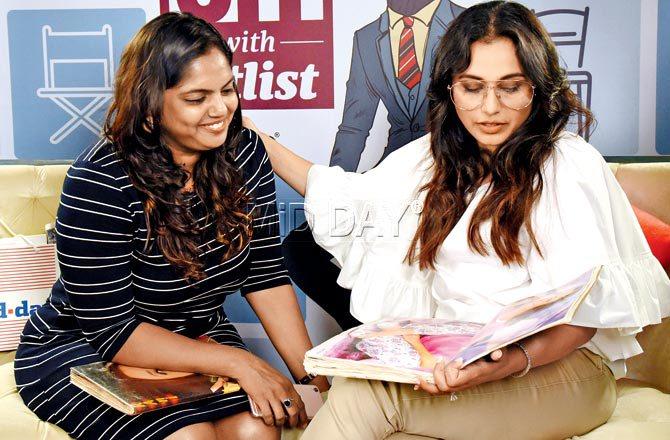 Mukerji goes through the scrapbook made by one of her fans
And this was just the screen test.
And it was a disaster. My mom saw it and realised I wasn't cut out for this. But Salim uncle said I was really photogenic and the cameramen were really happy with me. He asked me if I wanted to join an acting class. I joined Roshan Taneja's school. The first thing he (Roshan) told my father and that remains stuck in my head is that acting is not something that can be learnt. It's not mechanical. You have to feel it. It's a process, being another human being, for a particular amount of time. In my class, there were Jimmy Sheirgill and Chandachur Singh, prepping for their film with ABCL (Amitabh Bachchan Corporation Limited).
Tere Mere Sapne, which had Arshad Warsi in it as well?
Yes, Tere Mere Sapne (1996). And Jimmy was preparing for Maachis (1996), if I'm not mistaken. The whole group was in awe of Chandrachur Singh, because he was the next 'Amitabh Bachchan', had a deep voice, had been cast as lead in an ABCL production. I would diligently go for the morning and evening classes. I just didn't want people to laugh at me (when the film came out). The day I gave my first short for the film, it just came to me. They said, "Cut." I was like, "Shit I actually did it." It wasn't difficult for me. From that day onwards, I've never looked back as an actor.
It just happens when the camera rolls?
I think I just need the camera to come alive.
Also you're from a hardcore showbiz home. Most people don't know how the Mukerjis were once the biggest family in Bollywood — owning, running Filmalaya, Filmistan… Can you take us through these titans, and how's everyone related?
My father would have made this more entertaining. So it goes this way. S (Sashadhar) Mukerji was the producer of films like Naagin, Anarkali, and several others. He was the producer for Filmistan. Someone else owned the studio — Jalaram, if I'm getting his name right. S Mukerji was the only one who branched out of our family in Jhansi, ran away from home, to make movies. My grandfather, who was a judge, and S Mukerji, were brothers. So, S Mukerji joined Bombay Talkies. His wife was Kishore and Ashok Kumar's sister.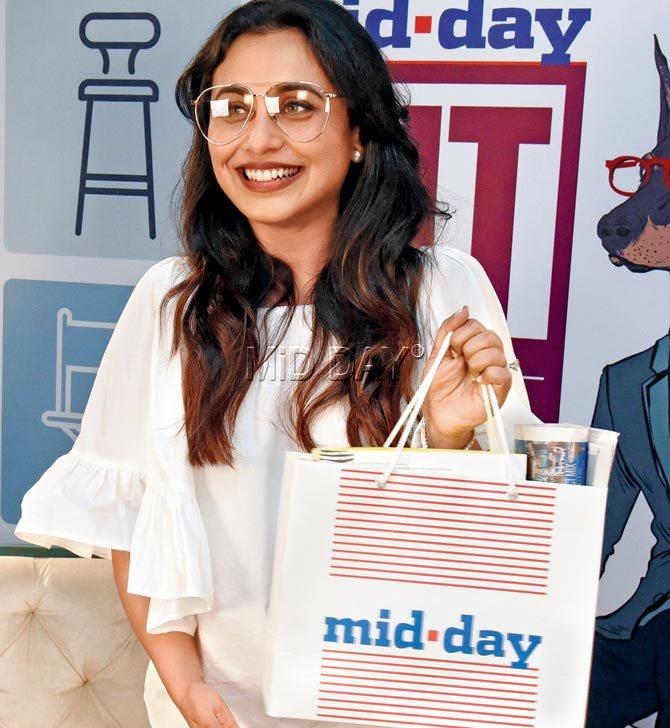 Rani Mukerji
Okay, so that's how those two families are related.
Yes, it starts from there. And then my dad, who passed out from Allahabad University, came to Mumbai to be with his uncle, S Mukerji and his brothers Subodh, and Prabodh, who had also joined him to make films like Junglee and others. Are you getting it?
Trying.
So at that time they were these four. My dad started off as a camera person and then became a director. It was a family thing. So they made a lot of films for Filmistan, and once they became sought-after, they went ahead and bought Filmalaya. That's when the onset of FIlmalaya happened. Kajol's grandfather is S Mukerji.
So Kajol's grandfather is your grandfather's brother.
Correct.
How is filmmaker Ayan Mukerji related?
Kajol's father [Shomu Mukerji], and Ayan's father, Dev Mukerji, are brothers. So, if you've seen Ek Bar Mooskura Do (1972) — that song (hums it), Tu hamari thi, jaan se pyari thi — that actor, Debu Mukerji, is Ayan's dad. His older brother is Joy Mukerji. So it's Joy, Debu, and Shomu — Shomu is Kajol's dad. Because my father was so intimately involved, everybody feels my dad was Debu kaka and Shomu kaka's brother. Actually they are cousins. So, Kajol and Ayan are first cousins, and I'm the second cousin — to make things clear. From my mother's end, her youngest sister was an actress in Bengal. So for her, acting didn't seem like a far-fetched idea. But my dad was like, "Why would my daughter be an actress?"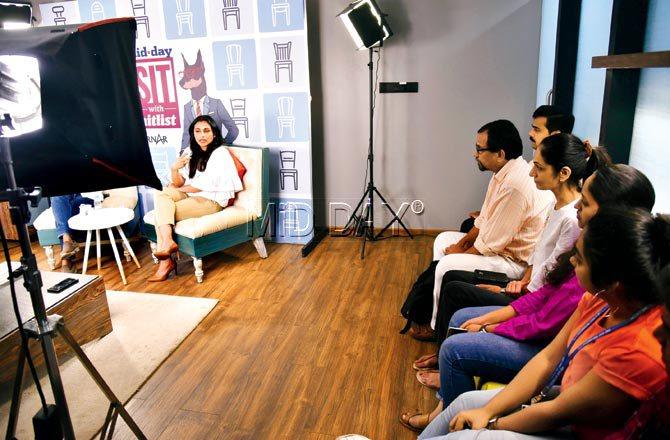 The live audience is all ears as Mukerji talks about films and more Pics/Nimesh Dave
You did work in your dad's film though.
Yes. Again to make things clear, Biyer Phool [in Bengali, directed by Ram Mukerji] is not my first film. Raja Ki Aayegi Baraat is. They both released on the same day. But I shot for Raja Ki… first.Then Ghulam (1998) happened, Kuch Kuch Hota Hai followed.
Ghulam with Aamir, KKHH with SRK, which was your first film with Salman?
Hello Brother (1999). I'm sure you must not have given it a good review
Loved it.
Don't say that. Not good for your reputation! I had a lot of fun shooting for Hello Brother, and working with the Khan family, so full of love, is one of the greatest memories. And everyone was shocked that the film didn't do well. The conclusion that everybody draws, after 24 years, is probably that they shouldn't have killed Salman (in the film), they should have killed Arbaaz instead.
That's really mean.
No, I think Arbaaz will also agree. I hope so. Coming back to working with the Khans, what I actually observed working with, especially Aamir and Shah Rukh, because they were the first people I interacted with after my first film, is that they were so on top of everything, their dedication, sincerity, always on time on the set, working on the takes, ensuring every shot is perfect. I had no idea what a successful person/actor was supposed to be like. And that kind of made me choose a working path where I also believe that every film you do should seem like it is your last. This learning process, for me, started with Shah Rukh, Aamir.
Your school, as it were, since you didn't even have the time to finish your acting course before your first film?
I actually just observe people. It gets embarrassing sometimes when a person catches me staring at them! And that's my job. My husband finds it irritating when we go out.
So you can place a person for all the memorable roles you've done, for instance the girl in (Mani Ratnam's) Yuva (2004)?
Of course. There were so many of my house-helps, who I observed. They would chat with my mother about their alcoholic husbands beating them up. I'd noticed their body language, the way they talked, their conversations.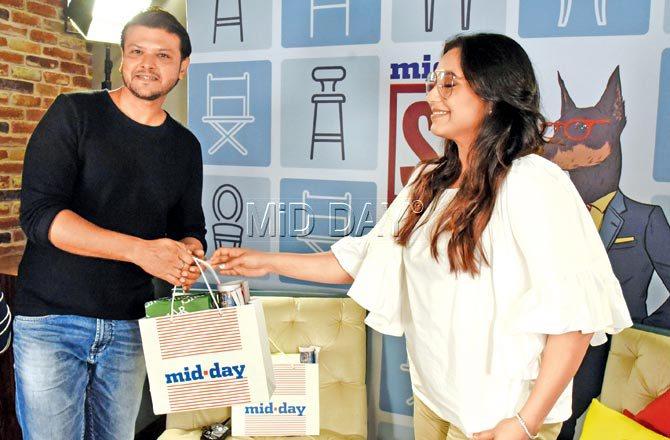 Mukerji gives a gift hamper to the winner of the Sit With Hitlist contest
That train scene in Yuva is iconic, seemed like a lived experience.
That's what happens with me, certain things just get stuck in my head, and when prepping for a character, they just come back to me. For me body language is truly important. It differentiates your character from previous ones — the way I walk, talk, I try to change that in every film. I don't know how many people notice it. But Javed uncle [Javed Akhtar] always tells me I am the only actor he knows, who can really make good use of hands. Often, actors don't know what to do with their hands.
And you are quite different in each of your films. Apparently the role that changed your approach to performance was Kamal Hasan's Hey Ram?
I went to Chennai to shoot for Hey Ram. At the time, I was doing glamorous roles in films in Mumbai. It was expected out of me to look good all the time, put make-up; wear five-inch heels, because you can't have a short heroine. My first day of shoot for Hey Ram was the closest I came to a Hollywood kind of set-up — make-up room had pictures of hair-continuity. A bell would ring at 6 am to start shoot. We were to report at 5 am. There was a call-sheet given, which was unheard of back then, with every minute slotted. So I get ready the way I thought I am supposed to. I walk in to the set, find Kamalji and cinematographer K V Anand standing. Kamalji looks at me, says, "What have you done to your face?" I'm like, "What? Is there something on my face?" He asked me why had I put make-up on and told me to go wash my face. I was shocked first, and then thought he was joking; ragging me on the first day. I also had a flight back in the evening to shoot Kaali Nagin song for Mann. I just dabbed my make-up, reduced my lip-stick, came back. He was like, "No, I told you to wash your face!" This time I washed my face completely, and he went, "I can see my Aparna [her character] now." Then he called the make-up artist to put on a bindi, he himself put some kajal, and he said, "Leave the rest to the cameraman, he will do his job." When I mentioned I wasn't tall, he said, "I'm not tall either. You have to be tall with your achievements," and insisted on me wearing flat chappals. Then, of course, I carried on that tradition in films that I could. In Saathiya. In Black, I remember Sanjay [Leela Bhansali] told me, "You are playing a blind person, I need your eyes to be dead. We have to give you black lenses so your eyes don't emote at all." I remember just wearing those lenses, scrubbing my face with tomatoes in the morning, because it gives you that freshness.
Does it?
Yes, chalo tamatar kharido sab log [Laughs]. But, like I said, I was confident about not wearing any make-up. Thank god Mani sir didn't have to tell me to wash my face! I already knew it.
Since you brought up Black, Ranbir Kapoor asked us to check with you if you remember the first time you faced the camera with him.
Yes! He was assistant director on that film. We were in Simla. We didn't have Mr Bachchan's [Amitabh Bachchan] dates, so we started without him. We were shooting the film's first scene, where Nandana (Sen) and I are driving home. I open the car door. I can sense Mr Bachchan by the fountain, and I take him in. Since we didn't have him, we had the great Ranbir Kapoor wearing the cap, and his costume, sitting near the fountain. After that, I just jumped on him, threw him off the fountain, he was on the ground [Laughs]. When you see the making of Black, you'll only see me dancing, or making Sanjay laugh all the way until he says, "Action." He was also having fun.
You'd be chilling on set, and when the camera rolled, you'd become that person? It was an intense role.
But I always leave the intensity for the camera. With me it has always been all about spontaneity.
You basically trust your instincts.
Yes, and I also do my homework well. Like I work mentally on a role, or a script. Everything is in my head. For Hichki, for the first time I was playing a character with tourette syndrome. So, of course, Siddharth Malhotra [director], Maneesh Sharma [producer] and my husband were all worried.
It can go either way, right?
Not that they doubted me, but we didn't have a point of reference. If you are playing a cop, we have seen hundreds of them, so you know things you will not do, otherwise it'll look like a copy, or do it similarly but better. With Hichki, no actor had ever performed it earlier, apart from Johnny bhai [Johnny Lever] in Chori Chori Chupke Chupke. That's how I remember someone having a tick on screen. So they asked me if I could show how I would tick, but I said no. Because that's my process. I do it when I shoot.
Why would you not show it to them?
Because it would not come to me. When the camera rolls, I suddenly become that character. I can't explain in words but that's who I am as an actor. Also, for me, clothes play a really important role. I need to wear the clothes to become the character. It gives me an incentive to become that part. All the designers get fed up with me by the end of a film, because I need to get even a simple salwar kameez, jeans or T-shirt right.
Did you meet people with Tourette syndrome?
The parents of the kids who have this syndrome aren't really open to sending them for such things. For them their child's comfort is rightly of utmost importance. So it was difficult to get somebody to come forward. We did manage with a boy, who came with his parents, but apparently he was a huge fan of mine, so for the two hours he sat with me, he didn't tick even once. He wanted to be at his best. And then I spoke to Brad Cohen [author of Front Of The Class], and it kind of opened my mind to how a person, who has lived with this syndrome, is from childhood onwards. I also got emotional content for my character from him, because the film was inspired by his life.
Did you go through a similar process while you were doing four films a year back in the day?
No, because the films I was doing then didn't really require my character to get into such details. But thanks to Hey Ram, Yuva, and Saathiya, I got a chance to explore how you can give a character a distinct voice, and individuality. At the same time, me in Hum Tum will be different from Kabhi Alvida Na Kehna. Though I am wearing clothes from abroad, I'm still dressed differently, it's not the same. There are tiny differences in all characters.
What have you taken back from your characters?
From Black, I learnt the most — about how to be self-reliant, independent, and not take life for granted. It also taught me how to be humble and be thankful for everything we have in terms of our vision, or that we can hear, talk. The other problems in life are really small.
What about your character in KANK?
Never marry for any other reason, but love. And that really helped me as a single person. That was the time when I would obviously get married, and think of a family, and that was a strong message that came out from the film.
To you personally?
Karan [Johar] kept talking about it. He said this is why so many divorces happen, because people are marrying for wrong reasons — to have children, as their biological clock is ticking, or for companionship at old age. But you should marry only for love, when the excitement of everything moves away, what will actually keep the couple together, is love. 
From the guy's perspective, it was really hard to understand Abhishek Bachchan's character. What was wrong with him, he seemed perfectly fine.
We asked Karan the same thing. And Abhishek and I had just delivered Bunty Aur Babli. The audience really loved our pairing. A lot of them who saw KANK questioned why I was leaving him in the film, and going for Shah Rukh. Karan's explanation was the dynamics Maya (my character) shared with Rishi [Abhishek's character] was maternal; in a way she was his mother. He is a bit childish. She is not really in love with him. She loves him, but there is a difference. My character actually gets married because she was brought up by Mr Bachchan's character in the film, she is indebted to him, and can't say no. At that point in time, she feels that this is love, because she is best friends with Rishi, and he loves her to death. She has an OCD issue over cleanliness. After she falls in love with Shah Rukh, her house is pretty shabby, because somewhere she's found her comfort. We always hear about couples getting divorced but think they were so good together, why did they separate? They may be great people individually, but aren't meant for each other.
Also Read: Sit with Hitlist: India's finest actor Tabu speaks about being an insider in Bollywood
You got back on a film set for Hichki after a gap of two and years. Apparently you were crying on your way to work?
That also had a lot to do with my daughter.
You were missing her already?
There are certain fears that a first-time mother goes through, so many different emotions attack you, which you aren't even aware of. I don't know if it's a hormonal jump-up in the system, or the fact there's someone completely dependent on you for everything. Or so we think. As parents, we over-think, as if we are the only people who have given birth. On that particular day, I was just thinking if I have taken the right decision, with coming back to films so soon. Not that I was doubting my call, just wondering if it was too early for me. Adira was just 14 months old.
Does Adira mean anything in particular? It's obviously a combination of Aditya, and Rani.
It also means noble, powerful, strong, star. So there are lot of meanings in different languages. I got lucky actually, because I wasn't really looking at combining the two names. But then I checked, and wow, it was a bonus [laughs].
You know there is a stereotype for Bengali moms, right?
It's not a sterotype. It's a fact. Let's not waste time analysing the situation. Bengali mothers are Bengali mothers, that's all I can say [Laughs]. They are like tigresses. For them everything is about protecting their cub. It's never about cub ko chhod do jungle mein. They would be like, nahin, hum saath jayege. We will be there at every single step. My brother is around 45 now, but my mother treats him like he was just born yesterday, so you can imagine. But I think that is our speciality. And I'll always be around Adira.
Also Read: Sit with Hitlist: Aamir Khan decoded in an exclusive interview with mid-day
Feel sorry for her already. Poor girl has no idea what's going to happen to her!
[Laughs] She in for a shocker. I can see a lot of my husband in her though. For her, no means no, and yes means yes.
Does she have a distinctive voice like yours?
No, she has a sweet voice.
The reason I ask you about voice is because filmmakers used to dub over your voice initially?
Not initial films. For Raja Ki Ayegi Baraat, I dubbed myself. In Ghulam, Aamir, Mukesh Bhatt and Vikram Bhatt felt that probably I didn't have the shrill, nice and beautiful voice that heroines used to in those days. Aamir had a conversation with me, he said, "You are a fan of Sridevi, and her voice was dubbed for so many of her films, so it's okay. We should do anything for the betterment of the film." For him it is all about the team. Nobody is bigger than the film. At the time, I thought he made sense, and I agreed. Being a newcomer I didn't have a choice, but it was gracious of them to inform me. Ghulam and Kuch Kuch Hota Hai were being shot simultaneously. We were shooting the KKHH teaser. I was to start dubbing for it, and Karan asked, "I believe your voice is being dubbed (by someone else) in Ghulam, why?" I told him that they thought my voice was not good. He asked me whether I had dubbed for my first film. He asked me if I had any issues with dubbing at all. He told me to dub for KKHH. Karan took that decision, and that sort of changed everything for me. KKHH was such a popular film. Everyone saw it. There was acceptance for my voice.
And they appreciated the fact that your voice was different in a very nice way.
Yes, I guess. I remember Aamir calling me after watching KKHH, saying, "Babes I think we made a huge mistake by dubbing your voice. And your voice is really good." For me that was a really amazing moment, since I respect him so much. The fact that he called and said that they had made a mistake was a big thing for me as a newcomer.
We're going to round off this conversation with the beginning of your life. I hear you had been misplaced right after birth!
Can you imagine someone took me away? I was so cute.
How did that happen?
It was really dramatic. Ayan's dad was also there. My mum had delivered me and she was in the room in the hospital. Ayan's father, Debu kaka, was visiting my mom. The nurse got the baby, and kept her next to my mother for feeding. She was talking to my uncle, looked at the child and said, "This is not my baby." My uncle told her she had gone mad. She said her child had light eyes. They called the nurse, who insisted that the baby she had brought in was the correct one. They checked the tag, and it was wrong. Then mom started howling, shouting, "Mera bachcha kaha hai?" And the whole melodrama began. My mom and uncle went to all the rooms to look for me. I was found in the last room, which had a Sardar family. That person actually had eight girls. I was the ninth one over there. My mom went, "Woh mera baccha hai." And they said, "Nahi aap aise kaise bol rahe ho. Yeh humara baccha hai." They checked out the tag, records and everything, and finally I was returned to my mother.
Otherwise you would be in a Dil Bole Hadippa family [which by the way is one of the most loved films in Germany].
Yes, I would have been Diljeet Kaur, or someone [laughs]. But I finally got married to a Punjabi. So it was destiny, I guess.
Also Read: Rani Mukerji: I'll keep making these comebacks sooner
Transcribed by Sonil Dedhia and Sonia Lulla
Catch up on all the latest entertainment news and gossip here. Also download the new mid-day Android and iOS apps to get latest updates