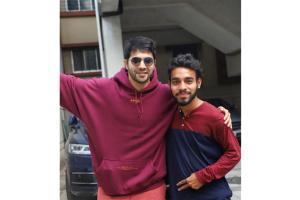 Be it capturing the nature, or beauties of Bollywood and other entertainment platforms, the photographers put their heart in clicking pictures to keep the social media and fans captivated to the content they share. With the idea to keep people happy and to spread positivity through his lens and pictures, Vinay Sharma, the celebrity photographer decided to start his career, and today he is a well-known photographer in the field of Bollywood.
When it comes to Bollywood celebrity or fashion photography, Vinay Sharma has now become the leading name that pops up first in the minds of clients. Fashion photographers are the combination of hard work and creative minds, which makes their photographs so lively. Vinay works hard to enhance and sharpen his photography skills.
Be it an airport look or a BTS form a film shoot sets, Vinay does it all. As a celebrity and paparazzi photographer, Vinay has many experiences to share with the stars. He narrates one, "People think that we photographers have an amazing life. Of course, we do, but all that also comes when you work hard and reach every location where the actors are at the right time. We only get a minute or less than that to click pictures of celebrities. It is a struggle to click amazing pictures in such a short time with other photographers being around too."