Sudhir Mishra's Is Raat Ki Subah Nahin (1996) was, in many ways, precursor to the Bombay underworld noir, that progressively became a jaded, Hindi film genre, post the immeasurable success of Satya (1998). With Afwaah, he's on to something equally prescient, if not more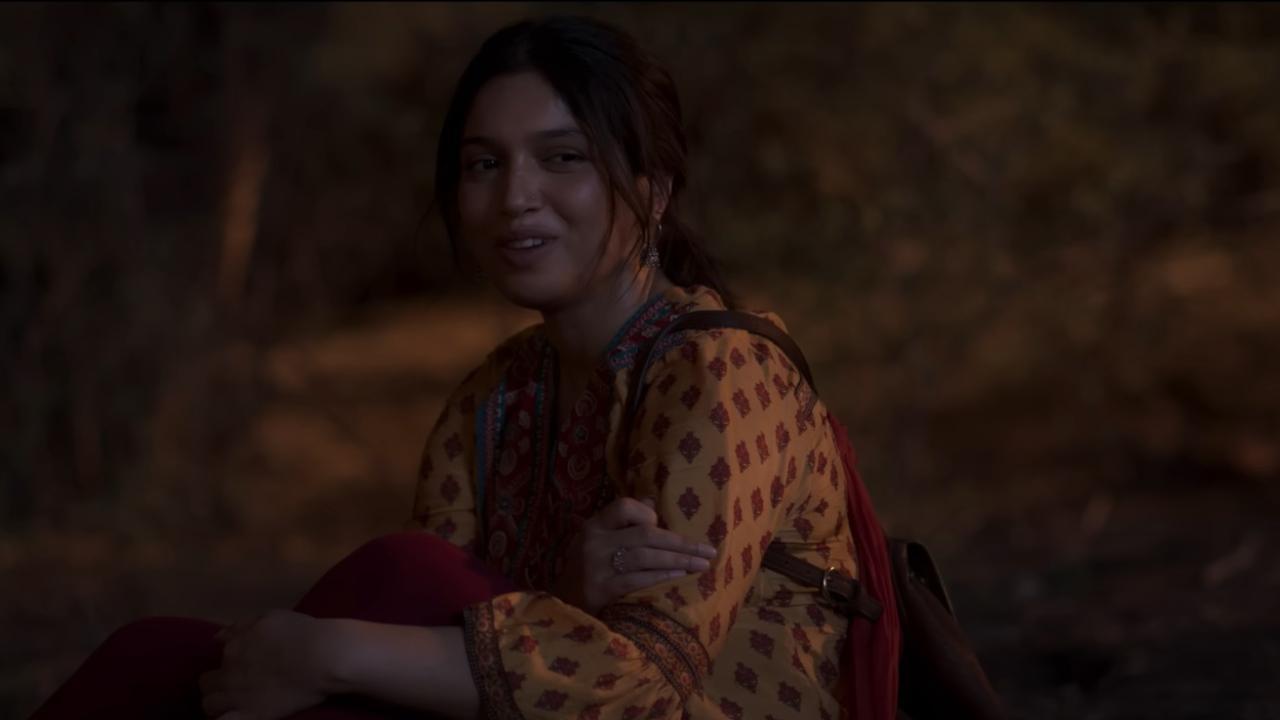 Bhumi Pednekar in a still from Afwaah
Movie: Afwaah
Director: Sudhir Mishra
Actors: Nawzuddin Siddiqui, Bhumi Pednekar
Rating: 3.5/5
Akhlaq, I suspect, has inspired Afwaah. By which I mean Mohammed Akhlaq, 52, who was lynched by a vigilante mob in a village in Dadri, Uttar Pradesh, over a mere afwaah/rumour of calf slaughter in 2015.
ADVERTISEMENT
No, this movie has nothing to do with the said incident. Only a random guy gets killed by a momentarily deranged rioter (Sharib Hashmi) in a slaughterhouse, in the opening sequence.
This is when a prominent, local politician (Sumeet Vyas) is delivering a speech in a mohalla. The unplanned madness that ensues could lead to 'political benefits', along religious lines, is how the young neta feels after the said murder/tragedy.
Which is a sociopathic lesson subscribed to by politicians for so long, that it echoes something the philosopher Seneca said back in the frickin' times of the Roman Empire: "Religion is regarded by the common people, as true; by the wise, as false; and by rulers, as useful."
As are potent rumours, slander, and falsehoods, especially in the current times of social media, where everyone with a smart phone is a broadcaster — basically doing the job of journalists — only without immediate checks and consequences for spreading half-truths, or fake news.
By the time the public gets to the shattered heart of the matter (if they ever do), the irreparable damage is done. So is the case with the lead pair in this film.
The girl (Bhumi Pednekar; believably surviving a train-wreck) is on the run, from the said, young politician she was supposed to marry — not everybody is devoid of conscience. Some, like the state police-chief in this movie can develop it later as well (that's the perennial hope)!
The guy (Nawazuddin Siddiqui) is simply driving through a small-town on way to a swish literary event. Essentially, the opening sequence triggers off a series of events, such that the totally unrelated guy and girl find themselves together — escaping a bloody mob!
The 124-minute film that follows is so breathless in pursuit of a thriller that there is little, if any space at all, to stage an engaging drama, between the leads, or any other characters, in fact.
Cuts are quick. Camera follows moving action. It's hard to trace back the causal effects, and keep track of who's who, or where in the timeline — and that is probably why the movie feels flat in the middle. Which at least is better than bloated. Maybe, that's just in the nature of rumours that fly fast. As must a movie on it!
Nawaz plays a suave, accomplished head-honcho from the advertising world, who's returned from America, to live a promised, Indian, urbane dream! To be honest, it's not the character that I'd instantly identify with Nawaz. Surely all actors have their limitations. Except, great ones, like him, can overcome it better than others.
By the way, I felt the same about Nirmal Pandey, as a posh, South Bombay ad-executive, in Sudhir Mishra's 'Is Raat Ki Subah Nahin' (1996). Which was a thriller set entirely over a single night. 
As is Mishra's 'Afwaah'. I recently rewatched 'Is Raat…' and it may be fair to suggest it hasn't aged as well as I thought it would. Must add, Mishra, as a filmmaker (full disclosure: friend) has aged way better. To my mind, he's the only Indian filmmaker of his generation (he debuted as director in 1987), who's as active and relevant.
'Is Raat…' was, in many ways, precursor to the Bombay underworld noir, that progressively became a jaded, Hindi film genre, post the immeasurable success of 'Satya' (1998). Likewise, Mishra's underrated, 'Inkaar' (2013), well preceded #MeToo and conversations around male-female relations in work places. With 'Afwaah', he's on to something equally prescient, if not more.
Politically, we can already sense the global impact of farming misinformation and propaganda on flat-surface platforms like WhatsApp, YouTube, Facebook, etc. It'll only get worse, until it's curbed — especially when it comes to dragging innocent individuals into the Internet of organised, judgemental mobs.
I'd heavily recommend Ron Jonson's non-fiction book, 'So You've Been Publicly Shamed' (2015), for how lives of regular folk have been potentially getting destroyed (for a while now). The virtual inevitably spills on to the real. If you separate the individual from the collective, what constitutes a frenzied mob, anyway?
Mishra summarily shines a light on it through the beautifully blinded Sharib Hashmi's character. He's a loyalist to his political boss (Sumeet Vyas) —to whom he's simply useful.
It's the sort of person usually left unexamined in inherently political films — Dibakar Banerjee's 'Shanghai' (2012) is my last memory of it — unless, of course, you again rely on non-fiction like, say, Snigdha Poonam's 'Dreamers: How Young Indians are Changing the World' (2018).
And there is that thumb-rule of power, isn't it — you do/say what you can get away with, until you can't! Equally for this brave, li'l film, set in a fictitious Western Province (WP), which is obviously Rajasthan, and could well be UP. The conflict at the centre of this script is religion. Namely, a society, where being Muslim foremost sounds like a strangely untouchable curse, for those who aren't.
To what extent is this the Indian ground-reality, I wouldn't know, for sure. It's certainly what you come across daily, scrolling social-media platforms like Twitter, named Qitter here.
Most peaceful avocado lovers I know claim to have quit Twitter as a result. That must be privilege, what else — remaining good, by staying quiet. There are enough issues of our own in the manicured gardens to deal with — who wants to unnecessarily invite filth/jhamela from the outside world? Best to keep shut the well-guarded gates! That's literally a scene in 'Afwaah'.
Also Read: Afwaah: Bhumi Pednekar, Nawazuddin Sidiqqui and Sudhir Mishra react to rumours
"Exciting news! Mid-day is now on WhatsApp Channels

Subscribe today by clicking the link and stay updated with the latest news!"
Click here!