This is a movie on what's politically labelled 'love jehad', in the time of India's history, when laws with the same name have come into effect, in multiple states, practically criminalising inter-faith marriages, altogether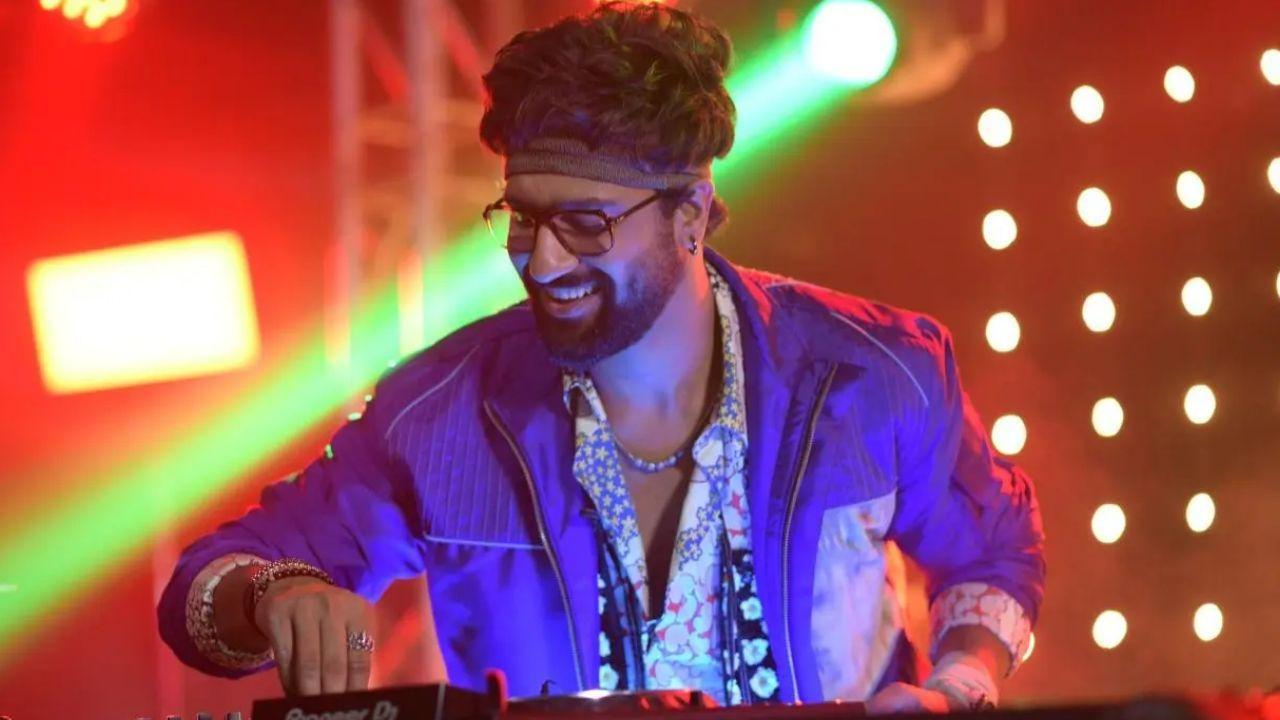 A still from the film
Film: Almost Pyaar With DJ Mohabbat
Director: Anurag Kashyap
Actors: Alaya F, Karan Mehta
Rating: 3.5/5
What better way to confirm one's place in senior citizens' club than this: the daughter of my childhood movie-crush is the lead in this romantic film. I mean Pooja Bedi, who was, I guess, in her early 20s, as the proverbial lady in red in the school-campus cult classic, Jo Jeeta Wohi Sikander (1993).
Her child Alaya F is 25. She plays a girl in her late teens, in Almost Pyaar with DJ Mohabbat — in what's essentially a double role. Both characters are in love — or more like in a confused space, as anybody that age will be.
One's in the hills of Himachal, the other in London. The latter was also the setting for F's fine, rom-com debut, Jawaani Jaaneman (2020), paired opposite Saif Ali Khan, 52.
Also Read: Alaya F confesses she never wanted to be an actor
For reasons above, despite the genre, the gaze of the audience, including the filmmakers' — depending on their age, perhaps —  changes a lot. Making this, for me at least, not so much a GenZ film, as a film about the GenZ, as it were.
The other obvious thing you notice is the lead actor herself — so totally bereft of any kind of pretences, vanity, or awkwardness; straddling along so carefree, whether in Solan or Soho. Although we're only talking about acting talent here — this is another example of how, like an app, humans improve exponentially, with each generation!
Look at the equally young, male lead, debuting in this picture, Karan Mehta — on the face of it, perhaps a low-budget Ranveer Singh, with scruffy looks. Watch him casually break into a stoner-like laugh as the Himachali hill-boy, or go suitably quiet as the European-born confused desi-type introvert (this backstory's a bit fuzzy). If you were looking for one, he is this film's find; long-lasting, ideally.
Stories of the two sets of love birds in the movie never quite cross paths. Think of it like Love Aaj Kal (2009), if you may. Music binds them still. Which is the eternal love language, isn't it—no matter where in the world. Composer Amit Trivedi's soundtrack is sufficiently peppy.
The lyrics (by Shellee) — Ghanghor connection, Netflix & chill, Duniya pe no f**** (to give), etc, much like director Anurag Kashyap's previous albums with Trivedi in the similar zone, Emotional atyachar (Dev.D), Dhyan kitthe, Dhyan Chand (Manmarziyaan) — are catchy enough to be truck-bumper poetry!
The desi young girl is a star on TikTok, or Ting Tong, as it's called. The Londoner is more into direct DMs on Instagram. In the age of finding personal connections through fragmented media, hardly a surprise that I've come across regular film-going public, who hadn't even heard of this film. Let alone that it's released in cinemas — the one place for collective entertainment that united us once. Now, several do.
Also Read: Jawaani Jaaneman: What made Kubbra Sait go 'cuckoo'?
Almost Pyaar with DJ Mohabbat itself is a podcast in this movie, where the host (Vicky Kaushal) offers gyan on love — mainly, about how "mohabbat hoti hai; paayi nahin jaati"; as in, you don't chase/aspire to be with someone, love just happens, when it does.
Sounds very Imtiaz Ali, alright. And that may have been a brief that writer Kashyap probably gave himself, before setting out to script this film.
That said, for its intent and purpose, it's miles ahead of Love Aaj Kal (2020), that Ali was himself similarly trying to pull off — i.e., find a continuing thread of old-school love for a generation immensely spoilt for choice. Have no clue what that movie became about (eventually).
The point that this one manages to nail, loud and clear, in Dolby Atmos, no less, is that, by and large, every generation, it appears, has to be saved from its previous one — only extents vary!
And, therefore, the basic battle cries of the young seldom change in substance, only their degrees do, don't they — it's still kinda 'papa don't preach', 'teachers, leave the kids alone', etc. In this film's case, 'Mohabbat se hi toh kranti aayegi (love alone will bring revolution, what else?)'. Also, the oldest love story can be told again, and again.
What's missing here is the wide canvas of that big, Bollywood romance, that you can wholly immerse yourself into 70 mm. Almost Pyaar is still a deep-dive into visceral attraction. What you're instantly stuck by is, for God's sake, how naturally fearless the youngling protagonists in this picture are — blessed with agency, wired to the world, driven by a fundamental thought of what's the worst that can happen anyway?
A lot, when you consider the film's theme. In effect, Almost Pyaar is almost a political film — at a phase in India's public discourse where, between zombie news-anchors and WhatsApp uncles, bringing up politics itself can become a tiring thing to do, even in safe-spaces, like your own living room!
This is a movie on what's politically labelled 'love jehad', in the time of India's history, when laws with the same name have come into effect, in multiple states, practically criminalising inter-faith marriages, altogether!
Of course, you get the devious logic behind such laws. If, indeed, say, a Hindu and Muslim were to marry with each other, you'd pretty much wipe out politics in either religion's name, for the following generation, anyway. What's left is what's right, or not!
That gives Almost Pyar currency, beyond froth or romance alone. It also gives Kashyap the elbow room to say it, as he sees it, when others, out of favour or fear, won't.
As we speak, there is another film of Kashyap's (Four Slippers), that's opened at the Rotterdam Film Festival, chronicling, I'm told, the low life of an Internet troll.
Even as this one's in theatres, he's wrapped up another (an all-out actioner already), and shooting the subsequent one simultaneously.
He's astoundingly prolific. Yet, at no point, repetitive, regurgitating, or simply winging it. This, despite a fat filmography and few masterpieces behind him (Gangs of Wasseypur, on top) — staying relevant all through, rather than resting on (festival) laurels. I find all this deeply inspiring. And this film is a fair leap as well. Has Bigg Boss 16 lived up to your expectations?