Should the West dig deeper into Lahiri's discography? Yes, he's closest to their pop-culture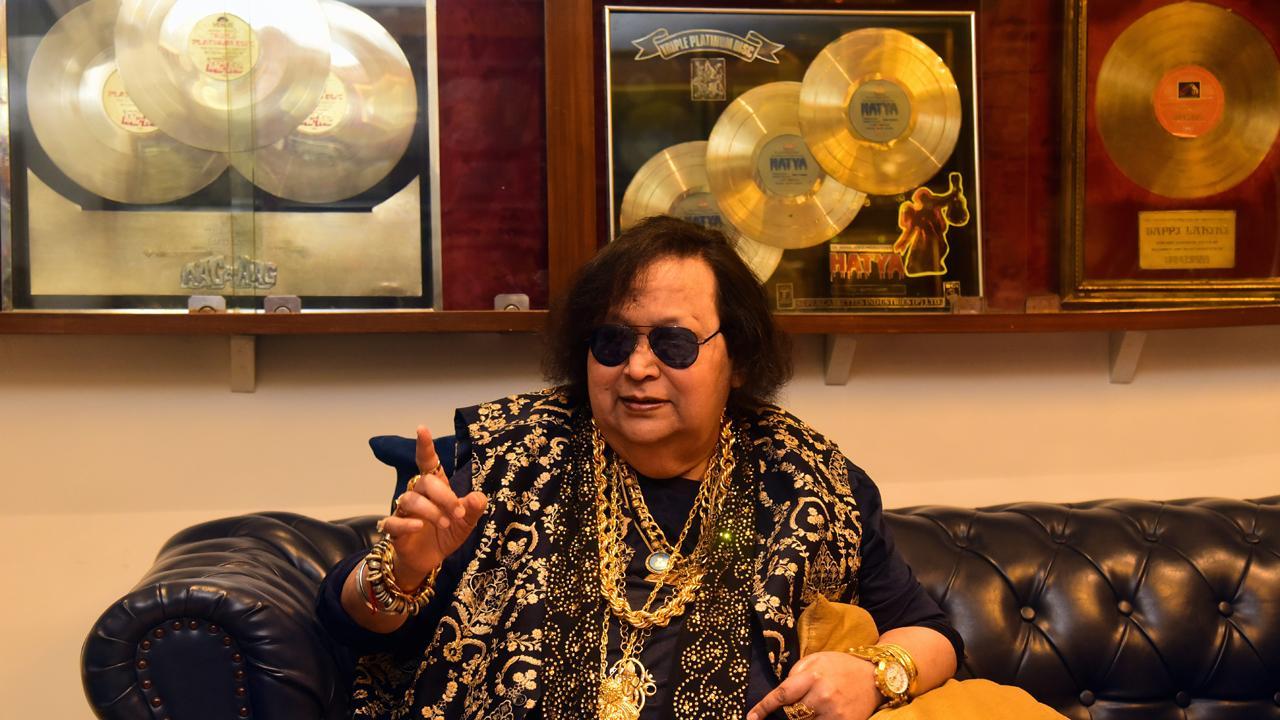 Bappi Lahiri during an interview at his residence in Juhu, Mumbai on 01/11/2021. PIC/SHADAB KHAN
As journalistic requests go, this was possibly the strangest. Fittingly enough it was from Bappi—which is how Alokesh Lahiri is best known—who called one night. Earlier that day, I'd shot an interview with him for my TV show. Bappi, 54 then, had come down to the Mehboob studio set, along with son Bappa. The interview had gone off quite well, with sensational revelations on his swag and sartorial sense. Much of it was inspired by hip-hop artistes in the West, he told me. 
But the phone call was about something else. "Bappa is very upset," Bappi said. "Throughout the interview, you called me Bappi, not Bappi Da. Please change it." Not knowing how editing that was possible, gently explaining that I called all guests by their first name, given the show's casual tenor, I was mildly irritated that it was Bappi making this odd demand. 
ADVERTISEMENT
In my head, Bappi (okay, fine, Bappi Da) was cool—defined as someone who cares little about how he's judged, choosing to remain his own man rather than a character created by consensus. As a public persona therefore, unabashed about his paunch, double chin, and kilo of jewellery, wholly oblivious of gags on his voice, accent, and his lyrics—'You are my chicken fry, fish fry, masala dosa, samosa'—Bappi Da had unwittingly (or wittingly) modeled himself on pop-culture of the wild West, whose stars thrive on standing out from the crowd. 
Bappi Da is more Meatloaf/Elton John in Hindi films, where music has traditionally been taken so seriously that his contemporaries or past greats—Shankar-Jaikishen, Lakshmikant-Pyarelal (L-P), and others—have appeared dignified like classical musicians, or bland like bankers. No knock on that. Just saying. For, what is showbiz without its OTT bizarreness and eccentricities? The uninhibited Kishore Kumar was just that. In Bollywood, where rock-stardom is outsourced to movie stars, Ranveer Singh, from the current crop, is the only one who gets it. 
A minor flipside for 'Disco King' Bappi Da's shiny gold look is it may have distracted from his discography that is 18 karat gold too. He's a trained classical musician, who began dabbling in tabla at age 3. He entered mainstream scene in the '70s, when melody still ruled. How do you define melody? Well, melody khao, khud jaan jao! And he could move you with it. 
Any good playlist from the time will inevitably have 'Pyar mein kabhi kabhi' from Chalte Chalte (1976), if not the film's killer title track. He ruled in the '80s, when dholak songs were rendering the scene too low for RD Burman to effectively participate in. Bappi Da arguably brought such skillfully synthesized disco into the pop discourse that you can't help but continue to groove to the Namak Halaal soundtrack ('Jawani janeman', 'Raat baqi', 'Pad ghungroo') at a Bollywood night still. In that sense he was that rickety bridge between RDB in the '70s and AR Rahman in the '90s for music, with an ethereal, youthful quality, that can transcend generations.
Was Bappi Da a plagiarist—meaning he blatantly lifted tunes without crediting the source? Especially towards the '90s? Yes. Some of this occurs in Bollywood because of briefs handed down (sure, you can say no), and the incredible volume churned out to keep a prolific film industry running on the back of music alone. Beatles did 13 albums in their career—same as U2. Bappi Da recorded 180 songs for 33 albums in 1986 alone, entering the Guinness Book. 
There is no condoning thievery still. I think it reached its craziest point in 1990 with musicians fighting over who had stolen the Guinean Mory Kante's song 'Tama' first: L-P as 'Jhumma chumma' in Hum (1991), or Bappi as 'Tamma tamma' in Thanedar (1991), which has now been re-remixed in Badrinath Ki Dulhaniya (2017), while the track had already been used in Agneepath's background score (1990), and later a Telugu number!
In a moment that proves irony can reverse karma, Bappi Da sued the US band Truth Hurts in 2002 for lifting riff from his lesser known song 'Kaliyon ka chaman'. He won credit in an LA court. Music connoisseurs in the West may have first heard his work then. Or perhaps in Adam Sandler's Don't Mess  
With The Zohan (2008), with the track 'Jimmy Jimmy', which is a cult classic in the Eastern Bloc or former Soviet Russia, with fans from that generation nuts over this number enough to have even placed a statue of Jimmy (or Mithun from Disco Dancer, 1982) in Almaty, Kazakhstan. Actor Chris Pratt recently discovered  the song 'Jhoom Jhoom Jhoom Baba' (from Kasam Paida Karne Wale Ki) in the desi trailer of Guardians Of The Galaxy 2, and he wished it could be there in his film's American version too. 
I have my personal favourite, if you want to dig deeper into Bappi Da classics. First, shut your eyes. Switch on 'Tu mujhe jaan se bhi pyaara hai' from Mithun's Wardat (1981). Bappi Da sings a mellifluous duet with Usha Uthup. Identify the male and female voice as you go along. Send me your score. Thank me later.