Shraddha Kapoor does little to enhance the film. Shahid Kapoor shines, but only when the second half commences. Yami Gautam as the lawyer opposing Shahid Kapoor seems inadequate.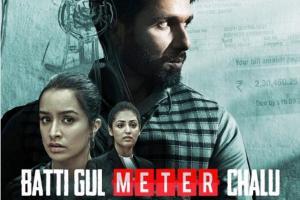 Batti Gul Meter Chalu poster
Batti Gul Meter Chalu
U/A: Comedy, Drama
Director: Shree Narayan Singh
Cast: Shahid Kapoor, Yami Gautam, Shraddha Kapoor
Ratings: 

It had all the ingredients needed for the creation of a perfect movie, but Batti Gul Meter Chalu director Shree Narayan Singh seems to have missed the mark in an attempt to cater to the masses. The film, set in Garhwal, Uttarakhand, revolves around three friends. What kicks off as a love triangle, ends up being a tale of one's fight for his/her rights. However, writers Sidhartha Singh and Garima Wahal waste so much time in establishing the plot that you lose interest early on.
Sushil Kumar Pant aka SK (Shahid Kapoor) is a street smart and selfish lawyer. Nauti (Shraddha Kapoor) is an aspiring designer, while Sundar Mohan Tripathi (Divyendu Sharma) is the owner of a small printing press. Chronicling love in the lack of light, the film highlights how homes and businesses in this city run on generators. And even though the power supply is almost always missing, electricity bill touch the sky.
The residents of the Garhwal seemed to have made peace with this misdoing, but, when Sundar's printing press runs into bankruptcy, things take a turn for the worse. Battling depression, he takes his life, hoping that the insurance money will suffice for the maintenance of his parents, and their debts. SK now decides to seek justice for his friend.
At 163 minutes, far too much time is spent in establishing the nitty-gritty of this love story. For someone who took seven years to pass his bar exam (as against to the stipulated five years), it's hard to believe that SK is now the best lawyer in town. The director depicts him as someone who uses immoral ways to ensure his self-created cases are settled out of court. Yet, in the courtroom for what may seem like his first fight, he seems surprisingly at ease. Given that courtroom dramas like Jolly LLB have given us a peek into the proceedings inside the courtroom, the lack of an authentic representation is evident here. Lawyers present witness without an intimation, and video evidence is submitted as a surprise.
Watch the trailer here:
Other than adding to the glam factor, Shraddha does little to enhance the film. Sharma delivers an impactful performance. His act as a business owner facing bankruptcy deserves mention. Shahid shines, but only when the second half commences. Yami Gautam as the lawyer opposing Shahid seems inadequate. However, it is not her act as much as the lack of meat in her character that is to blame. The case against the private electricity providing company is a no-brainer. Gautam's character stands no chance against that of Shahid. They say, for a hero to stand out, he must face a competent villain. That evidently is not the case here. It appears that a million dollar company couldn't hire prolific and strong lawyers to save the day for them.
While Singh's intentions were good, the film is half-baked. The local dialect is a good addition to add the required flavour, but subtitles would certainly help (could someone tell us what 'bal' means?).
What worked in Batti Gul Meter Chalu is that Singh establishes the outage at the onset by his use of darkness throughout the film. Cinematographer Anshuman Mahaley captures the serene locations around Uttarakhand beautifully. But the film is too peripheral to serve as a social drama. Neither does it entertain as a courtroom drama nor leave you feeling empowered.
Also Read: Batti Gul Meter Chalu Har Har Gange Song: Shahid Kapoor Leaves You Emotional
Catch up on all the latest entertainment news and gossip here. Also download the new mid-day Android and iOS apps to get latest updates