Bhavesh Joshi Superhero on vigilante justice, is advertised as a super-hero film, and it is; only in the sense that the story is built around simplicities of pure good, battling the ultimate evil.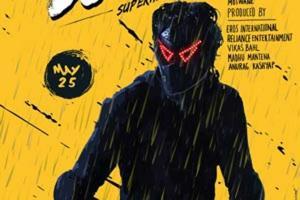 Bhavesh Joshi Superhero
U/A; Action, Drama
Director: Vikramaditya Motwane
Cast: Harshvardhan Kapoor, Priyanshu Painyuli
Rating: 

Expectation is the mother of all screw-ups. Which, as an audience, was pretty much my situation with this film. As is the case with the youngling characters in this picture. They can't digest the political corruption in their midst that they feel they must personally do something about. Frankly, if you aren't an idealist in your 20s, as the kids in this picture are, you clearly don't have a heart. If you think you can still cause a revolution, after a few more decades of life on earth, I suspect, you don't have a head.
Of the two young boys, at least one (Harshvardhan Kapoor; rightly under-stated) appears to be reconciling himself to the fact that the world is what it is. And he should aim to find a better life for himself, rather than trying to transform those around him. His BFF however, Bhavesh Joshi (Priyanshu Painyuli, perfectly cast), on whom the film is named, isn't willing to let the world change him; hoping still for the reverse to happen.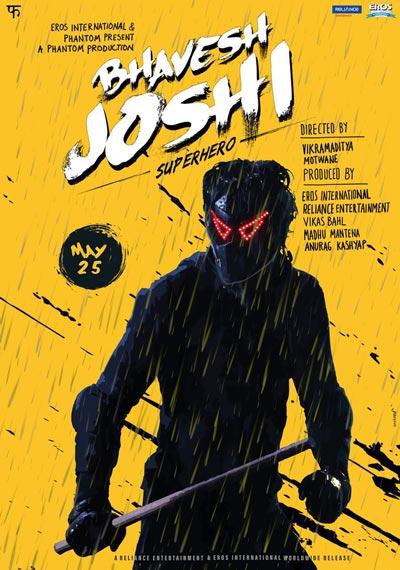 Bhavesh Joshi Superhero poster
These are essentially fatherless, motherless, well-meaning sons of guns from nowhere, sharing a dig, along with a phattu dude (Ashish Verma), in the lower-middle-class neighbourhood Malad in the western Mumbai suburb.
How do the two boys wish to fight corruption? Shooting journalistic exposés as videos (can't remember the last time I saw a camcorder), posting them online, posing as anonymous whistle-blowers with a brown-paper-bag over their heads, calling themselves Insaaf Man, targeting crooks; in this case, the city's water mafia, led by a local politician (Nishikant Kamath).
I don't know if the filmmakers managed to catch Rensil D'Silva's Ungli, produced by Karan Johar, starring Emraan Hashmi, among others, that released only four years ago, equally inspired by activist Anna Hazare's anti-corruption, social-media movement of 2011, with a similar gang called Ungli that uses roughly the same mode of operation to go after filthy racketeers.
This one, also on vigilante justice, is advertised as a super-hero film, and it is; only in the sense that the story is built around simplicities of pure good, battling the ultimate evil, with absolutely no shades of grey between. If anything, the super-power rests wholly with the competent evil, that can control the narrative, through people, and money, and a dogged pursuit of political power that ensures both.
Does Mumbai deserve a Dark Knight? Yes, it does. This feeble saviour (Harshvardhan) on the other hand takes karate lessons to take on the corrupt! Clearly, you can sense much opportunity for a great Indian super-hero, cooler than Krissh, less jaded than G.One, who as the filmmakers point out was a super-hero (Ra.One was the anti-hero in the Shah Rukh Khan pic, in case you care).
If that sterling mo-bike chase sequence across upper-deck Mumbai in Bhavesh Joshi Superhero, with some cracker locations and fine camera work otherwise, is anything to go by, you can tell, the chops to recreate a Frank Miller type visual flipbook exist. Except the non-superhero on the screen, like the movie itself, merely moves around in convenient circles, and head-splitting clichés. Speaking of expectations, I'm not even sure if this is the film the hugely competent director Vikramaditya Motwane (Udaan, Lootera, Trapped) wanted to make. Hard to tell; guess make do with what he has then.
The world sucks beyond their eyes, and they take it upon themselves to cleanse it on their own
Catch up on all the latest entertainment news and gossip here. Also download the new mid-day Android and iOS apps to get latest updates