Rajkumar Hirani has a track record of delivering hits like Munnabhai M.B.B.S, Lage Raho Munnabhai,3 idiots, PK, and Sanju. What's interesting to observe is that the male protagonists or as we know them as 'heroes' of Hirani's films have been quite distinctive, unique, and unconventional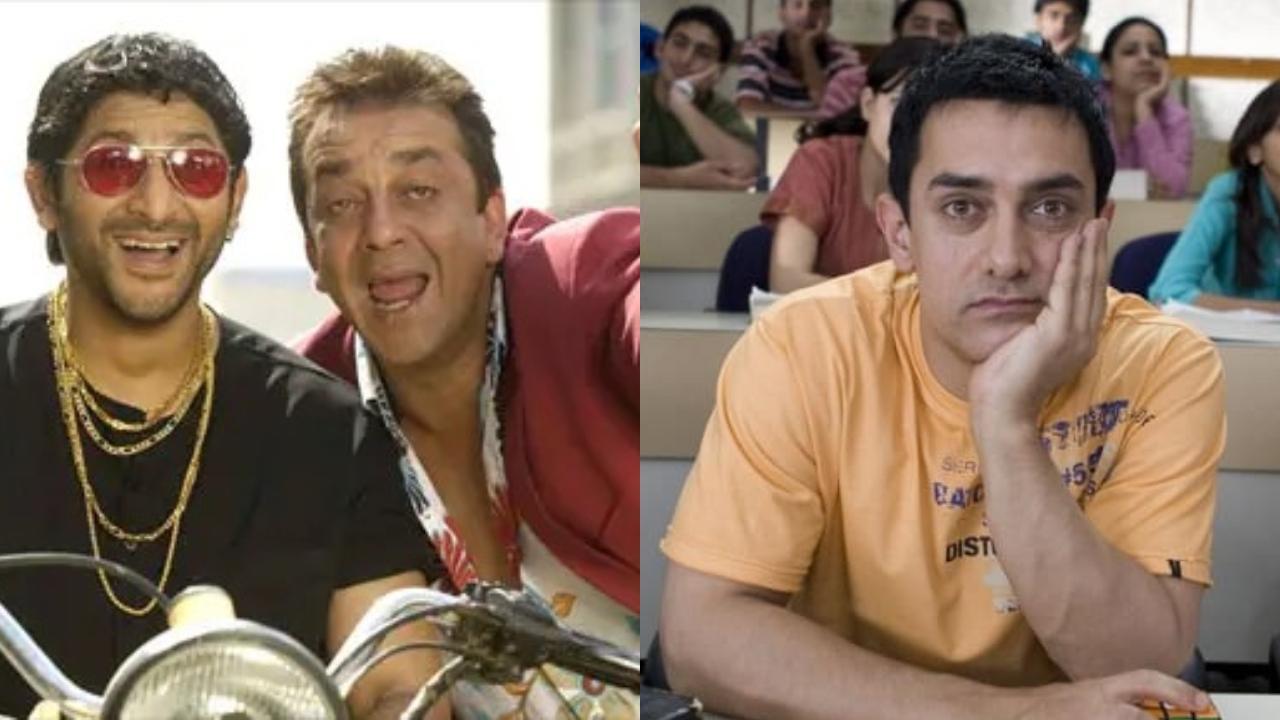 Munnabhai and 3 Idiots
Shah Rukh Khan and Rajkumar Hirani are all set to collaborate for the first time. The official announcement of their film was made on April 19 with an interesting video. The video begins with Shah Rukh marvelling at posters of films like Munnabhai and Sanju made by Hirani. At this point, Hirani walks in and Khan personally praises him and inquires if he has a script for him. Hirani responds positively and informs that the film has comedy, emotions, and romance. However, SRK is baffled by the title Dunki, which he first mistakenly hears as Donkey. Despite the baffling title, Khan walks away convincing himself to do whatever Hirani offers.
Rajkumar Hirani has a track record of delivering hits like Munnabhai M.B.B.S, Lage Raho Munnabhai ,3 idiots, PK, and Sanju. What's interesting to observe is that the male protagonists or as we know them as 'heroes' of Hirani's films have been quite distinctive, unique and unconventional.  Whether it is Rancho from 3 Idiots or Munnabhai from the Munnabhai series, every character leaves a memorable mark.
ADVERTISEMENT
Shah Rukh Khan, on the other hand (after the misfire with 'Zero') is being particularly careful with his upcoming projects. He currently has three projects in the pipeline- 'Pathaan' directed by Siddharth Anand, 'Jawan' with Atlee, and 'Dunki' with Rajkumar Hirani. All three films are touted to be very different from each other. With Hirani's track record of creating memorable characters, the expectations from this film are high. Adding on to this, the film also stars Taapsee Pannu who is sharing the screen with SRK for the first time and will also be working under the direction of Hirani for the first time.
While we wait to watch what Hirani has in store for the biggest superstar of the country for their maiden collaboration, here's looking back at the male protagonists of Hirani's films:
Munnabhai
Actor- Sanjay Dutt
Film- Munnabhai M.B.B.S and Lage Raho Munnabhai
The film's central character is a local goon in the city of Mumbai who fears no one, except his parents, and then finds out his truth. Sanjay Dutt as Munnabhai gave the industry a character one can never forget. From his approach to daily life problems to the emotional depth of the character, Munnabhai is ingrained in the hearts of the audience. While his ways are largely unlawful, it is the intentions of the character that made him a hit with the audience. His character also showed us how Gandhian principles can be used in day-to-day life without it coming off as preachy.
Ranchoddas Chanchad
Actor- Aamir Khan
Movie- 3 Idiots
With a thirst for education and a forged identity, Aamir's Ranchoddas Chanchad walked into the ICE campus with a childlike innocence only to create a riot minutes after his arrival. Rancho stood out with his pursuit of excellence among a herd of like-minded people who evaluate success with their semester scores. A selfless and humble person, Rancho goes the extra mile for his friends and dear ones. Along the way, he creates an impression in the hearts and minds of his naysayers as well. Needless to say, the character effortlessly portrayed by Aamir Khan became one of the most memorable characters and holds a place in pop culture.
PK
Actor- Aamir Khan
Movie- PK
Religion and superstition is a sensitive subject in our country. So much so that Hirani opted to get an objective set of eyes as he introduced his male lead to have come from an outer planet. The central character, whose earth name is PK, is mistakenly left behind on the planet and to his misfortune or fortune, he lands in the most diverse country on the planet. Despite encountering several 'bizarre' people and rituals, he too, soon learns that it is pictures and idols of a creator that they believe will help him go back to his planet. His distinctive yet human-like look and inquisitive eyes and mannerism leave him as one of the most memorable characters from the world of Hirani.
Sanju
Actor- Ranbir Kapoor
Movie Name- Sanju
'Sanju' is Rajkumar Hirani's latest film and the filmmaker's first biopic. While the film based on Sanjay Dutt's life was criticised for whitewashing and passing blame, Ranbir Kapoor's performance as the senior actor was equally appreciated. From Sanjay Dutt's debut in the movies, his alleged role in the 1993 Mumbai bomb blast, drug addiction, role of his father Sunil Dutt in his life, impact of his mother Nargis Dutt's death, and his friendships played a huge part in the film. The film gave Ranbir his first massive hit in a while and his immaculate impression of Dutt won over the audience.
Also Read: Shah Rukh Khan's film with Rajkumar Hirani titled 'Dunki'; actor announces release date
Now all eyes are on 'Dunki' which will be released in December of 2023 and promises to present Shah Rukh Khan in a completely new avatar. Will you watch Drishyam 2?