With a runtime of 96 minutes, Bunty aur Babli 2 delivers what it promises — ample laughs, silly cons and a largely enjoyable movie. But, this one is far from memorable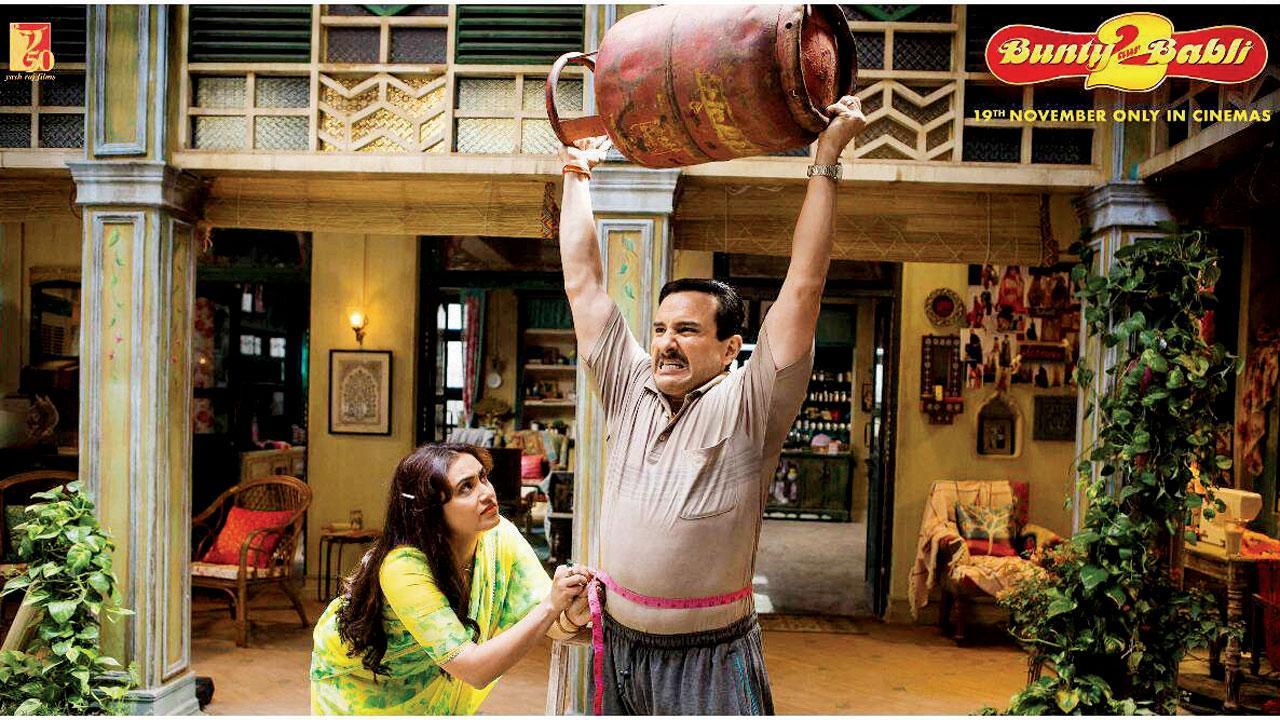 Mukerji and Khan in the film
Bunty aur Babli 2
Dir: Varun V Sharma
Cast: Rani Mukerji, Saif Ali Khan
Rating: ***
Bunty Aur Babli 2 is funny, for the most part. With dependable actors like Saif Ali Khan, Rani Mukerji and Pankaj Tripathi fronting the film, it's tough to fault the cast on their comic timing. With a runtime of 96 minutes, it delivers what it promises — ample laughs, silly cons and a largely enjoyable movie. But, this one is far from memorable. It's a breezy entertainer, but viewers would expect better, especially when looking at the names attached with it.
ADVERTISEMENT
I could fault the underwhelming soundtrack (What happened to our favourites, Shankar-Ehsaan-Loy?) The rustic charm of the alleys of Fursatganj, or its 2005 old-world flavour, is lacking. The film's plot seems to make an impassioned copyright violation appeal. Settled into a life of domesticity, Bunty and Babli (Khan and Mukerji) find themselves leading a largely serene life. Bunty's one-too-many drink is the only blip in their marital haven. Their tranquil life is disrupted when Bunty and Babli 2.0 (Siddhant Chaturvedi and Sharvari Wagh) pull off wicked heists using their 'brand name'. Officer-in-charge Jatayu Singh (Tripathi) brings the retired con artists back into the game, because, who else can demolish the tech savvy, new-age conmen in the game but those who are its masters.
The film is an example of what good actors can do to a largely forgettable screenplay. Khan, Mukerji, and Tripathi do most of the heavy-lifting. Khan wears a paunch for the first half of the movie, only to slip into a suave-suited look in the second half. You find yourself attempting to refrain from reminiscing about Abhishek Bachchan as Bunty from the original. However, here, Khan strikes in full form. Mukerji plays Vimmi with the remarkable boisterousness you remember her for. What a delight it is to watch her! A fair amount of Hindi film plot points are referenced. Tripathi's fun outing as Jatayu is a highlight; he walks away with the film's best punch lines.
But there's a lot that withholds the movie from soaring. The back-stories of its new leads fall flat. A reference to being a single mother makes a half-hearted attempt to up the sappiness at the climax. Their chemistry feels half-baked too. Love in the times of Tinder is hardly innocent, but a romance can still be well told. 
It is a good thing that their jokes land right. We knew that Khan and Mukerji are two of the finest performers of their generation. Chaturvedi found his validation when a film led by Ranveer Singh found an unexpected star in him. This one, however, is Sharvari's show, and the girl shines. Aditya Chopra's knack to find the best talent paid off, again. The masala film ends with the promise that there will be another edition. I wouldn't mind it. We only hope director Varun V Sharma isn't afraid to up the stakes, next time.
Also Read: Rani Mukerji: Longevity comes from embracing your age