Friends Cyrus Broacha and Kunal Vijayakar talk about their upcoming movie, gay rumours, casting couches and everything in between with each other. Sunday MiD DAY eavesdrops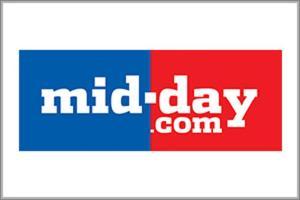 Friends Cyrus Broacha and Kunal Vijayakar talk about their upcoming movie, gay rumours, casting couches and everything in between with each other. Sunday MiD DAY eavesdropsu00a0

WHEN you have an interview with Cyrus Broacha and Kunal Vijayakar, you go expecting to laugh out loud, see the chemistry that they share and of course, carry a few extra pens and an additional tape on the dictaphone because you know there will be no end to the chatter. But nothing quite prepared us for when Cyrus greeted us at the door in what we are only hoping are the tiniest pair of shorts in his wardrobe. We tried to be very polite and not stare but when his photographer wife, Ayesha Broacha, pointedly told him to go wear longer pants, we heaved a huge sigh of relief.



Kunal Vijayakar pulls himself from Cyrus' comfy couch to greet us and leads the way to the dining table where Cyrus sits, still wearing his short pants. "So what's this interview about?" Kunal wants to know. Before we can explain, a shrill voice asks if we would like bhel puri. Cyrus' son Mikhaail is being our waiter for the day.u00a0

After placing our order and being served chickoo milkshake a washcloth stuffed into a glass with a straw we tell them that we are here to talk about their film, Fruit n Nut. This madcap comedy about a simple guy locking horns with an ex-maharaja out to destroy Mumbai, is directed by Kunal and stars Cyrus in the lead, along with Boman Irani, Mahesh Manjrekar and

Dia Mirza. Kunal says, "It's supposed to be a fun film. Now I don't know if the audience is going to find it funny or not. It's a different, one of a kind film. There! I have said the most clichu00c3u0083u00c2u00a9 line." Cyrus adds, "There is no semblance of plot or story. While shooting, we used to go up to Kunal and ask him what the film was about. But it has fabulous south Bombay locales Colaba, Ballard Estate and Marine Drive. These are the places that Kunal and I have grown up in."u00a0

So was their friendship binding for them to work with each other? Kunal takes this one first, "Nobody was offering Cyrus any work," he says matter-of-factly. Then adds on a more serious note, that producers said it was a great story, but they wanted a bigger star. "Not as big as Cyrus, though," cuts in Cyrus. Kunal says that working on the film was great fun because it was all friends working together. "Cyrus did not take any money, Boman did not take any money, the photographer (points to Ayesha) was not paid, Dia, (pauses) took money."

Kunal and Cyrus claim to have done their bit, yet the movie has to find a fixed release date. Kunal blames the delay on the tiff between the producers and multiplexes. Cyrus, though, has a different take. "The guys at Studio 18 (the producers) suffered a cardiac arrest after watching the film. Once they recuperate, they will take a decision on it."

Another film the two were recently seen in was Little Zizou, where Cyrus' character calls Kunal's 'a waste of space'. "Oh, I was adlibbing. Kunal was the only person I was comfortable with amongst everyone. It was really hot while we were shooting and I walked in and said 'Sooni! I'm here' and then she vomited. We spread a rumour that Sooni was pregnant," says Cyrus, sidetracked, yet again.
u00a0
The two may deny it, but they have stepped into Bollywood, especially Cyrus, with his movies 99 and Mumbai Chakachak, set to release. So how will they handle being a Bollywood director-actor duo? "I might have to call everybody ji," says Cyrus. "No. It works when everybody calls you ji," corrects Kunal. They both agree that Kunal is very short-tempered on the set and gets agitated quickly.

Used to the limelight, the two say that after their Friday night drinking sessions, even a glance from anyone is good enough to placate their ego. But, not always. Cyrus narrates, "So this taxi driver comes up to me and asks if I am on TV and if he could have my autograph. Just then, he asks if I am Sajid Khan. Kunal is in splits.

The same guy returns to take Kunal's autograph, only to clarify if he is Adnan Sami!"u00a0u00a0

But things are pretty clear for these two. And yet, post-Dostana, have fingers been pointed at them? "I am happily married with two children. Kunal is the one with the problem here," Cyrus is quick to clarify. Yet when so many marriages in Bollywood are breaking up, how do they sustain theirs? "First you call us gay, then you get us married!" complains Cyrus. Just then, his daughter Maya begins to wail. Kunal tries to pacify her while Cyrus warms some milk. And they claim to not act like a married couple.

Talk about marriage has Cyrus make a one of a kind request: he wants an announcement in our paper that Kunal is looking for a girl. Cyrus says, "How many times I have tried to introduce him to women. Even his mother has told me. But when good Maharashtrian girls come home, he asks them if they drink, smoke, eat pork and beef!" Kunal, on his part, has decided to become a complete bad boy. "Every time I have been nice to a girl, I get dumped. Women like men who treat them badly they like bad boys. And from the looks of it money too." We warn him that he might get flak for these comments. "It's the truth," he shrugs. He's also being truthful about the existence of the casting couch, claiming, "Of course it exists."
u00a0
Talking about women, who would Cyrus love to romance once his Bollywood career kicks into gear? "Genelia D'Souza. I can say this now that Ashok Chavan is the chief minister. Who else? Priyanka Chopra, Bipasha Basu, Kareena Kapoor and Ayesha Takia. Oh! Too many Ayeshas in my life," exclaims Cyrus. Kunal points out the obvious, "Ayesha Takia just got married." "Her father-in-law (Abu Azmi) has declared his assets at Rs 124 crores. If I could have married her, then we could have produced our own film and bought two theaters to screen them in," Cyrus plans a shrewd business move.u00a0

As they chatter on, we realise that one is not like the other. Cyrus is all about the fun and jokes, while Kunal is the mellow one who warns his friend about what not to talk in public. Yet, these two are in it for the long run. Nothing will crush one's funny bone or destroy the other's appetite.u00a0u00a0u00a0u00a0

Random musings

Five nuts in Bollywood
Kunal and Cyrus: These are people we loved working with: Boman Irani, Nana Patekar, Dharmendra, Jeetendra and Mahesh Manjrekar.
Who's the fruit and who's the nut?
Cyrus: We have already established that, you, Kunal, are gay, so you are the fruit and I'm the nut.
Kunal recommends the best places to find fruit custard in Mumbai
>>City Kitchen they serve it really cold
>>Martins at Colaba
>>Crystal near Wilson Collegeu00a0u00a0u00a0u00a0