Three generations of Ustad Amjad Ali Khan's family to entertain fans with music, conversations at upcoming gig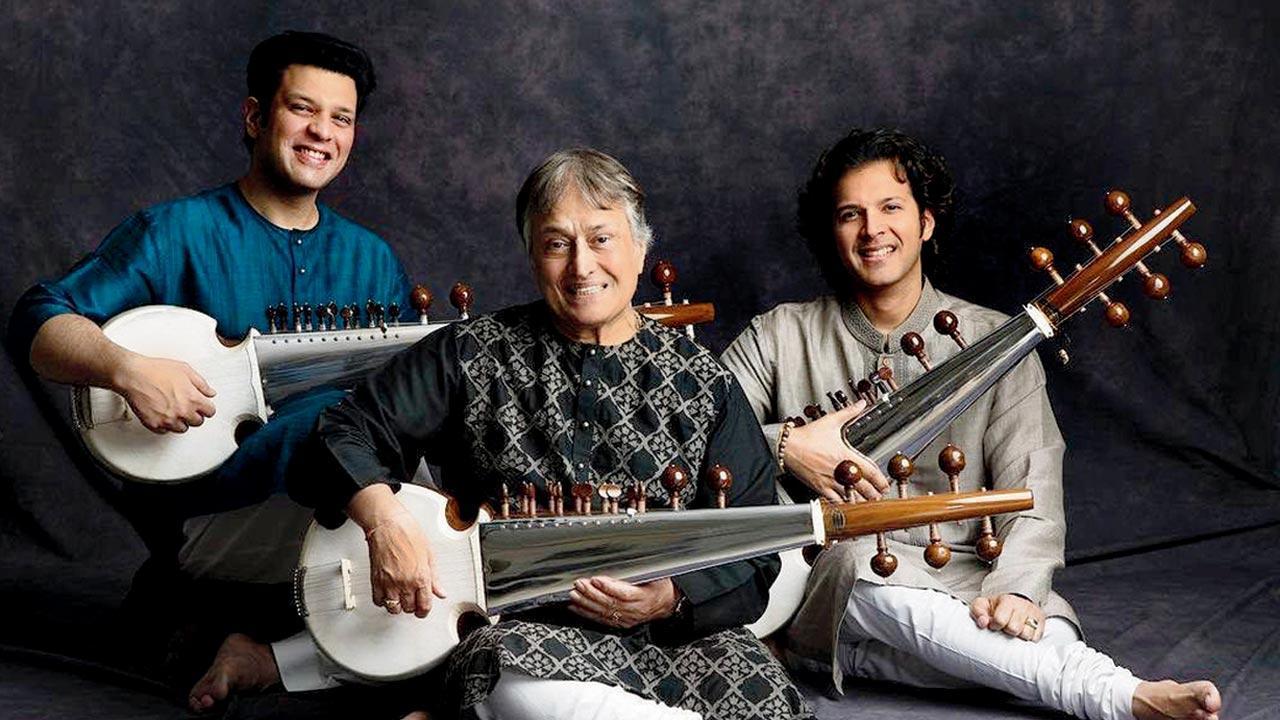 Ayaan, Ustad Amjad Ali Khan and Amaan Ali Bangash
Watching Ustad Amjad Ali Khan in company of his sons Ayaan and Amaan Ali Bangash in a previous interaction was an experience befitting his eminence. Warm and amiable during his interactions, he'd appear both concerned for and pleased with them, when discussing their journey in the industry. Considering the affection he portrays for his sons, one could only suppose that the veteran would be a doting grandfather to Ayaan's kids, Zohan and Abeer, with whom he is set to collaborate on February 16. Three generations of the family are set to entertain fans with music and conversations at an upcoming city gig, details of which they share with mid-day, in this conversation.
Edited excerpts from the interview:
How did the decision to bring forth this show with three generations come about?
Ayaan: My kids are lucky to get the chance to share the stage with my father. We feel honoured. I've always tried to give my kids an upbringing in which music [plays a crucial role]. During the lockdown, I decided to teach them well. We'd play for six hours, and they were eager to grasp musical knowledge. When my father met them, he was happy to see how they had progressed. This is a platform for them to seek blessings. Music is a craft that needs [the audience's] blessings. We wish to create an emotional connect with people, and the kids need their wishes.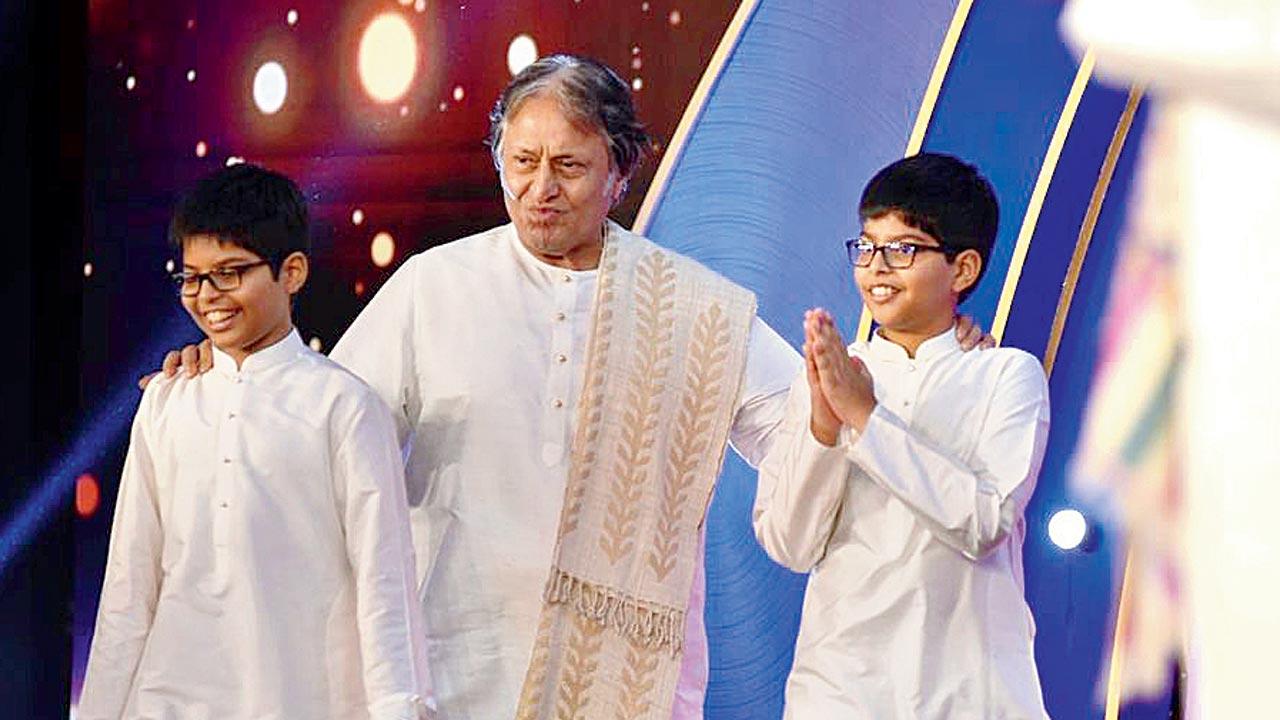 We've seen the bond that you share with Ustad Amjad Ali Khan, and he's inarguably among the most doting fathers. How is he, as a teacher to your kids?
Ayaan: I have to take some credit for [their music knowledge]. Because, when I walk into the room when he is [meant to be] teaching them, it seems like there's a party going on. I see them sitting on his lap and enjoying themselves. My father doesn't say a word to them. So, I'm the one who has to bring things in order. Our kids are those who love BTS; they are Beliebers [Justin Bieber fans], but they are also those who love Elvis Presley. They are an unusual combination and enjoy both old and modern music. When it comes to music, they know this is not something that's all fun and games. There's a sacredness associated with it. As musicians, we imbibe the journey of life. My dad calls himself a student of music, even today. We are in search of excellence, and are reinventing our craft. With the kids, I took a different route. Even I didn't have the opportunity to play with my family as an ensemble, when I was as young as they are. That's a wonderful experience for them. They will also have a question-answer session [with him] on stage. 
Your fans have seen you perform as a family. How is this gig going to be different?
Amjad: Generally, classical music concerts go on for hours. Here, however, we will have three segments, featuring [different musicians]. The presentation is important, and we have focused on making that appealing for people. I had given the kids the freedom to listen to all musicians, whether or not I like [the artiste]. So, they tell me stories about BTS, and other musicians. I enjoy that process. But, I recall, after their first stage concert, they were eager to perform again. This is the power of classical music. It's a long journey; like an elephant's walk. A man must surrender to it, and that's why, it is a struggle.  It is our responsibility to carry forward a legacy; it is our duty to introduce and share. 
Also Read: Ustad Amjad Ali Khan: Who better than him to spread the message of togetherness?
Amaan: This show will include emotional exchanges. It would be nice to see [our] family speak without words, and only through music. A lot of people have seen Ayaan and me grow up, and perform together. We cared a lot about [what people thought]. Today's kids don't care too much, and that's a good thing. They think of performing well, and that's all that matters. 
As someone who has been a teacher to your sons, and have repeated the process for your grandkids, what is a crucial aspect about education in music that needs attention?
Amjad: If the child is interested, let him pursue it. My message to each youngster is to listen to all kinds of music. Our kids enjoy learning and practising. Schools, sometimes, don't encourage creativity. Schools should identify creative children, and should not suppress their creativity. The contribution of parents and schools is important. 
 
Amaan, in a previous interaction, you were mulling over whether a person would have more security in professions of law or medicine, when compared to those in art. Is that something you worry about, for the family's kids?
Now when I look back, I think being a musician is the easiest thing to do. Even if you are a bad musician, you will still have money. If you are a bad doctor or lawyer, one mistake can ruin your life. Becoming a spiritual guru is also the easiest thing to do. I can claim to be a spiritual person and still make money. To the kids, I'd say pick a field, and music can always follow.