Vanraj Bhatia, 93, was one of those handfuls of Indian musicians, who studied Western classical music in depth to successfully mix that knowledge with an understanding of Hindustani classical music.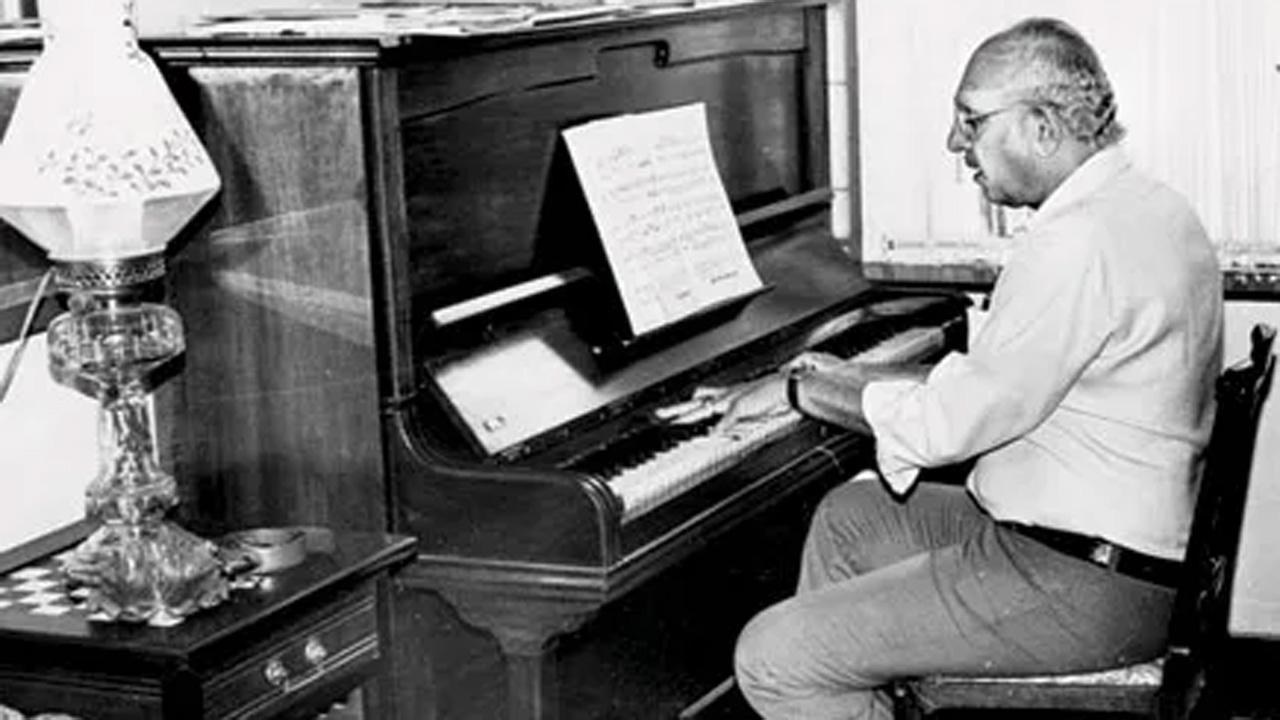 Vanraj Bhatia (Photo/mid-day archives)
Veteran music composer Vanraj Bhatia passed in Mumbai on Friday after a brief illness. He was 93. The composer, who carved his niche with his distinct notes in the art cinema circuit of the seventies and the eighties, lived alone at his apartment at the Rungta Housing Colony on Napean Sea Road.
Born into a family of Kutchi businessmen on May 31, 1927, Bhatia attended the New Era School in Bombay and learnt Hindustani classical music as a student at Deodhar School of Music. After graduating from Elphinstone College, Vanraj Bhatia trained in western classical music in London and Paris. A recipient of Sangeet Natak Akademi Award in 1989, Bhatia studied western classical music at Royal Academy of Music, London. Well, there is a back story for learning western classical music. On hearing Tchaikovsky's Piano Concerto No. 1 as a teenager, Bhatia became interested in Western classical music and studied the piano with Dr. Manek Bhagat for four years.
He returned to India in 1959, and went on to become the first person to score music for an advertisement film in India (for Shakti Silk Sarees). He composed over ad 7,000 jingles, such as Liril, Garden Vareli and Dulux. Remember the famously 'La laaala la' refrain for a soap endorsement filmed by a waterfall? Well, the ad jingle was composed by none other than Vanraj Bhatia himself.
Vanraj Bhatia's first feature film music was for Shyam Benegal's directorial debut 'Ankur' (1974). With Benegal, he found his niche in parallel cinema, blending the western with the Indian classical idiom. He created the soundtracks for Aparna Sen's '36 Chowringhee Lane' and Kundan Shah's 'Jaane Bhi Do Yaaro'. From 'Ankur' in 1974 to 'Sardari Begum' in 1996, he was the favourite composer of arthouse titan Shyam Benegal. The duo collaborated on several projects including 'Manthan', 'Bhumika', 'Junoon', 'Kalyug', 'Mandi', 'Trikaal' and 'Suraj Ka Saatvan Ghoda'.
Thereafter, Bhatia moved to television, where he created the opening of Doordarshan's first soap, Khandan, which is still etched in our minds. He went on to score the music for Govind Nihalani's film Tamas. The made-for-television film earned him a National Film Award for Best Music Direction in 1988. Again, Bhatia collaborated with Benegal for the television series Bharat Ek Khoj in 1988. He also scored music for television shows such as 'Yatra', 'Wagle Ki Duniya', 'Banegi Apni Baat', as well as numerous documentaries. 
Bhatia devoted much of his later career to developing an operatic form that combines Indian and Western musical styles. His last work was an opera titled Agni Varsha which was performed in New York.
Among the awards he won are the National Award for Best Music for Govind Nihalani's TV series Tamas and also the Sangeet Natak Akademi Award. He received India's fourth-highest civilian honour, the Padma Shri in 2012.
With the demise of Vanraj Bhatia, an era has come to an end!