Farhan Akhtar, Shankar-Ehsaan-Loy, the team behind Toofaan, mark 20 years since the release of Dil Chahta Hai by sharing anecdotes, including that of a song that never made the final cut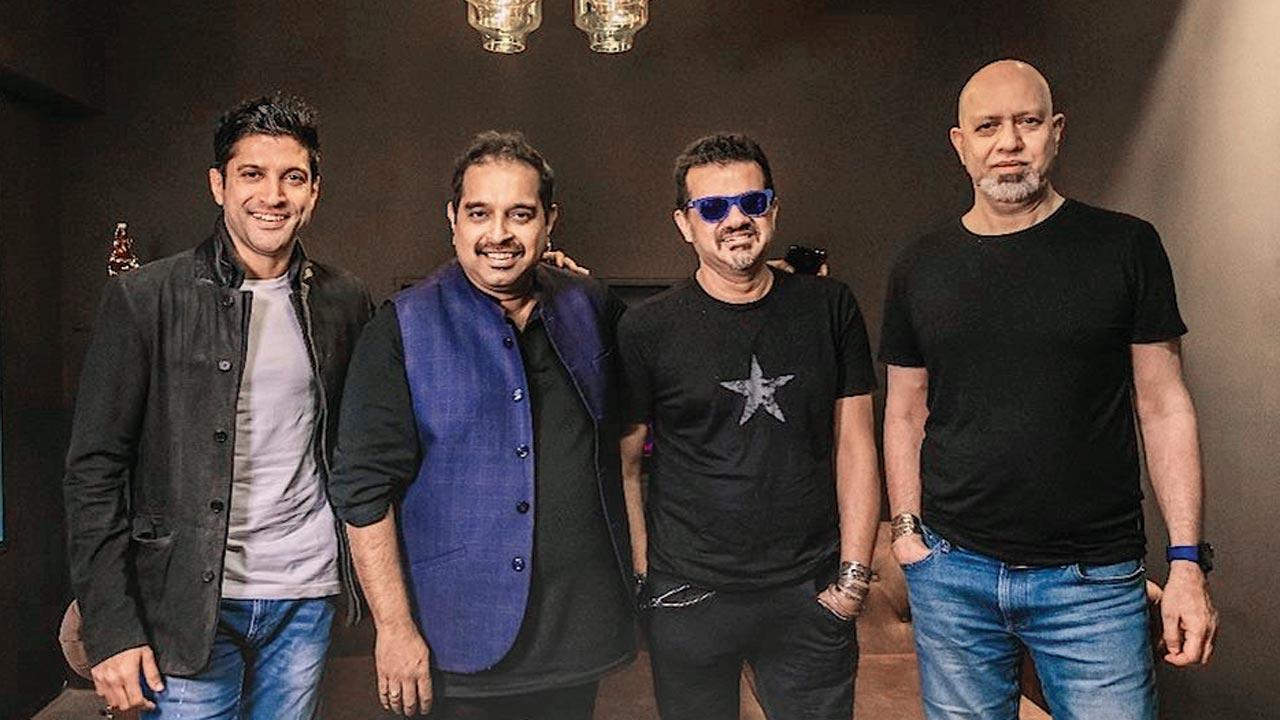 Farhan Akhtar, Shankar-Ehsaan-Loy
Several artistes suggest that they occasionally find themselves leisurely working on projects offered to them, only to scramble and wrap up the work at eleventh hour. This interview with Farhan Akhtar and Shankar-Ehsaan-Loy appears to proceed no differently. Abundant tomfoolery predominates the first 15 minutes — it appears as though the quartet is enacting the rough draft of 'Zindagi Na Milegi Dobara'. 
Reminded by their publicists that they are running against the clock, they seem to recall that they had 'serious' questions prepared for one another, as part of this interaction. They manage to squeeze some in, as Shankar enquires if the box-office performance of Farhan's second directorial venture, Lakshya, was a disappointment. The latter, in turn, probes them about a project that has tested their sensibilities. 
The entire interaction, available on our YouTube channel, is assuredly worthy of a watch. In the meantime, these edited excerpts will highlight why this team — whose latest work, Toofaan, releases on Friday — always creates the finest films based on friendship. 
Shankar: Farhan, do you have that 60-page script of 'Dil Chahta hai'?
Farhan: I do, and, just the other day, I found these hand-drawn storyboards [that I had made] during the first few weeks of shoot. It was special. The memories of recording the music are special. I remember meeting you all at 4D [music studio]. You all were finalising the music of Mission Kashmir, and played the song Dhuan to me. It's such a good song. 
 
Shankar: What made you come to SEL for DCH?
Farhan: Breathless had blown my mind. I was still writing [the script of Dil Chahta Hai] then, and didn't know what my plans were. At the time, [AR] Rahman had become a big name. I spoke to pa [Javed Akhtar] and said I'd like to meet him. But he said he didn't think our temperaments would match. I am the kind of guy who sleeps at 9 am, and he wakes up then.  Also, I wanted someone who was hungry, like I was. I remembered how amazing Breathless was, and there were other songs [of SEL] that I liked. Dus' Suno gaur se had also come out then, and it all felt right. 
Shankar: I remember, [with Breathless], you, Zoya [Akhtar] and Javed ji were sitting in a room, and you told me, 'We will make this video. It will become famous. Then we'll make big movies, and lots of money.'
Farhan: [I'd say] anything to get you all on-board. Every script has a culture; every character a sound. That the three of you could understand the process, and make it effortless, seemed amazing. The music [in that decade] was very different. The way you processed it felt right. 
Also Read: Five times Farhan Akhtar wowed the audience with his unconventional roles
Ehsaan: I wonder if there is an idea that we didn't use?
Loy: There was one; was it a blues [song]?
Farhan: That song hasn't left me. I've put it in the archives, or something. It is in my head, I have never forgotten it. 
Shankar: Pyaar mein kitna gham hai.
Farhan: That's it. I will 100 per cent use it in some film. We recoded one mukhda and antara for it. Pa had also written the lyrics. It was for [the section which eventually included] Tanhaayi. 
Shankar: There were things about the film's lyrics that [bothered you]. 
Farhan: Yes, one was Chamkile din. I stand corrected now, but when I heard it, I told dad it sounded like a detergent [commercial]. Another one was pyar ke ghat jo utarte hai. I found the reference old-fashioned. But he said, like trends, words come and go. The young generation is reintroduced to some words only through songs. It's a nice way to keep these words alive.
mid-day: When tackling a film like Karthik Calling  Karthik, which isn't generally driven by its music, how does the process change?
Farhan: There are a couple of films like that, including 'Lakshya'. It's not one you associate with music because it is about dramatic personal growth. In this case, it is about how effectively a writer can weave in a song to further the story. In films like 'Dil Chahta Hai' and 'Zindagi Na Milegi Dobara', you can pause the story [to include a song]. But, in films like Lakshya, you can't, because the driving factor for the viewer is the story. Such movies are tougher to work on. They are easier for the writer. So, for pa, it is easier because he knows where the song is being placed in the film, and can write in accordance with that situation. But, for the composers, it is harder. Because the music has to become an extension of the score. 
Shankar: Talking about Toofaan, the work you have done is [commendable]. Had you learnt boxing before? 
Farhan: I've never boxed before. The closest I've come to boxing is evading punches from Zoya. But, when you are inspired by a script, something happens. You don't feel like you're working anymore. It's not about the physicality. If I was walking down the street and someone told me to do 50 push ups, 
that will feel like hard work. But, if [a script like this] wakes something up within you, you are drawn to it. 
Shankar: But to sustain that for [18 months] must have been tough. I remember, you would wake up and be at the boxing ring by 6.30 am. Often, you would message me from there with ideas about a song. I'd wonder how this man could do it? 
Farhan: Like with Bhaag Milkha Bhaag, it came from being so excited and inspired by what was being asked of you. I'm sure it's the same for you guys. If you're in a studio, you all keep [creating music] till it feels amazing. Until that's done, you can't sleep.
Shankar: Were you disappointed with how Lakshya fared?
Farhan: Yeah, but only because it was probably the hardest I had worked for anything. [We were always taught] that if you work hard, you will succeed. Here, we did. But I had expected it to do better than it did. I was disappointed. But, on the flip side, there's a story I'd like to share. In 2017, I went to Dehradun for a live concert. It was the first time I was heading there after the release of Lakshya. I told [the officials] I'd love to visit the academy [where the film was shot]. Graciously, they organised a visit. There were 700 cadets. Someone asked me the reason behind making the film. And I narrated a story about [something that transpired in 2000]. I think you [SEL] were there with my father at an event in 2000, when an [army official] had told him that there was a shortage of officers entering the army, after Kargil. The army was praised for how they dealt with the intruders. But, as a career option for the educated, it was vanishing. Dad said he would write a film 
about it, and that is how Lakshya got made.  I was telling [the cadets] this story. One major, who supervises them, said he wanted to show me something. He took to the mic and asked [the cadets] who among them had joined [the force on being inspired by] Lakshya. About 70 per cent raised their hands. And that made me realise that we are [unfortunately] only bothered about box-office numbers. Here, the purpose of making the film was evidently served. 
Farhan: Hadn't you guys composed the [title track] of the film much earlier?
Shankar: I had composed it before I had met Ehsaan and Loy. It was for a TV series. 
The difference between working for your production and another one is that we don't need to consult anyone else. When we work on music, we arrive at many [melodies]. We like some, we throw some. But, if we like an idea, we can consult you, and it is [finalised]. It's not like we're told, 'Okay, we'll come back to you.' The process becomes easier. 
Loy: Yeah, the fact that you take the call on a song speeds up the process by 10 times. That's the problem in the industry. [Delays] set you back significantly.
Also Read: Farhan Akhtar: Ode to the boxers who fought against all odds