This is Broadway-style, mass theatrical entertainment before a camera, in a way that Bhansali has consistently pulled off over two and half decades, regardless of the script. Most directors lose it along the way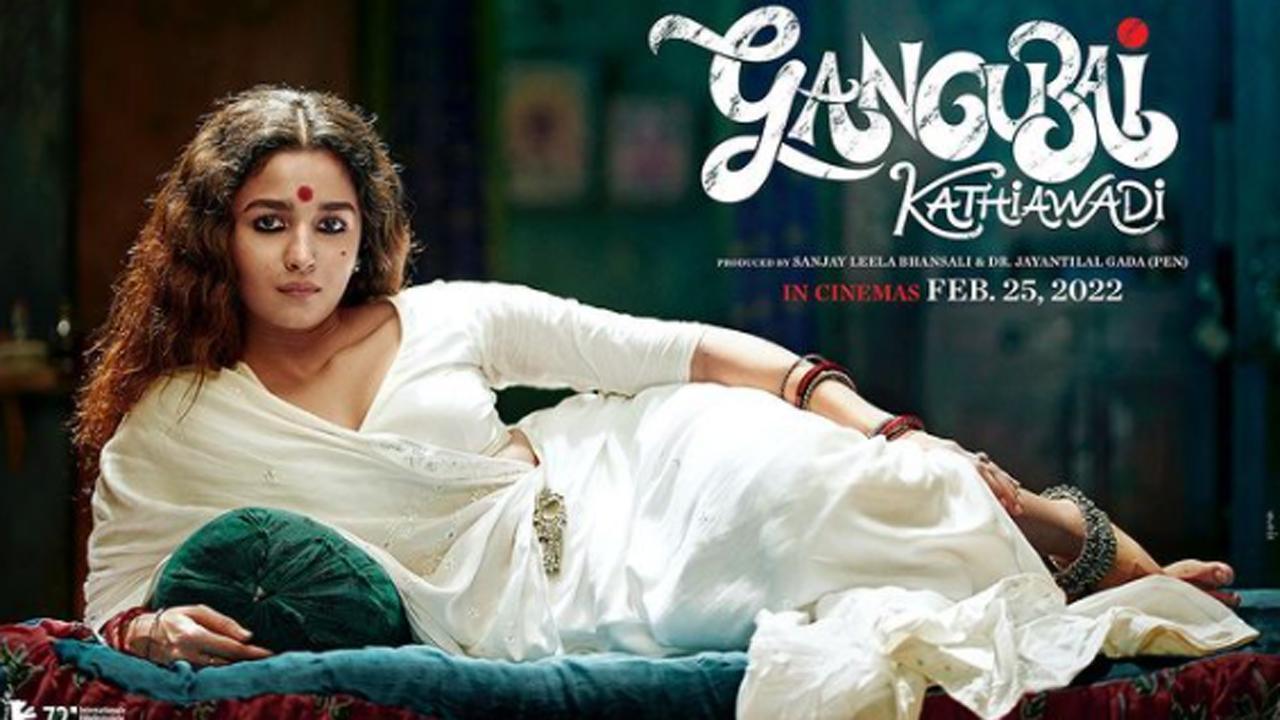 A still from Gangubai Kathiawadi
Gangubai Kathiawadi
Dir: Sanjay Leela Bhansali
Cast: Alia Bhatt, Ajay Devgn, Indira Tiwari
Rating: 3/5
Really, when was the last time you saw, practically an underworld film, as a feminine story; or indeed the mafia as a feminine genre? Which explains a largely women audience in the first day, first day show (FDFS) of Gangubai Kathiawadi in the theatre I'm at. And that's rare. 
ADVERTISEMENT
Surely there was Godmother (1999), similarly inspired by a Gujarati mafia queen, Santokben Jadeja, starring Shabana Azmi. More recently Vidya Balan as the tough head of a brothel, protecting it from the world outside, in an equally period film, Begum Jaan (2017). 
Neither matches the sheer scale of Gangubai, of course. And you sort of knew this, before stepping into the cinema. That even for its minimalist setting, it was going to be Shyam Benegal's Mandi (1983), raised to the power of Sanjay Leela Bhansali (SLB)—an over-the-top dramatisation of an underworld, in the margins of Mumbai; built entirely inside a studio, mixed with measured melodrama, mujra, and music. 
This is Broadway-style, mass theatrical entertainment before a camera, in a way that Bhansali has consistently pulled off over two and half decades, regardless of the script. Most directors lose it along the way. 
As screenwriter, music composer, director, he continues to imbue this scale with a personal/auteur touch still. Enough to dedicate this film, among others, to his late dog (with a picture), Lady Popo. That frame onwards, of course, it's up to you—SLB world mein rahunga mein, ghar nahi jaaonga mein! Or the opposite. 
Either way, I see no Indian filmmaker who does this genre with as much conviction, hence as convincingly. Even the general ward of a government hospital looks like you wouldn't mind moving into. The Falkland Street isn't only grime either. You either go with the flow, or don't.
The only difference being, unlike Bhansali's filmography thus far—and the part-fable Padmaavat (2018) doesn't quite count—Gangubai Kathiawadi is based on a real person. Adapted from a 30-page, double-spaced chapter, The Matriarch of Kamathipura, in the book, Mafia Queens of Mumbai, by journalists S Hussain Zaidi (also associate producer here), and my super-writer colleague, Jane Borges. 
I intentionally didn't read that book, in case it (unnecessarily) messes with the movie experience. That said, there is a legit debate to be had over how much you can fictionalise a more contemporary life, without changing names. 
Even while Gangubai from the 1950s-60s appears as herself; the don, who was her mentor at the time, Karim Lala—somewhat immortalised by Pran in Zanjeer (1973)—shows up as 'Raheem' Lala (Ajay Devgn; behaving a bit like Malik from Company). 
Attributing a film to a true account, even if it isn't altogether, adds a totally another layer of authenticity for an audience, in a way that nothing else can. At least the major events from Gangubai's bio—the explosive speech delivered among social workers of a hypocritically polite society; or meeting the then Prime Minister Jawaharlal Nehru to represent the cause of sex workers—are indeed widely reported. 
Now I'm not gonna match the image of the actual Gangubai with a large red bindi in the centre of her forehead, with Alia Bhatt, who plays the "jagat joru" (universal wife) on screen, wholly shouldering the film, along with the business and politics of Mumbai's red-light district in this Kamathi-opera. 
To be fair, Bhatt's frame/face doesn't look like one as hardened by the passage of graceless time. The desi-daru, derring-do brashness is slightly understated. She does come into her own with sufficient screentime though—enough to remain an able conduit to the story being told.
Which is quite straightforward, if you ask me—of a girl from Gujarat's Kathiawad, thrown into a Bombay brothel at young age, under the pretext of starring with Dev Anand in Bollywood. Thereon this isn't quite a "fem-jep" (female in jeopardy) flick, masquerading as feminism. It's about an ambitious Gangubai, taking life by the horn, and driving it on a fancy car, wherever she likes. Of which I don't know how much of it is accurate. 
The bigger issue with merging Bhansali/Bollywood fantasy with fact is that the treatment must allow as much time for the story-telling as well; tightness suffers—making this seem a movie, scene after scene after songs, that's much longer than it should be. And yet, it's the aesthetically choreographed sequences—every moment of it—that raise the bar.
Whether it's the petite Bhatt introducing herself to an empathetic reporter (Jim Sarbh): "You journalist; me prostitute!" Or the old brothel "gharwali"/'madam' (Seema Pahwa) lying in bed, filling up the screen. 
As with similarly simple, conversational moments that, through framing alone, look equally larger than life. Or some crisp dialogue-writing on a brothel being next to a school—if the latter hasn't had any influence on the former, why would the reverse be true?
Behind of all this is a deeply liberal worldview on respect for people, and their professions, even if it's the world's oldest. Everyone's selling something anyway. In the front of it is a pleasure that almost wholly matches your expectations.