Eventually, the film descends into a religious documentary on post-death rituals. Almost turning into a polemic on faith versus science—arguing for both as two sides of the same coin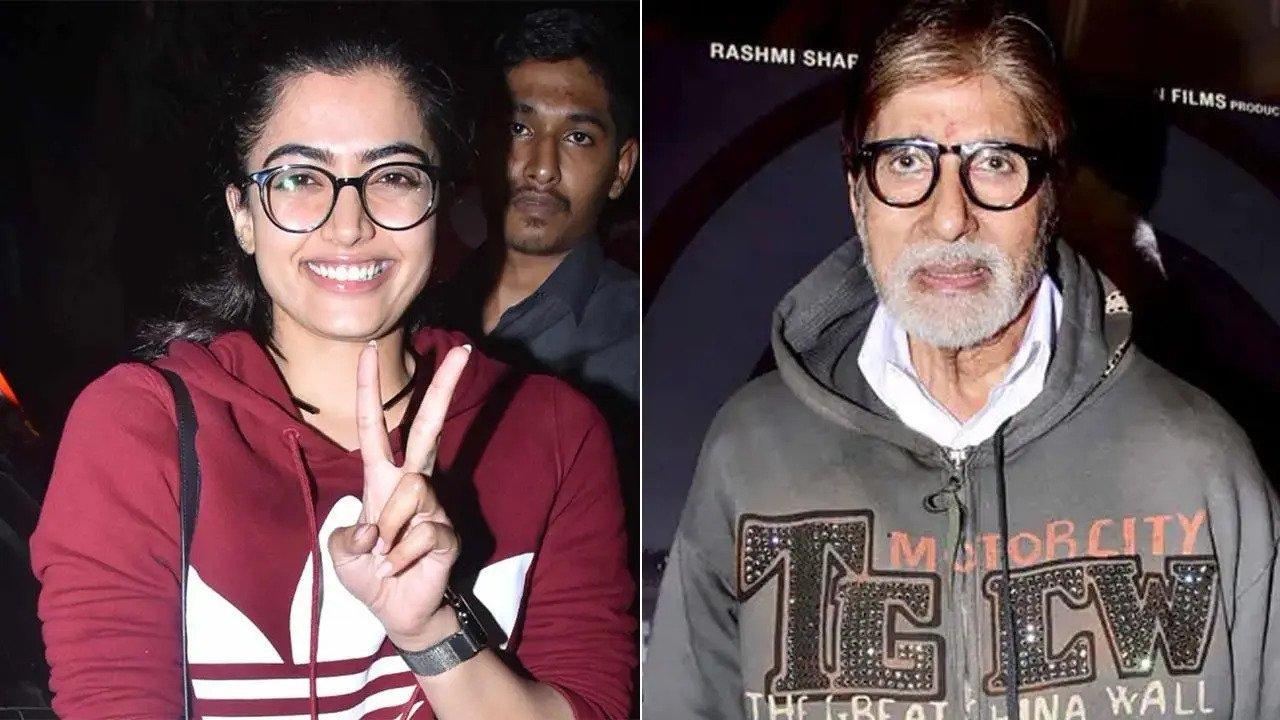 Rashmika Mandanna and Amitabh Bachchan. Pics/Yogen Shah
Goodbye
Dir: Vikas Bahl
Cast: Amitabh Bachchan, Pavail Gulati
Rating: 2/5
For all intents and purposes, this picture kicks off with the fact of the mother (Neena Gupta, who seems always so real) having died last night.
Leaving behind a set of children, somewhere between youth and middle-age, with enough life of their own, to have moved on from their parents/home already. And a grieving father (Amitabh Bachchan), who loved his deceased wife unconditionally.
This is, at its core, a soft, sensitive feature on death itself. And while you survey the casual moments in the movie, that usually follow such occasions in Hindu, upper-class families—a local, know-all uncle-type, PP Singh (Ashish Vidyarthi), giving gyan on the shastra; or 'ladies who lunch' (some finely handpicked ensemble extras here), casually shifting between mourning and discussing the mundane—you can somewhat sense this film comes from a lived experience of the writer-director, Vikas Bahl (Queen, Super 30).
Making this altogether a personal film, albeit in the universal/mainstream/theatrical space. How/where one goes beyond the anecdotal, observational nuggets, and the triggering event, therefore, is supposed to be the film, that one engages with all through. Think of it like, say, Ramprasad Ki Tehrvi (2020), or Pagglait (2021).
Also Read: Ashwiny Iyer Tiwari pens heartwarming note for 'Faadu' composer Santhosh Narayan
Looking at the siblings here, where one of them is the adopted kid, seemingly closest to the foster parents, and most shaken by the tragedy—for a second, I thought maybe we're going somewhere towards Baghban (2003), which, in turn, was a lot of Avtar (1983), obviously not to be confused with the James Cameron spectacle!
Now I remember Baghban, also starring Bachchan, as a deeply affecting film, mainly for an old man, at the film's first-day, first-show, plainly sobbing through it all, while I sat there like a psychopath, hardly as hit. The movie's appeal at the box-office didn't surprise me at all.
The rich, Punjabi family, based in Chandigarh here, look realistically restrained—although Rashmika Mandanna scarcely sounds like from the Bhalla parivar, and Pavail Gulati is sorted, for sure. These siblings aren't quite on the same page. The film though hardly veers towards the level of rhetoric and hyperbole to come anywhere close to Baghban.
Which is true for Bachchan himself—a majestic presence, soaking in the moment, marinating in loss, looking frustrated with his children still, but taking them, and the audience, along.
Over decades, especially in his youth, as an actor, it goes without saying— Bachchan has ended up spoiling some of his directors, milking his presence so much, that they've barely devoted enough thought to what should be on the screen, when he's not.
Therein perhaps lies the reason for Good Bye overstaying its welcome. Between songs to suit moods/occasion—nightclub, birthday, pooja/bhajan—there really is no plot after the death pre-told.
For hours, in the film's time-line, the dead body remains on ice, as friends, family improvise on the ceremonies, sitting around it—with their laptop, notebook, sipping tea, chatting, chilling… This is meant to be in the dark humour space.
Eventually, the film descends into a religious documentary on post-death rituals. Almost turning into a polemic on faith versus science—arguing for both as two sides of the same coin! Pointing out with full conviction that just because you don't understand aspects of organised religion, doesn't mean it's not valid/true!
Wisdom collected over millennia mustn't be discounted. This goes well with the general positioning of a 'family film'—a genre that had moved to television at the turn of the century; in the same way, it is being said, that OTTs are more the space for content aimed at self-expression.
Irreversibly enough, death is death. How we tend to deal with it is personal. A film on the loss of a mother (or an equivalent loved one) is meant to move you—there are obvious moments here that do.
This is basic manipulation that a naked medium like the movies is capable of. Take, for, instance, that subtle shoe-scene, after father's death, in The Namesake (2006). Only that grief is probably served best in a scene or two, with enough leading up to it. The question is how much must you stretch to continuously draw out the tears?
In that vein, there's a strange, unintended meta-moment here, when veteran actor Arun Bali, 79, shows up on the screen, on a ventilator, playing Neena Gupta's ailing father.
Minutes before stepping into the theatre, I'd learnt on Twitter, that Bali had passed away. His last digital release, Laal Singh Chaddha (2022), had also just premiered on Netflix the night before. Processing this news, I was simultaneously watching him for the last time, on the screen, in this film. RIP. Good bye, Arun.
Also Read: Alia Bhatt, Ranbir Kapoor's 'Rasiya Reprise' version out now Are you enjoying the current season of `Bigg Boss` (season 16)?