On the 5th episode of Indie Inside, singer-songwriter Vayu opened up to Mid-day about his passion and the inspiration he draws from the likes of Jagjit Singh and Gulzar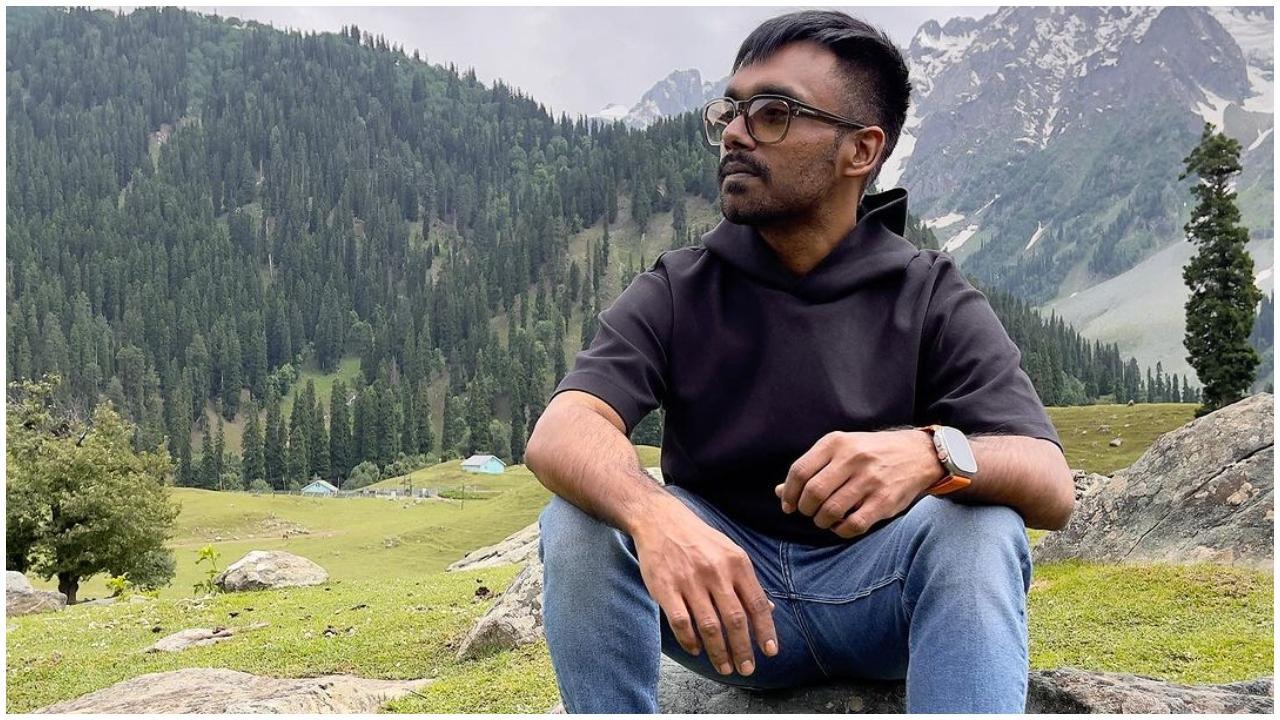 Singer Vayu talks about the various artists who have inspired his music
Singer-songwriter Vaibhav Shrivastava, who is popularly known as Vayu, joined us as the fifth guest on our special series, Indie Insider. Starting as a graphic designer, Vayu didn't realize the career shift he was making, as his focus was always on creating something. With his love for creativity, graphic design became an outlet for his passion. He further pursued audio-visual communication in Pune, working as a promo producer while writing songs on the side. Vayu's musical journey began in his early teens, and Mumbai provided the platform for him to bring his songs to life. He has always been drawn towards songwriting, fueling his unstoppable passion. 
The independent singer and songwriter shares an intriguing story about his name, tracing its roots back to the moment he was born. Contrary to the usual practice of nicknames emerging later in life, Vayu discloses that he has been called by his current name from the very beginning. This unique moniker was bestowed upon him by his maternal uncle, imbuing it with a special significance. As Vayu embraces his artistic journey, his name serves as a constant reminder of his identity and the familial connection that shaped his path. 
ADVERTISEMENT
He expressed his deep admiration for the legendary poet and lyricist Gulzar Sahab, considering him his greatest inspiration. Vayu acknowledges Gulzar sahab's immense contribution to the world of music and poetry, recognizing his ability to weave captivating emotions into his words. Additionally, Vayu shares his unconventional perspective on Jagjit Singh, describing the renowned ghazal maestro as a "rockstar." Vayu highlights Singh's ability to captivate audiences with his powerful and soul-stirring performances, leaving an indelible mark on the music industry.
According to Vayu, "Jagjit Singh is a very cool guy. He sounded like whiskey!" He added, "Ghazals became friendly to me because of Jagjit Singh, I guess." 
Vayu even spoke about his deep appreciation for the musical talents of Sajjad Ali and Ali Sethi. Their captivating voices and exceptional artistry have captured his admiration. Vayu finds inspiration in the soulful melodies and meaningful lyrics that both artists bring to their compositions. Their unique styles and contributions to the music industry resonate deeply with Vayu, making Sajjad Ali and Ali Sethi among his favorite musicians. 
The singer even unveiled the story behind his hit song 'Mascara', a track that he conceptualized but didn't sing himself. 
Vayu also shared insights about his popular song 'Baatein Karo'. He said, "Every song comes out of some experience in life." 
He recounted that while in Delhi, he crafted 'Baatein Karo' during a holiday, drawing inspiration from a specific incident or conversation. The song's creation process reflects how Vayu taps into his surroundings and emotions to create relatable and heartfelt music. Additionally, Vayu mentioned that he composed the song 'Tohfa' during the lockdown, demonstrating his ability to channel creativity even in challenging times. 
Vayu expressed his love for experimentation in his music and his aversion to sticking to formulas. He thrives on pushing boundaries and exploring new sonic landscapes, believing that true creativity lies in breaking away from established norms. Vayu also mentioned that he finds it challenging to write a lot from the depths of his heart in a single day. 
Vayu is currently engaged in an exciting collaboration with Vaibhav Pani, working on a Broadway-style adaptation of the beloved classic 'Jungle Book'. Additionally, Vayu is diligently working on releasing his own songs through his independent label. While the process may take some time, he remains optimistic about delivering high-quality music that will resonate with his audience. With his diverse projects and unwavering dedication to his craft, Vayu continues to solidify his place as a dynamic and promising artist in the music industry.
Watch the full interview here:
"Exciting news! Mid-day is now on WhatsApp Channels

Subscribe today by clicking the link and stay updated with the latest news!"
Click here!